The San Diego Yarn Crawl is celebrating their 5th year and we are so excited to be part of this amazing event again. We have lots of new and beautiful things planned to share with you over the 4 days of yarny-filled fun from Thursday, September 14th through Sunday, September 17th. We have trunk shows to see, free patterns to give away, plus daily prize drawings and a wonderful gift basket filled with lots of great goodies. Read on for all the details!
Trunk Shows
We have two trunk shows to see and feel during the Crawl – one is beautiful hand-dyed yarns and one is gorgeous hand-knit pieces. Our yarn trunk show is with indie dyer Candy Skein. Tami Klockau is Candy Skein's creative force. She used to be local to San Diego and just recently moved to Oregon but we are lucky enough to have her delightful, beautiful yarns on the truck. We have 4 different bases and 21 different color created by this talented indie dyer! You can get more details about both Tami and the trunk show HERE.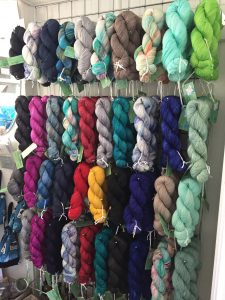 Plus, Tami created a special Yarnover Truck Exclusive color that will only be available during the Yarn Crawl. The color is called Beach Sweets and it is in Candy Skein's Yummy Fingering Base (75% Merino & 25% Nylon) with 463 yards on each skein. The color is based on the beautiful beaches that are all around San Diego! You hope you love it as much as we do and will grab yours during the Crawl!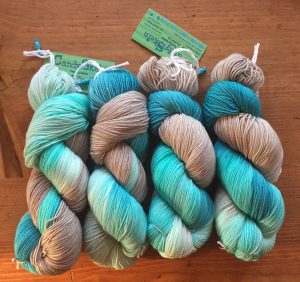 Our knitwear pattern trunk show features the artistry of designer Afifa! She is an extremely talented designer whom we have worked with in the past and we just love her work! We have several of her wonderful samples plus three new designs for you see and touch during the Crawl.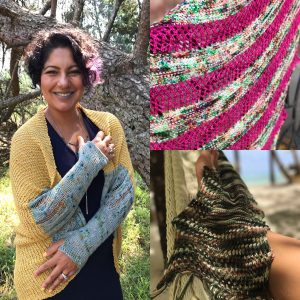 Feature Yarn & Free Patterns
During every Yarn Crawl we choose a yarn to highlight as our Feature Yarn. This yarn is offered during the Crawl at a 10% discount and we have free patterns in both knit and crochet using the yarn. For the 2017 San Diego Yarn Crawl, our featured yarn is Beattitude from Forbidden Woolery. This is a new yarn base on the Yarnover Truck. It is a very springy sport weight that is a mix of Superwash Merino and Nylon. We have added a couple of new colors to our stock as well and again during the yarn crawl, all colors will be discounted by 10%!!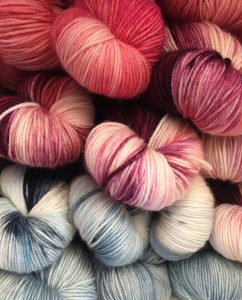 We have two new patterns that have been designed using this beautiful yarn and we will be giving them away during the crawl for free. The knit pattern is from knitwear Afifa, who is also our Trunk Show designer, and her new piece is called El Gusano Scarf.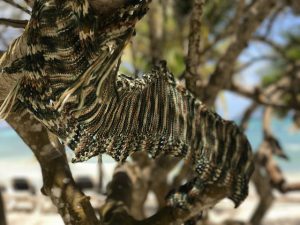 She took inspiration for this scarf from the variety of California caterpillars that grace this gorgeous state. The scarf is knit lengthwise, with a zig zag eyelet lace border and edge that creates the caterpillar like shape. A fun knit to take summer with you as you head into cooler weather.
The crochet pattern is a cowl that our own Maridee Dangcil has designed and it is called the Evening Stroll Cowl.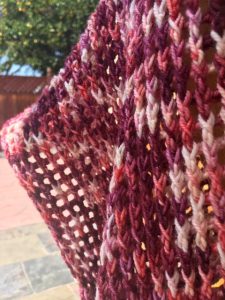 This lightweight airy cowl is perfect for those cool nights in Southern California sitting on your patio or walking along the beach. Toss this cowl around your neck or shoulders to help keep you warm.
Be sure to stop by the truck during the Crawl to pick-up download codes (or full patterns if you need) to get both patterns and add them into your Ravelry library.
Daily Drawings & Gift Basket
Each of the four days of the crawl, the Yarnover Truck will have a variety of door prizes to giveaway including yarns, patterns, notions and other fun things. Everyone who makes a purchase will have the chance to draw for one of these prizes.
Plus during the San Diego Yarn Crawl each shop has created their own gift basket(s) to give away at the end of the crawl. Here is our amazing basket: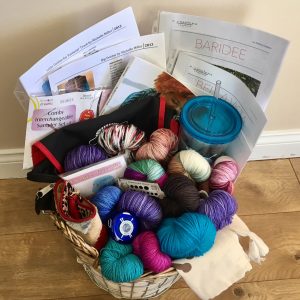 We have items in here from lots of our favorite companies like Anzula Luxury Fibers, Skacel, Mrs Crosby, Yarn Love, Forbidden Woolery, plus patterns from Anthony Casalena. We have also included some yarns, patterns and other stuff from the Truck! If you want to be entered into the drawing to win this fantastic basket, you just have to drop off your completed passport from the crawl with us on the Truck. Then on Sunday night once we close, we will draw a winner from all the passports we received. It is as easy as that!
Crawl Locations
During the crawl we like to partner with other yarn shops and this year we are doing the same. Here are the shops we will be visiting during the four days of the crawl.
Thursday: Yarning For You
Friday: Ramona Country Yarn Store
Saturday: Needlecraft Cottage
Sunday: The Black Sheep
Please come and find us for a visit during the crawl and see all these fun things we have put together for you. We might even have some Little Debbie snack cakes on hand to keep you fueled up too! We look forward to seeing you on the Crawl!