It's time for the 4th annual San Diego Yarn Crawl and the Yarnover Truck is excited to once again be a part of this great event! We have lots of beautiful yarns, new patterns and fun things to share with you during the four-day weekend!   The event takes place September 15th through September 18th.  As in years past, we are partnering with different yarn shops throughout the crawl and here is the list of our locations:
Thursday 9/15 – Common Threads in Encinitas
Friday 9/16 – Yarning For You in San Marcos
Saturday 9/17 – Needlecraft Cottage in Pacific Beach
Sunday 9/18 – The Black Sheep in Sorrento Valley (THEIR NEW LOCATION)
We will be featuring a trunk show from a new-to-the-truck indie dyer – Phydeaux Designs & Fiber.  This is a one woman show who creates beautiful colors. There will be 4 beautiful hand-dyed bases on the truck including three luscious fingering weights and one fantastic DK weight. It is great to have something brand new to the truck to show off this year! Click HERE to get more details about the trunk show.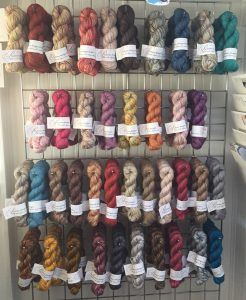 Our free patterns for the weekend are designed in our two featured yarns both from Mrs. Crosby – Train Case fingering and Hat Box sport.  The patterns have been designed just for the San Diego County Yarn Crawl by Hillary Smith Callis (Knit) and Sara Kay Hartman (Crochet).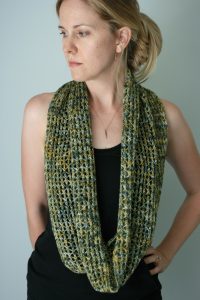 Poulia (the Greek word for bird) is a beautiful infinity scarf designed by Hillary Smith Callis. It uses a ribbed mesh stitch pattern to showcase multi-colored yarns by breaking them up with openwork creating a light, airy and textured piece that can be worn a variety of ways.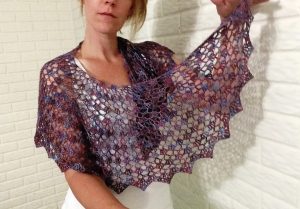 Georgette is a playful shoulder furl designed by Sara Kay Hartman which showcases a single skein of your favorite lightweight yarn in a spunky and simple lace that flourishes into a border of flirtatious frills.
Both patterns will be free to download until October 1st, 2016.  Stop by to pick up the free pattern details and coupon code to grab them for free.  You can also check out samples from both of the designer's collections which will be featured on the truck.  The yarns both designers used are our featured yarns for the crawl and both will be discounted 10% during the crawl.
For the 4th year, the San Diego Yarn Crawl shops decided to mix things up a bit.  This year, instead of collecting buttons at each shop, crawlers will be collecting stitch markers.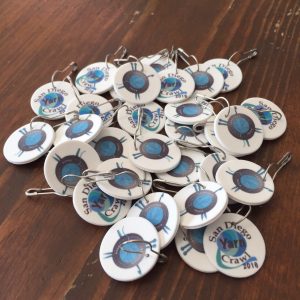 Each shop will have markers featuring their logo on one side and the crawl logo on the other.  The markers can be used for both knit and crochet projects!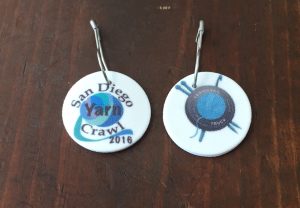 We will have lots of these to hand out during the weekend.   Plus, the crawl has been broken down into regions – North County, South County and East County.  When you visit all locations in a particular region you can collect that regions special Swarovski crystal stitch marker. If you make it all the way around the county and stop at every shop, you will receive the 2016 San Diego Yarn Crawl emerald color Swarovski crystal stitch marker. Click HERE for all the details and to see photos of all the Swarovski collectible stitch markers.
Some of the shops will have the SDYC 2016 Commemorative Tote Bag for sale, including us!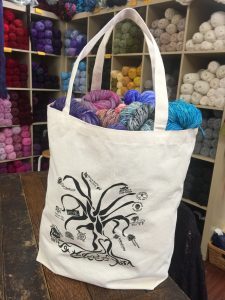 The title this year is "For the Love of Yarn".  This sturdy tote is made out of 12 oz. canvas, and at 17.5″ x 20″ x 7″ it should be large enough to hold all your goodies during and after the crawl. The tote is only $10. We will have them for sale during the crawl but if you want us to hold one for you, just shoot us an email.
The final and maybe the most exciting new thing for this year's crawl are the prize baskets. Instead of all the shops having prize basket with similar items to draw for at the end of the crawl, each shop this year is creating their own Gift Basket!  We are really excited about all the wonderful things we have collected for ours and hope you will think so too!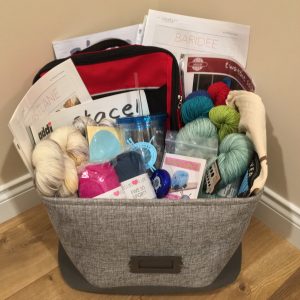 As you can see, our basket is filled with goodies from some of our favorite vendors including Anzula Luxury Fibers, Mrs. Crosby, Skacel Collection, Lazer Sheep Yarns, Ewe Ewe Yarns, Phydeaux Designs & Fiber plus patterns from A. Casalena Crafted and AFIFA!  And lots of Yarnover Truck swag.  To be entered to win a basket, when you have finished crawling and have collected all your stamps, drop your passport with the last shop you visit at the end of your Crawl …. and we highly recommend dropping off your passport with us!  This will get you entered into our basket drawing.  We can't wait to see who wins this!!
Remember that we love to give away prizes and this crawl will be no different!!  In addition to the grand prize gift basket, we have gathered a stockpile of goodies to giveaway. Each person who makes a purchase will get to draw for a prize… who knows what you may win!  Since we love buttons, we have made our own special San Diego Yarn Crawl buttons which will be handing out.
Get your passport and all the event details over on the San Diego Yarn Crawl website. We look forward to seeing many friendly faces during the crawl, as well as, introducing our girl Debbie to first time visitors! See you all soon!
Save
Save
Save
Save
Save
Save
Save
Save
Save
Save
Save
Save
Save
Save
Save
Save