Welcome Friends!
Yarnover Truck is your local yarn boutique on wheels. The Truck makes appearances at a variety of local events, including street fairs, craft fairs, and every major fiber festivals throughout Southern California. Additionally, the Yarnover Truck will be hosting its own events and available for private parties. Our focus is working with small indie business, in the yarns we carry and with the businesses we partner with.
The Yarnover Truck is open Wednesday through Sunday and is in a new location most times we are open. To get updates on our location please join our mailing list or check out our calendar of events.
Maridee and Barbra, co-owners of the Yarnover Truck, share a passion for knitting and crocheting. They met in 2010 at a Tuesday night knitting group and were fast friends. One night at group, Maridee mentioned she was thinking about opening a yarn store. She had a name and a location all picked out, but the financial realities of a brick and mortar yarn store seemed overwhelming. During her weekly knitting class at work, Barbra brought up her friend's yarn store idea. It was always a dream of Barbra's too, but like Maridee, it always seemed just out of reach. One of the members of the knitting group suggested a yarn truck and immediately Barbra was enamored with the idea. Hours of Google research on mobile retail business and one overwhelmingly long email to Maridee later, they found themselves on Melrose talking with one of LA's first mobile boutiques. On July 5, 2012 the idea of the Yarnover Truck was born and the Truck launched March of 2013.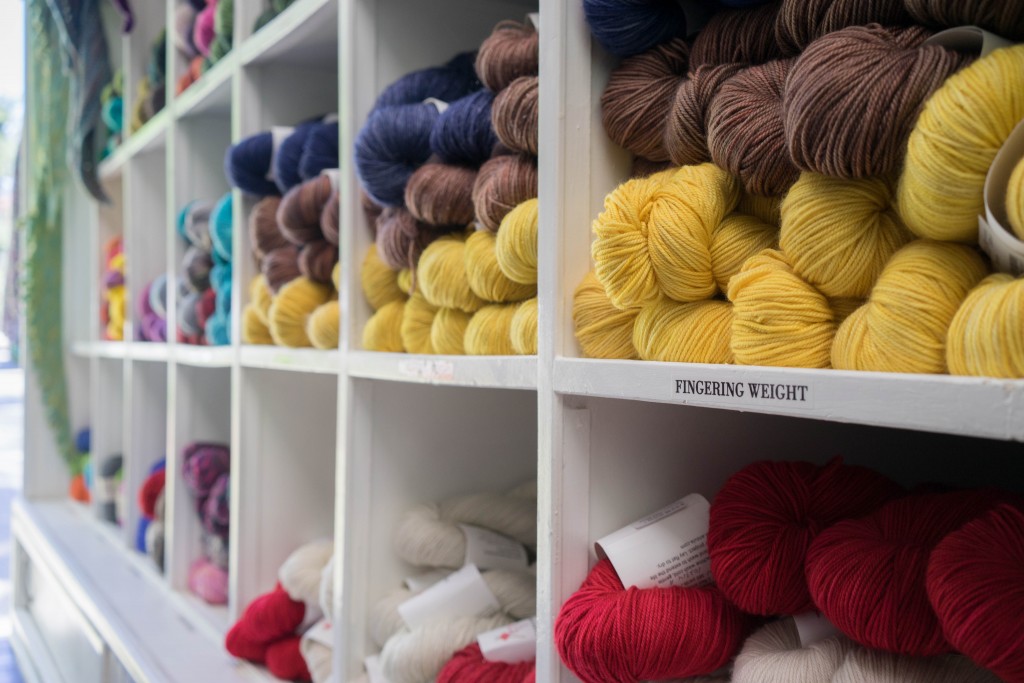 Abo

ut Maridee –
Maridee has been crocheting since she was 12.  Her grandmother first taught her the craft as something to help pass time during an extended hospital stay.  Ten years ago, she took up the craft again and has now learned how to knit as well.  She boasts a wild and crazy stash that sometimes threatens to overtake her entire house.  Her boyfriend jokes that she might need to start storing items in the refrigerator very soon.  His daughter has started to try and limit Maridee's yarn shopping  – only allowing her to purchase one new skein for every two that she uses.  Thankfully, little girls are not that aware of packages coming in and out of the house!
Prior to going full-time with the Truck, Maridee worked in Theatrical Advertising for Warner Bros. Studio for 6-years on such well known films as INCEPTION, ARGO, GANGSTER SQUAD and the HARRY POTTER, SHERLOCK HOLMES & THE HANGOVER franchises plus many more. Prior to coming to Warner Bros. she spent just over three years with Village Roadshow Pictures doing marketing and publicity and almost two years working for Paramount Pictures in their Paramount Classics independent film division.
Before moving to California in June of 2002, Maridee lived and grew up Minneapolis, Minnesota.  She earned a BA in Finance from the Carlson School of Management and a Masters of Business Communications Certificate from the University of St. Thomas.  While in Minneapolis, she spent almost 12 years working as a marketing and advertising professional for various agencies and companies including Music Matters, Bozell Kamstra Advertising, Select Comfort Retail (Sleep Number Stores), MovitAction and MECC Software.
After years of thinking about taking up the craft, Barbra taught herself to knit has been an avid knitter for the last 10 years. . Her grandmother and grandfather were both excellent knitters and Barbra always wished they had lived to see her become the skilled knitter she is today. She is sure her love of yarn comes from them and that they are watching over her making sure that she doesn't drop any stitches. Over the years, Barbra has worked hard to teach herself new techniques and challenge herself with large projects. Her favorite thing to knit is sweaters, always adding extra length for her long arms.  Barbra has taught at local yarn stores and at DisneyToon Studios. Barbra worked in animation production management for Walt Disney Studios for 7 years, before making the leap to working full time on the Yarnover Truck.  She was lucky enough to assist with the knitting portions of Disney's 50th animated feature, TANGLED and on the recent WINNIE THE POOH movie.  Both Rapunzel and Kanga were "taught" to knit by Barbra.

Barbra has a significant background in both social media marketing and the needlearts industry.  As the owner of Knit Together Media, she has spent the past 18 months helping many Los Angeles yarn stores to create and implement effective social media marketing campaigns. Barbra also served as the marketing director for the inaugural and highly successful Yarn Crawl LA.  She earned a BA in Theater with an emphasis in Entertainment Studies from California State University in Fullerton.