It's time to introduce you to our Indie Dyer Showcase for September 2016 – Phydeaux Designs & Fiber.  Brenda Lavell is the woman behind Phydeaux Designs & Fiber and she loves fiber.  Which is a good thing, because she designs both knitting and crochet patterns and she dyes both yarn and fiber.  Her company name is inspired by a sweet little abandoned kitten she raised by hand many years ago.  Although he's no longer with us, his name lives on in this wonderful company!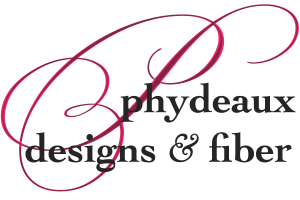 We are excited to be featuring four different bases with interesting fiber contents from Phydeaux Designs & Fiber with 10 colors in each base.  The bases are Down Fingering (80% Merino, 20% Nylon, 10% Cashmere), Angelique Fingering (70% Alpaca, 20% Cashmere, 10% Silk), Aegypte Fingering (50% Alpaca, 25% Linen, 25% Silk)  and Soie DK (50% Linen, 50% silk).  Here is some additional information about each base: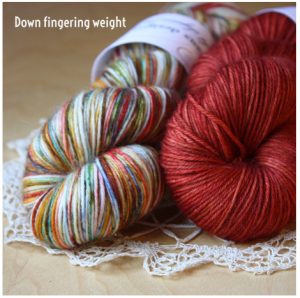 Down Fingering comes in skeins of 435 yards and costs $35. This yarn is great for everything:  sweaters, shawls, scarves, socks, you name it – very soft, four ply, a little heathery, loves color.  The care instructions for pieces made in this yarn are to hand wash/dry flat, but you could use a delicate hand-wash cycle on the machine (but still dry flat).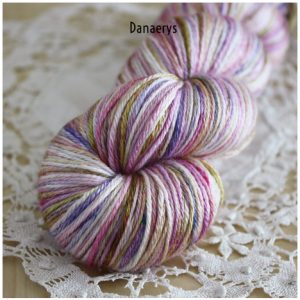 Angelique Fingering
has 435 yarns per skein and costs $50.  This is the most luxurious, softest, most decadent yarn that Phydeaux carries.  SO SOFT.  Perfect for garments, accessories, anything not too hard wearing (this is a super duper luxury yarn).  Alpaca gives it some strength with its long fibers. If you have not worked with with alpaca before, don't be shocked by the wet animal hair odor when blocking/washing – it fades when it dries.  There is NOT a lot of memory/stretch/give in fabrics created with this yarn.  Care instructions are hand wash/dry flat.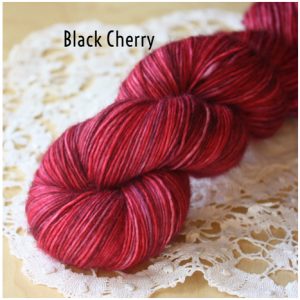 Aegypte Fingering
comes in skeins of 435 yards and costs $40. This is a four ply yarn and it is great for warmer weather, which is why we included it in the trunk show.  Brenda, who hates linen yarn, loves Aegypte.  The linen bits just get softer and softer as you work with the yarn.  Care instructions are hand wash/dry flat.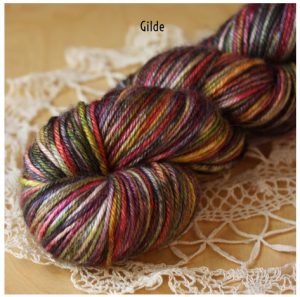 Soie DK
has 230 yarns of luxurious, four ply yarn and costs $40.  Perfect for sweaters, shawls, anything not TOO hard-wearing.  The yarns creates a fabric that is so soft and silky – it is prefect for shawls!  Be warned that the 50% silk "can" felt in the washing machine/dryer if not watched very carefully.  Again, the care instructions are to hand wash/dry flat).  The fabric can snag or pill with the silk.  This is a yarn more for dainty things and not really recommend for hard wearing everyday pieces.
a paragraph
We will have these wonderful yarns on the truck during the month of September 2017 – including during the 2017 San Diego Yarn Crawl (2/15 – 2/17) – Check out our
Calendar
for details on all our events.  We hope you get the chance to visit the truck and see them!
Save
Save
Save
Save
Save
Save
Save
Save