It's time again for the 3rd Annual LA County Yarn Crawl! This event is near and dear to our hearts as it was our first BIG event in the LA area.  This year we are very excited to partner with some amazing shops ans have some fun things for you on the truck!
The entire weekend we will be hosting a Blue Sky Alpaca trunk show

AND a Spud & Chloe trunk show!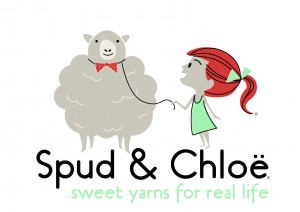 Debbie will be filled with samples from these 2 companies and we will be featuring Blue Sky Alpaca's Techno!  Techno is a lovely combo of 68% baby alpaca/22% silk/10% extra fine merino.  "A modern take on 1970's neon and natural, the line includes groovy pop colors perfectly balanced with granola-lover neutrals. Modern technology makes Techno a feather-weight genius: baby alpaca is blown into a mesh tube of silk for really fast knitting with no splitting." This yarn comes in some super fun colors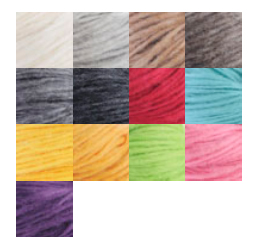 Very excited to see this yarn worked up in some of these lovely samples:
You can check out all the patterns for Techno here… and there are some beautiful ones!
There will be lots of samples for our regular yarns as well!  Including:
The super snuggly –
Brushed Suri Tunic
Girl in the World Sweate
r in Metalico
And of course there will be samples from Spud & Chloe too! Here are a few…
If you aren't familiar with the yarns from these 2 companies this is the perfect time to come get to know them.  These yarns are high quality and beautiful. They have quickly become some of our favorite go to yarns.  Maridee is starting her very first CustomFit Sweater in Spud & Chloe Sweater in the new Pine Needle color!
If you already love these yarns then come see the amazing patterns worked up in person! There is always something special about seeing a piece in front of you instead of just a photograph, and there will be lots to look at! We will have free patterns, 1 knit & 1 crochet, featuring BSA Techno and Spud & Chloe Sweater.  These 2 yarns only will be on sale at 10% off!!
We will also have our brand new Yarnover Truck tumbler for sale! Everyone loved our mug and we thought it was time to add something to hold our cold beverages.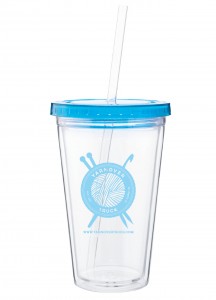 It is a double walled 16oz. tumbler, you can get your own for $10.  We will also have plenty of mugs, tote bags, and Dale Baer notecards on the truck!
Of course no Yarn Crawl is complete without prizes! We love prizes and have a nice stockpile of goodies to giveaway.  Each person who makes a purchase will get to draw for a prize… who knows what you may win!
Our favorite part of the Yarn Crawl though is hanging out with some of our favorite stores.  There is always something special about having 2 stores in 1 location, it automatically feels like a party!
The Yarnover Truck will be partnering with the following stores:
Thursday 4/3  with A-Major-Knitwork from 10am-7pm
Friday 4/4  with Creative U Studios from 9am-8pm
Saturday 4/5  with Alamitos Bay Yarn Company from 9am-6pm
Sunday 4/6  with Colors 91711 from 10am-6pm
Make sure to check out the Yarn Crawl Special Events page to find out all the wonderful things our partner stores are up to… they have some very fun things planned!
Ok hope everyone is ready for the Yarn Crawl!  Looking forward to seeing lots of friends and meeting lots of new people.  Thank you in advance for waiting in the line if there is one!
See you on the Crawl!
* all pictures courtesy of Blue Sky Alpaca and Spud & Chloe