It's finally here! The Yarnover Truck Launch Party is coming soon!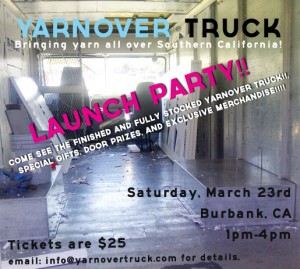 This is a private event for ticket holders only. Tickets are $25. Here are all the fabulous details…
When: Saturday March 23rd from 1-4pm
Where: Buy a ticket to get the location
What's Happening at the Event:  You get an awesome gift bag, door prizes, snacks, photo booth fun, hanging out with local designers and yarn dyers, and most importantly first crack at all of our exclusive merchandise! We are having some beautiful items ( patterns, specially dyed yarn, project bags, and other fun stuff)
How to get tickets:  We are selling tickets via PayPal, email us at info (at) yarnovertruck (dot) com and we will send you an invoice.
It's going to be a blast!!! Hope you can join us!!