As we wrap up our Month of Minty Unicorn we thought we would highlight some of our favorite patterns done in Minty Unicorn!
Vicissitude a tank cowl pattern designed especially for us by The Sexy Knitter.  This tank has been a huge hit and looks amazing on, the drape from the Haiku is perfect for this pattern!
Belle Epoque by Kira K Designs that Maridee did in our Minty.  We Love this Shawl!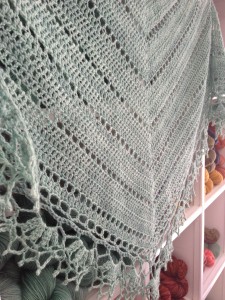 Our awesome customer Dee made the Mackinac Tank in Haiku – It looks amazing on and we love the little ruffle in the back!
Ellen did not 1 but 2 projects in Minty Unicorn Haiku!  First up is the Swags of Lace Crescent Scarf  by Jackie Erickson-Schweitzer
Then Buds in the Breeze by Jackie Erickson-Schweitzer.
Laurel made a beautiful ruffle scarf in Breeze! This is the Rill Scarf by Miriam L. Felton
Then last but not least the amazing Orinskye designed her own fingerless mitts in Minty Unicorn in Squishy – how amazing are these Frozen Mitts?
So what are you going to use Minty Unicorn for?  Leave a comment with what pattern you would use Minty Unicorn for and you could win 2 skeins of Minty Unicorn in Haiku!!!
(Winner will be chosen by a random number generator – Contest ENDS on June 30th at Midnight.  We will pull the winning number on Tuesday July 1st.)