Yarnover Truck Private Parties
Everyone loves a party, especially the Yarnover Truck.  Invite us to come and be the entertainment at your next special event – we would love to come and party with you and your friends.   We have great ideas for bridal & baby showers, birthday parties or just an afternoon shopping with your friends.  We are the newest yarn store in the Los Angeles area but we are a bit different because we can bring the local yarn store to you –wherever you are!
Project Party
Let the Yarnover Truck teach you and your guests how to knit or crochet.  For bridal or baby showers, all the guests can help make a part of a blanket.  Or maybe everyone makes a pair of booties for the new baby.  We have some really fun projects for kids that could easily be part of a great birthday party!  Another idea is to have an afternoon of shawl making for you and your best girlfriends! Party costs range from $800 – $1,500 which includes the cost of the yarn, needles, hooks and instruction.
Minimum number of guests:     6
Maximum number of guests:     12
Party length:   3-4 hours
Minimum Cost: $800 Includes, 3-4 hours of instruction, 1 skein of yarn & knitting needles or crochet hook per person.  $120 for each additional guest over 6
Party Theme Ideas:
Baby Shower Blanket (Knit or Crochet) – Each guest will learn the knit or crochet techniques needed to makes a square.  Then each individual square will be combined to make a blanket                                             shower gift for the baby.  The teachers will help to put the blanket together so the gift is hopefully done with the party is finished.
Same idea for Wedding Showers Blanket
Baby Shower Booties (Knit or Crochet) – Each guest will learn the knit or crochet techniques needed to make a pair of booties for the baby.
Cowl Party (Knit or Crochet) – Each guest will earn the knit or crochet techniques needed to make a cowl using chunky yarn.
Granny Square Shawl Party (Crochet Only) – Each guest will learn how to make a triangle shawl using the granny square crochet technique.
Little Kid's Party (Finger Knitting or Finger Crochet) – Each guest will learn how to finger knit/crochet
Shopping Party
Invite the Yarnover Truck to join you and your friends for an afternoon or evening of yarn shopping fun.  There is no charge to have the truck come to your place for a shopping party but we do require a minimum of 15 guests at the party who are ready to get their yarn on! As a hostess, you will receive a discount on your Yarnover Truck purchase that night based on the total gross sales generated at your party. The more parties you host the better your discount!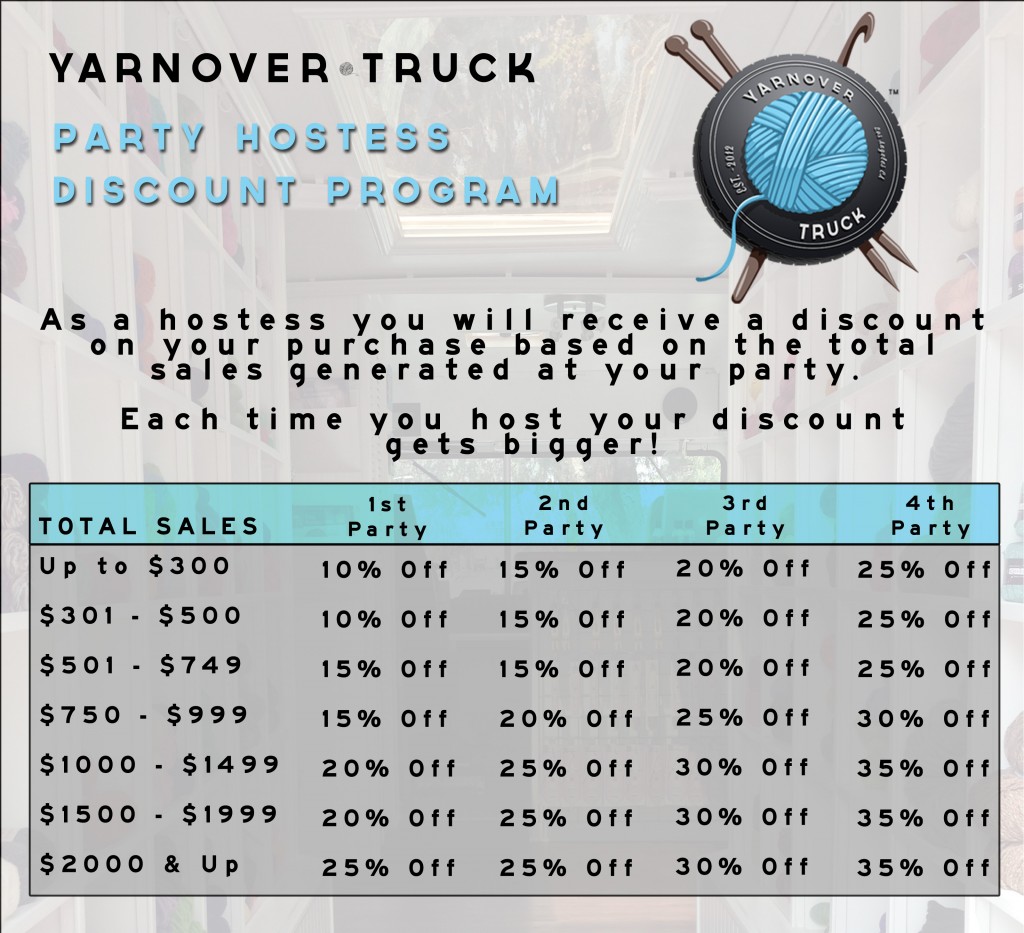 Truck Needs:
To park at your location, the Truck needs a minimum of 2 car lengths to fit. The truck loves a level grounded area, grass or pavement, but we are open to working with the space you have!  We accept all major credit cards and cash.
Additional Information:
Unfortunately, the Yarnover Truck is not licensed to serve food or drinks. This aspect of private parties is the sole responsibility of the host. Many hostesses have found potluck parties to be a fun and affordable way to host!

To set up a Private Party please email the Yarnover Truck at info(at)yarnovertruck(dot)com
Please include your preferred date, 2 alternate dates, preferred location, and how many people will be attending.
Thank you!