The Yarnover Truck is thrilled to be taking part in the First Annual San Diego Yarn Crawl!  The four-day fiber-filled celebration will run from Thursday, September 26th through Sunday, September 29th.  Join us for this free, self-paced, self-guided tour of 8 San Diego yarn stores, 2 alpaca farms, and 1 mobile Yarn truck taking crawlers from San Marcos to Chula Vista, Ramona to Encinitas and many points in-between!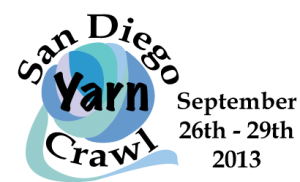 Just like we did during the LA Yarn Crawl, the Yarnover Truck will be in a different location each day during the crawl.  We are partnering with the established locations on the crawl so you can visit two stores in one spot.  Here is our schedule:
9/26 – Yarn & Thread Expressions at 7882 La Mesa Blvd, La Mesa, CA
9/27 – La Dolce Vita Alpaca Farm at 24901 Bareta Star Ranch Road, Ramona, CA
9/28 – Needlecraft Cottage  at 870 Grand Avenue, San Diego, CA
9/29 – Common Threads  at 466 S. Coast Hwy 101, Encinitas, CA
Passports for the crawl are free.  Go t the SDYC web site where you will find all the details for the crawl, including the passport and Google map for you to print out plus store highlights and activities planned during the crawl. Be sure to check back as we get closer as stores will likely be adding in fun events.
As a crawler you also have the chance to purchase the limited edition SDYC cloth tote bag.  All stores are pre-selling them now for $7 each.  You can order yours from the Yarnover Truck here .  Pre-orders are being taken until August 26tt. and after that the price of the bag goes up to $10 and quantities available will be limited.  During the two past Los Angeles Yarn Crawls the bags were very popular so if you would like to get this bag, please be sure to place your order early.   All the bags will be available for pick-up during the crawl from the store you ordered it from.
We are working on scheduling our trunk shows and special events and determining which yarns we will be featuring with free patterns.  Stay tuned as we get closer to the event for updates!