We are getting close to our first Stitch 'N Pitch game of the 2017 Summer and we are really excited. These nights are so much fun with friends, family, hot dogs, popcorn, peanuts, knitting, crocheting, baseball, and with our special Yarnover Truck version of Bingo with lots of great prizes!!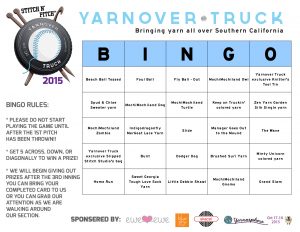 Inside each gift bag there will be a Yarnover Truck Stitch 'N Pitch Bingo card which includes both baseball things that will be happening during the game plus lots of yarn related items. All you need to do to get Bingo is see or find the items included in 5 squares in a row – up, down, or diagonally. Once the game begins, you can start playing bingo. Here are some tips we suggest to be successful and make the game more fun: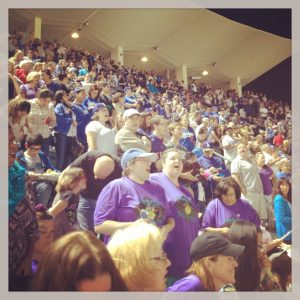 Bring Things You Have Purchased From The Yarnover Truck
We suggest that you bring projects (both complete or in progress), yarns, and any other items that you may have purchased from the Yarnover Truck or received at one of our events. We like to include some of the new things we have added to the truck inventory too including yarns, patterns or accessories.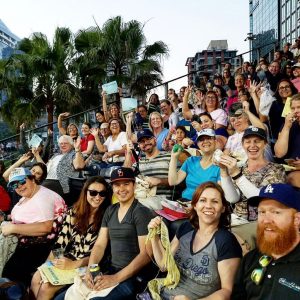 Chat With Your Neighbors
This is important for both baseball and yarn related things. As things happen during the game, if you are busy working on your latest project you might miss some of the action – no problem. If someone has seen it happen, then everyone is free to mark that square on their card. For yarn related things, ask your neighbors what they might have brought along in their project bags. As long as you can point to the person who has the item, you can mark that square on your card too. We try not to make the game too difficult!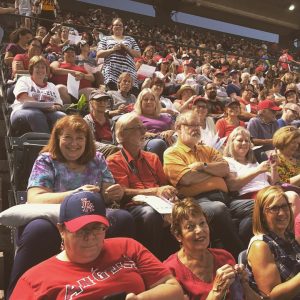 Please Be Patient
Once you have BINGO hang on to your card and write your name on it! We will come around after the 7th Inning Stretch to hand out prizes. Remember there around 80 of you at each game and just 1 or 2 of us handing out prizes. We will get to all the rows and know that we have brought along lots of prizes to share.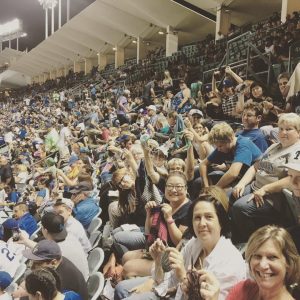 Have Fun & Join Us Again
We love these nights and really hope that everyone who comes along has a wonderful time too and will want to come again each year. Remember tickets do typically sell out early so when you see us start talking about the Stitch 'N Pitch Games next spring, please be sure to get your tickets right away!
We look forward to seeing you this summer at the ball parks!