We are very excited and looking forward to bringing the truck back up to the Stitches West in Santa Clara, CA, February 19th – 22nd.  Debbie, and all of her friends, will be in booth #1048 and can't wait for you to come and visit! We have so much fun stuff planned that you won't want to miss in our booth.
First and most exciting, we are hosting a trunk show with indie dyer Indigodragonfly. Kim & Ron are the owners of Indigodragonfly and they have created some amazing colors but we think their color names are genius!! They do a wonderful job of combining pop culture references in their colors names and Kim told us that a color name doesn't get used unless it makes one of them laugh! The Indigodragonfly team has been dying up lots and lots of yarn, and both Kim & Ron will be joining us all weekend in the booth to show you all of their amazing yarn bases and tell you about the color names! We have been working with them on our newest exclusive color, "It's All Fun & Games Until Someone Sleeps With Someone Beneath Their Station" and it will be on sale for the first time during Stitches West!! We will have it in four bases: Merino Single Lace, Mergoat Lace, Merino Sock (new base to the Yarnover Truck) & Octabaa.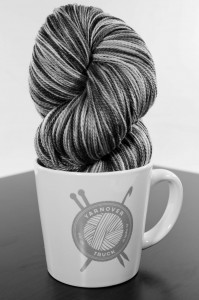 Black & White Teaser – actual color will be released Feb. 19th
Second, we are hosting Trunk Shows with two of our favorite knitwear designers: The Fickle Knitter (Michelle Miller) and Anthony Casalena. We have worked with both of these amazing people on special projects and are really excited to have them, and all of their beautiful shawls joining us for the weekend. Michelle will be in the booth doing meet & greets on Thursday night from 6pm – 8pm and on Friday from 10am – 12pm. Anthony will be doing meet & greets on Friday from 4pm – 6pm and on Saturday from 12pm – 2pm. Stop by and check out the samples of their amazing work, plus we will have hard copies of patterns and books for sale.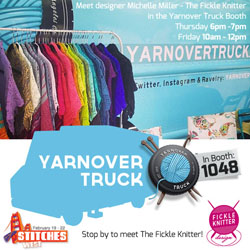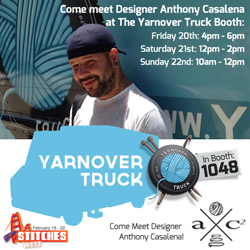 For the Thursday day night Market Preview, we will have kits of two exciting patterns that have been created using Zen Yarn Garden's Serenity Silk Single in our exclusive color "California Love". From The Fickle Knitter, we will have her newest release the "Laguna Shawl" and from Anthony Casalena, we have his beautiful and very popular "Bella Vista" getting the same treatment. Both pieces will be included in the Stitches West Fashion Show on Friday night and we will be selling kits for both pieces that will include the yarn and pattern. The kits will be discounted for the Thursday Night Market Preview and will be available while supplies last in the booth all weekend.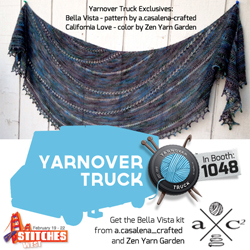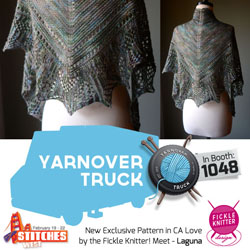 Third up is our Crochet Lounge. We love crochet on the Yarnover Truck and want to introduce you to some independent designers who you might not be familiar with. We are highlighting pieces from Angelina Robinson, Janet Brani and Sara Kay Hartman in the Crochet Lounge. The lounge will be set up in a corner of our booth, where we will have some comfy chairs and you can check out these beautiful pieces from these up-and-coming designers. Please stop by see them – you won't be disappointed!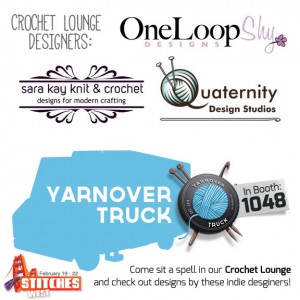 Lastly, we are hosting our good friend Lauren from the Amy Herzog's Custom Fit Sweater team. The Yarnover Truck has been a Custom Fit LYS for the past year. We have each knit a sweater and have watched our customers create their own beautiful and well fitting sweaters. Using your body measurements along with your personal knitting and gauge information, the program creates a sweater pattern that is specific to you. Lauren will be doing measurement sessions in our booth on Friday & Saturday plus she is holding a Q&A session on Friday from 4:30pm – 6pm to answer any and all of your questions about the program. If you would like to get measured during the show, you need to preregister and pay for your session. Here are all of the details.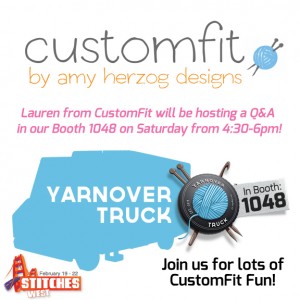 We hope you will find time during the show to stop by booth # 1048 to see us, visit the truck and meet some of the amazing people who will be joining us. We know it is going to be a wonderful weekend!