We are opening sign-ups for the 2nd half our year-long yarny exploration of Nerdy things in our Yarnover Truck Yarn Club. You can get all the details and sign up HERE.
This nerdy themed club has been really well received by all those who joined and we would love to add your name to our list for the final three packages! We're hoping we can tempt you to join in by showing you all the fun yarns, patterns and goodies we included in the first three shipments. The yarns, patterns and special gifts included in each package are all tied to a specific theme. Here's what we included:
Package #1 – Tangled
We picked this theme because before the Yarnover Truck, Barbra worked at Disney Animation in production management and her first film was Tangled. When the lyricist adding KNITTING in two of the songs she knew she had to ensure her beloved craft was represented correctly. Thankfully everyone agreed and Barbra taught Rapunzel to knit – at least the animators did because they watched her knitting and based Rapunzel's movements off the way she knits.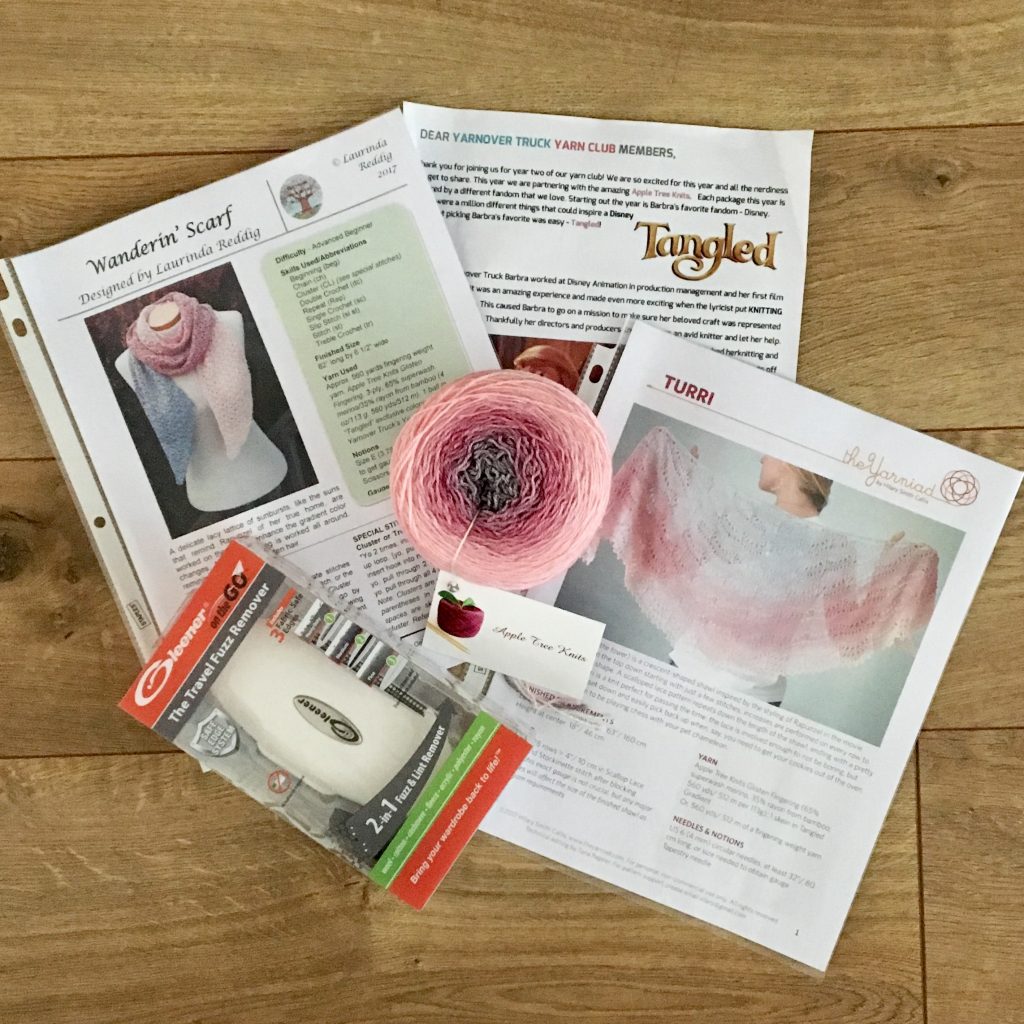 Apple Tree Knits created the colorway based on the scene from the film when Rapunzel is knitting and she captured the moment beautifully! The yarn used was the beautiful Glisten Fingering in this beautiful gradient colorway. The fiber mix is 65% superwash merino, 35% rayon from bamboo in a 3-ply yarn that is so lovely to work with! Both of the patterns included in the package really do a great job of showing off this beautiful color!
The knit pattern is Turri by Hilary Smith Callis
The crochet pattern is Wanderin' Scarf by Laurinda Reddig
And the special gift included was the Gleaner. A patented and award winning fabric shaver and lint brush that safely removes fuzz balls, lint and pet hair from virtually all fabrics. Sort of a brush, like Rapunzel's, for your knitting!
Package #2 – Buffy The Vampire Slayer

The first package was one of Barbra's favorite and second package was one of Maridee's! Buffy The Vampire Slayer is one of Maridee's all time favorite TV shows. She loves it because it was one of few TV shows to have a strong female lead and she really connected with the character of Buffy. It was well written and showed the trials and tribulations of high school but in a smart and witty way. Plus Maridee's husband worked on the lighting for the show's first three seasons!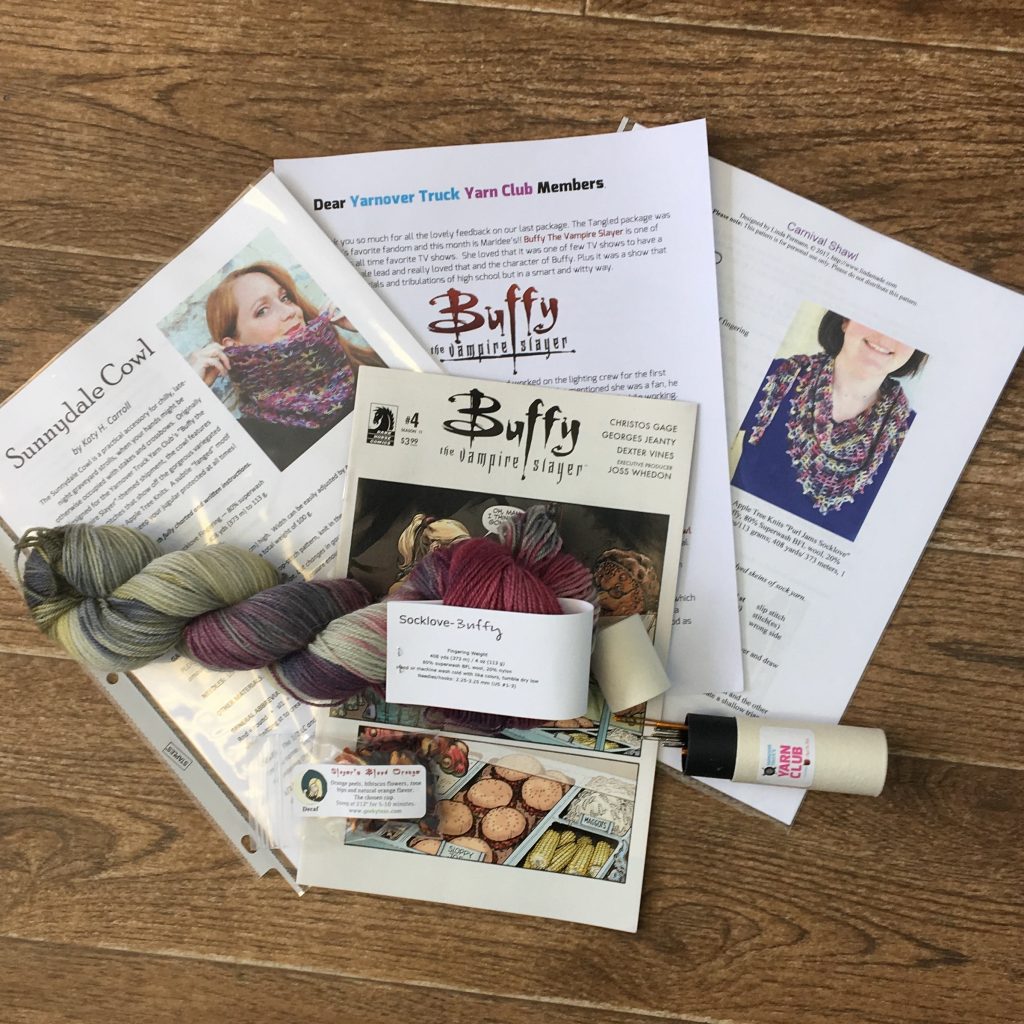 For this color we sent Apple Tree Knits one of Maridee's favorite pieces of Buffy Fan art – Buffy Knitting by Karl James Mountford. Liz dyed up a gorgeous variegated yarn based off this picture on SockLove Fingering a smooshy 80% Wool (Bluefaced Leicester) & 20% Nylon. It's a strong but soft yarn – just like Buffy! And again, we have two wonderful patterns that work up great in this color!
The crochet pattern is Carnival Shawl by Linda Permann.
The knit pattern is Sunnydale Cowl by Katy Carroll.
For the special gifts we worked hard to find things that themed with this awesome show. A set of darning needles which are our own version of the stakes that Buffy always has with her to battle the vampires. A Buffy Comic book and some tea themed to the show from our friends at Geeky Teas!
Package #3 – Hamilton: An American Musical

The theme of our third package is one that we both love! It is the amazing show Hamilton: An American Musical. Both of us are obsessed with this show, it's our favorite thing to listen to while driving on long road trips with Debbie (the Truck). Seriously this soundtrack is some of the best driving music!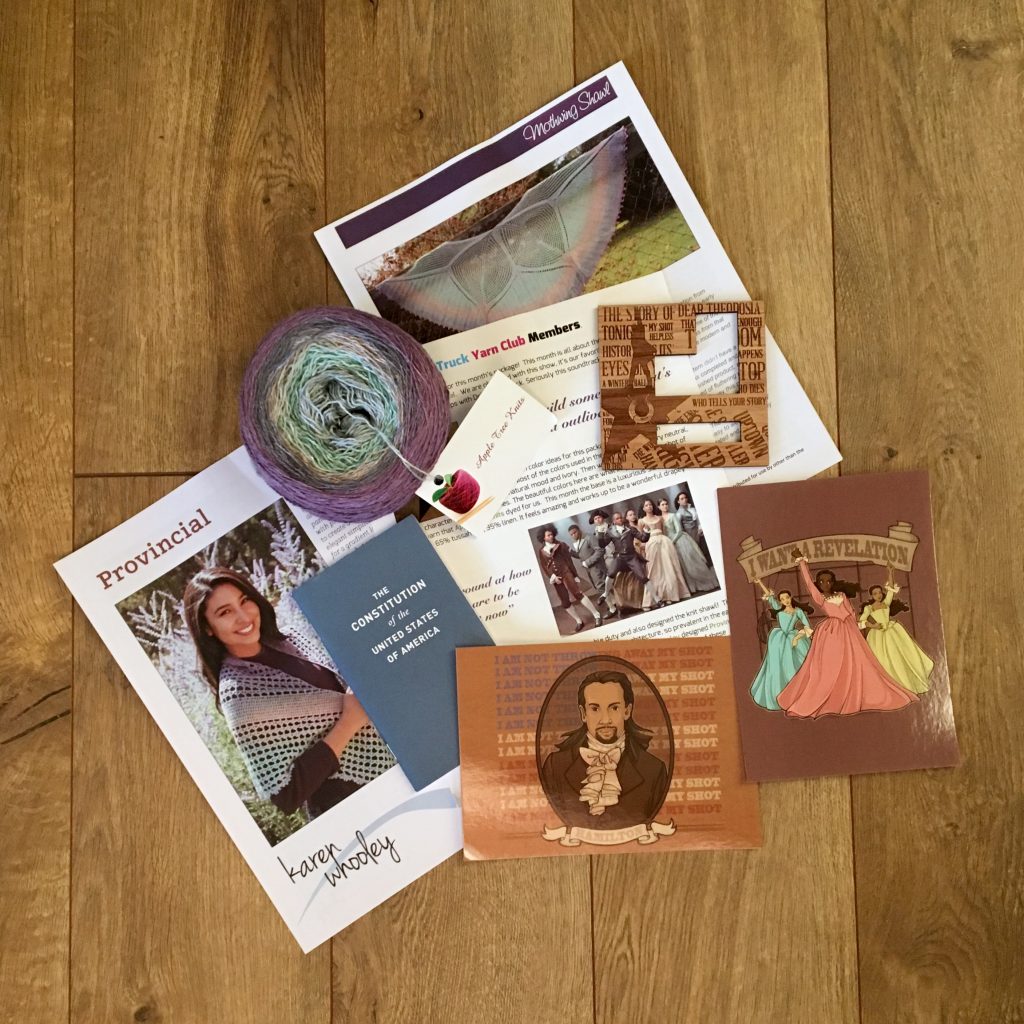 Coming up with color ideas for this theme was a bit of a challenge but we found a beautiful photo of all the main characters in their costumes and it all fell into place. The beautiful combination of colors inspired Apple Tree Knits to create a stunning gradient yarn. The base is a luxurious Silklin Light Fingering – 65% tussah silk, 35% linen. It feels amazing and works up to be a wonderful drapey fabric and both patterns really show this off!
The knit pattern is Mothwing Shawl by Liz Capik
The crochet pattern is Provincial by Karen Whooley
We kept the theme going with the special gifts and created a colonial looking gauge ruler with our friends at Retromantic Fripperies, inscribed with fabulous quotes from the musical. Since Alexander Hamilton was very involved in the start of our country we felt including a mini US Constitution would be fun. He wrote 51 essays defending the New US Constitution. The final pieces were two beautiful postcards featuring fan art from the amazing Karen Hallion.
We have three more packages to come in this club of yarny goodness exploring our favorite nerdy things. The themes for the next shipments are Star Wars, Firefly and Dr. Who. If you liked the first three packages, we are sure you will LOVE the final three!
Be sure to join the 2nd half of the Yarnover Truck Yarn Club!