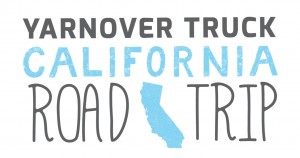 MEDIA ALERT FOR IMMEDIATE RELEASE
YARNOVER TRUCK IS HITTING THE ROAD TO VISIT NORTHERN & CENTRAL CALIFORNIA, APRIL 25 – MAY 17, 2015
LOS ANGELES, CA – April 12, 2015 – The Yarnover Truck, the first mobile yarn store, is venturing outside of it's California stomping grounds and taking full advantage of it's wheels as the truck heads up to Northern and Central California for Yarnover's first California Road Trip. This three-week odyssey will include planned stops with 11 local yarns shops and one Indie Yarn Dyer.
Yarnover Truck, co-owned by Maridee Nelson and Barbra Pushies, is a yarn boutique on wheels, implementing the food truck business model and applying it to a mobile yarn store and taking the industry on the road. "This trip is giving us the chance to partner with some of our favorite stores outside of our home area" Pushies said.
The focus of the truck is on hand-dyed yarns and working with as many local companies as possible. The company's California-based products include luxury yarns from Anzula in Fresno, Baah in Oceanside and Forbidden Woolery in Burbank, plus knitwear designs from Michelle Miller of Fickle Knitter Designs in Huntington Beach and Anthony Casalena of A. Casalena Crafted in Los Feliz, who have both designed patterns exclusively for the Yarnover Truck.
"We know that shopping with us takes a bit of effort from our customer so we have worked hard to make it worth their while." Nelson said, "We have several products that are sold solely on the Yarnover Truck including special yarn colors from Anzula, Baah, Zen Yarn Garden and Indigodragonfly." Pushies added, "Plus, we have a full line of project bags from Slipped Stitch Studios in fabrics that are only available through the Yarnover Truck. "
The California Road Trip is scheduled to start on Saturday, April 25 with the first stop in Ventura. Here is the full list of all of the stops planned for the Road Trip:
Saturday, April 25th – Anacapa Fine Yarns, Ventura CA – 10:00a – 5:00p
Sunday, April 26th – Ball & Skein, Cambria CA – 10:00a – 5:00p
Tuesday, April 28th – The Golden Fleece, Santa Cruz, CA – 12:00p – 7:00p
Thursday, April 30th – Monarch Knitting, Pacific Grove, CA – 10:00a – 5:30p
Wednesday, May 6th – Purlescence Yarns, Sunnyvale, CA – 11:00a – 6:00p
Thursday, May 7th – A Verb For Keeping Warm, Oakland, CA – 11:00a – 7:00p
Saturday, May 9th – Cast Away & Folk, Santa Rosa, CA – 10:00a – 5:00p
Sunday, May 10th – A Yarn Less Raveled, Danville, CA – 11:00a – 5:00p
Tuesday, May 12th – Knitique, Elk Grove, CA – 10:30a – 6:00p
Friday, May 15th – Knitters Square, Modesto, CA – 12:00p – 8:00p
Saturday, May 16th – Anzula Luxury Fine Yarns, Fresno, CA – 10:00a – 2:00p
Sunday, May 17th – Classy Knits & Yarn, Bakersfield, CA – 11:00a – 3:00p
# # #
For more information:
Maridee Nelson or Barbra Pushies
Co-Owners, Yarnover Truck, Inc.
818-394-0551