Our big news is that we are bringing the Yarnover Truck up to Santa Clara California for the upcoming STITCHES West show on February 20th – 23rd.  And when we say we are bringing the truck, we are actually driving the truck right onto the convention center floor!!  You will be able to find us in booth numbers (1146, 1148, 1245 & 1247).  Attendees will be able to see the truck full of all the beautiful things we have to offer.    Be on the lookout for our big blue beauty – but we don't really think you will have much trouble finding us!!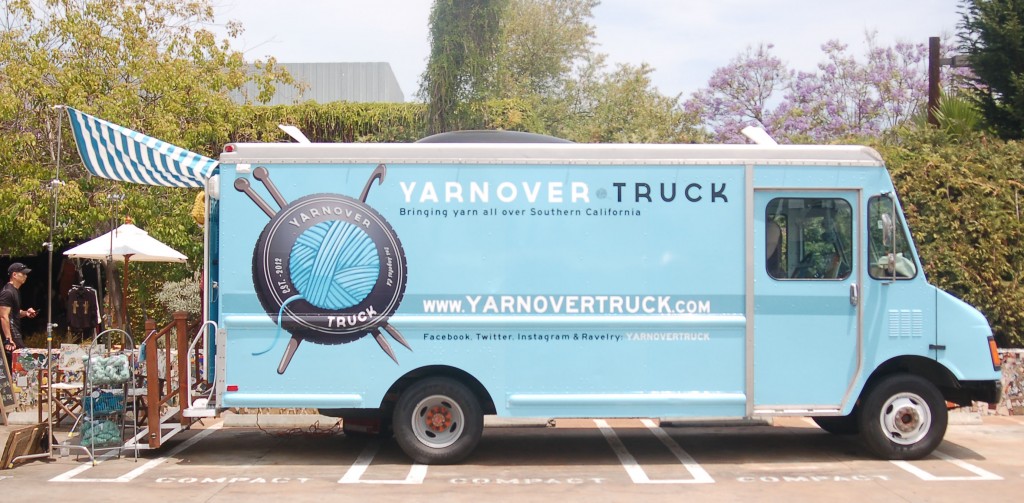 SPECIAL EVENTS PLANNED AND FEATURED PRODUCTS
We have some great things planned for our first STITCHES appearance.  We will have our usual lines of wonderful hand dyed yarns from Anzula, Forbidden Woolery, Sweet Georgia, Sincere Sheep, Zen Yarn Garden and Indigodragonfly, Ewe Ewe Yarns  in addition to a large selection of yarns from Blue Sky Alpacas and Spud & Chloe!   Plus, we are super excited to announce two special trunk shows.  The first featuring Baah Yarns who will have their ENTIRE line of product at the show for you to shop from.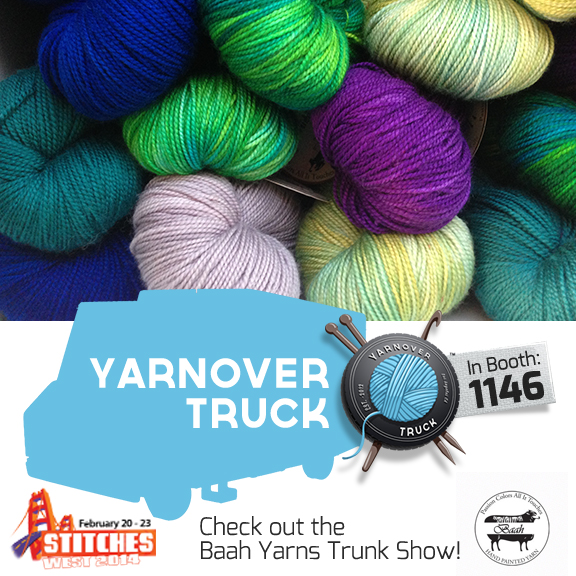 The second trunk show will feature patterns from Michelle Miller – the Fickle Knitter.  All of her beautiful shawl patterns and books will be available for purchase. If you are not familiar with her work, she is a wonderful knitwear designer who has created an amazing array of shawls – many of which only take one skein of yarn to complete.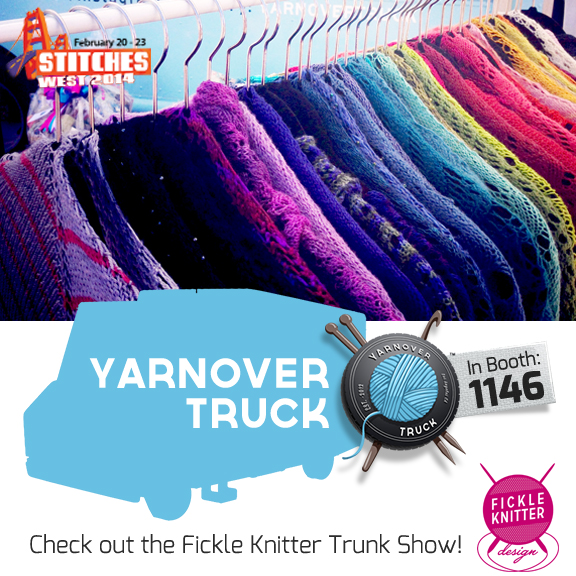 Something else you won't want to miss is the introduction of the Fickle Knitter's newest shawl pattern.  If you have been following us for a while, then it is pretty likely that you know about "Little Debbie" the shawl pattern that Michelle designed just for us.  Well, she is getting a big sister – the "Big Debbie"!!  This shawl will use three skeins of the beautiful La Jolla yarn from Baah, including our exclusive color Keep on Truckin'!  If you are lucky enough to attend the "Show Preview" on Thursday night be sure to stop by and be one of the first to get our special show kits of this shawl and yarn!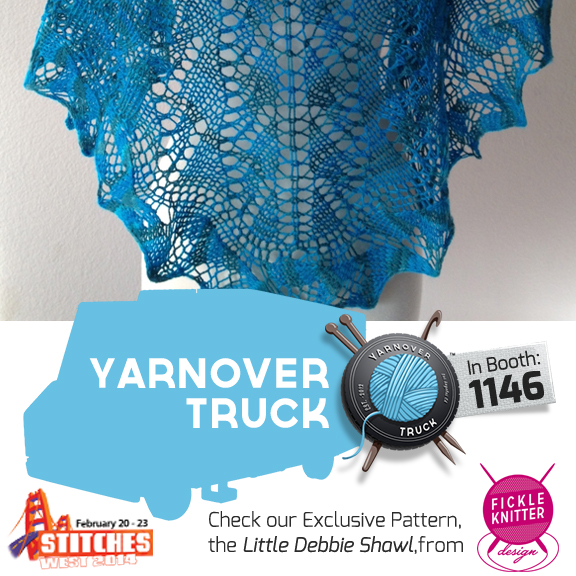 Big Debbie Photos Coming SOON!
PASSPORT GAME
Since this is our first time at STITCHES, we thought it would be fun to take part in the Passport Game which will be happening at the STITCHES Marketplace.  The game is open to all and if you play, you will get the chance to see and visit many of the booths from the wonderful vendors plus you will have the chance to win a cash prize of $1,000!!   All you have to do is print out a passport and visit each vendor.  Click here to get your passport and see all the rules and participating vendors.

The Yarnover Truck is representing FRANCE in the game so be sure to look for our French flag which we will have flying in our booth. When you come to visit, all you have to do is go into the truck and you can get your passport stamped.  It is as easy as that!
As you can see, there will be a lot of fun things happening in the Yarnover Truck booth at STITCHES West.  We hope to see lots of old friends and to make many new ones in Santa Clara and hope you can join us!