We have are so lucky here at the Yarnover Truck to be able to work with some amazing vendors and create some amazing one of a kind merchandise for our launch! These products are amazing and we can't wait for you all to seem them in person.  Here is a little sneak peak of what we will have…
First up we have our exclusive color, Minty Unicorn, from the amazing dyers at Anzula Luxury Yarns!  We will have this color in 3 yarns: Squishy, Haiku, and Breeze
There will also be TWO patterns exclusively designed for us out of Squishy and Haiku in this color by the amazing designers: The Sexy Knitter is designing us a beautiful cowl in the Haiku…pics will be coming soon on this!
This lovely shawl i sknit in Squishy designed for us by Tabetha Hendrick… check out the Tempest Shawl!
We have another exclusive color from the lovey Baah Yarns!  in both the La Jolla and Sonoma bases. We are in love with this color – Keep on Truckin'
We are thrilled to have an exclusive design from Michelle Miller in this yarn!  Here is "Little Debbie", which is knit up in LaJolla!
It is even more beautiful in person!
Then there are the Surf's Up Mitts by Stephannie Tallent… these are so cute there aren't even words to describe how much we love them! They are knit up in La Jolla in the Keep on Truckin' colorway along with Pink Flamingo!
It's not just yarn and patterns that we have exclusive to the truck…. we have project bags too!
Slipped Stitch Studios did up 2 exclusive fabrics for us in 3 of their bags.  They are adorable and we love them so much!!!
First is our Candy Fabric…
Then our Knit fabric…
These are great bags in fabrics you won't find anywhere else!
Last, but not least, are the Sexy Knitter Tool Tins!  These are amazing, they have all the notions you would ever need inside an small tin! We did an exclusive label on top of the tin, with a picture of some of our Baah yarns on the beach in Malibu… who doesn't love yarn on a beach!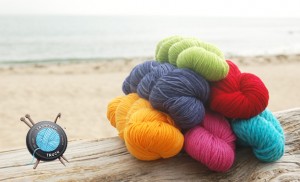 So that is all the one-of-a-kind, exclusive, super awesome stuff you can find on the Yarnover Truck! Hope you can come visit us soon!