For November, we are really excited to be featuring an Indie Dyer who is pretty new to us – The KiwiPop Studio Yarns.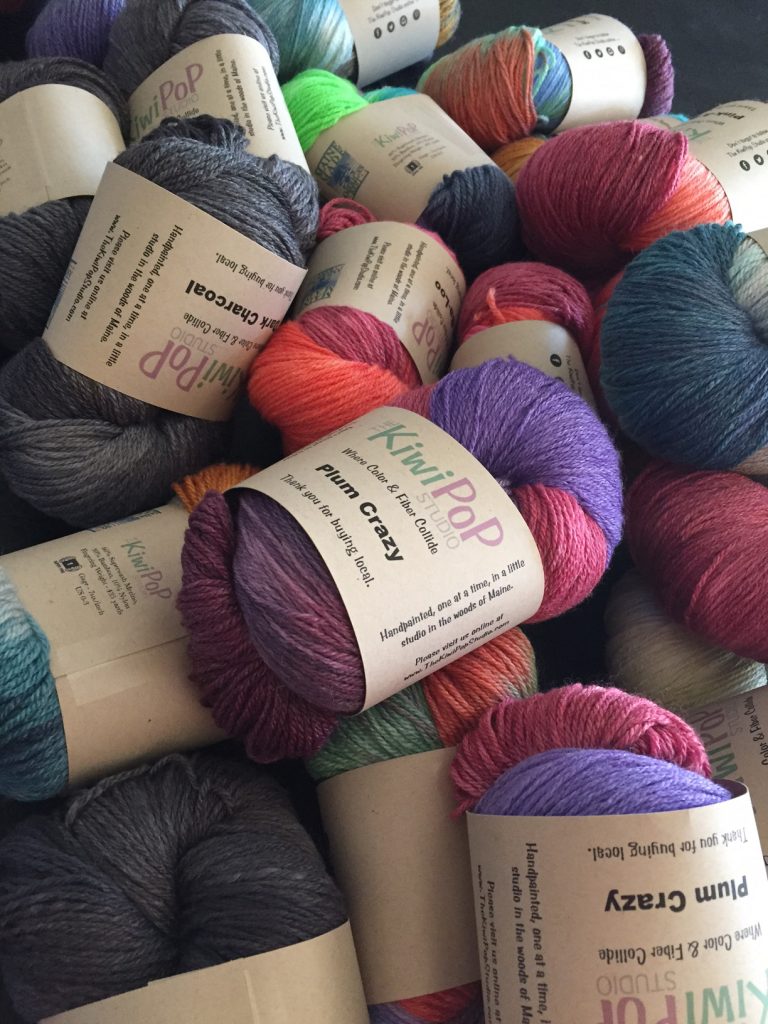 Judy Thomas, is the force behind these hand-painted beauties!  Yup – she hand-paints each and every skein, one at a time!!  This indie dyer is based in Maine and the name of her business – The KiwiPop Studio –  came from combining her grandparent's nicknames – Kiwi (grandmother) and Kipop (grandfather).  She likes knowing that she is carrying their memory with her on a daily basis. We so appreciate this as both of us take inspiration in our business from our grandmothers!
We have four beautiful bases from The KiwiPop Studio on the Truck during November.  Two are fingering weights (SockPop & SparkleBomb) one is sport (CottonPop) and the other is DK (AlpacaPop).  The colors Judy sent us are beautiful and she even included a new color inspired by the Yarnover Truck. The color is called "Debbie" and we hope you like it as much as we do!  Here are the base details: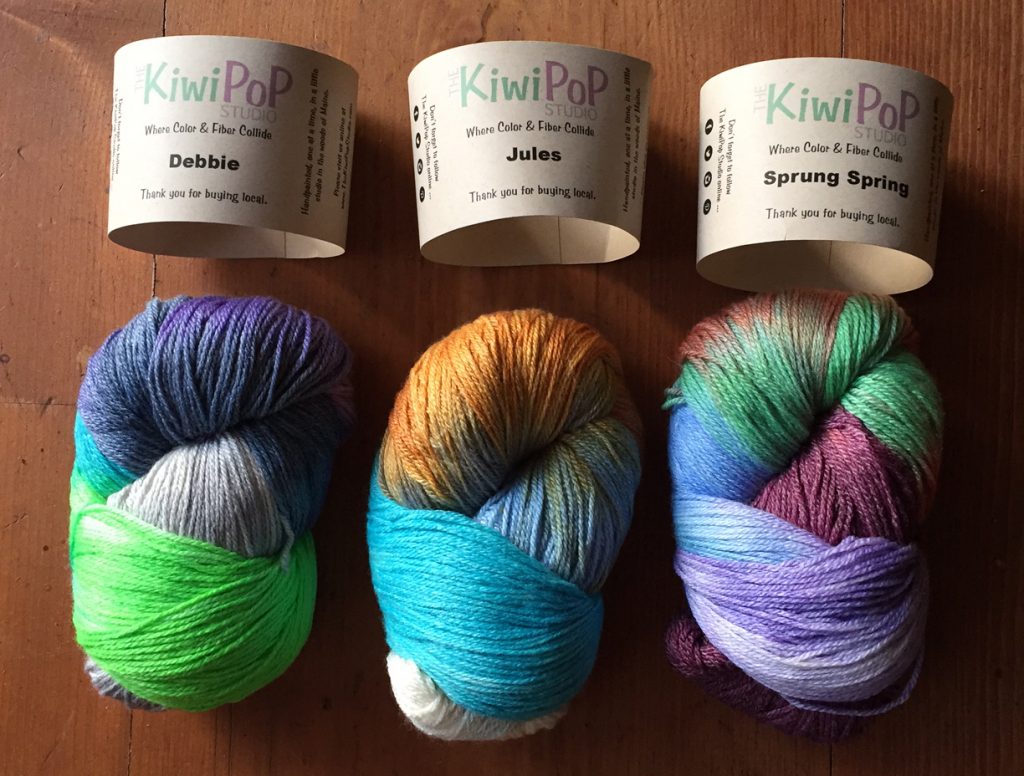 SockPop – This is a great "go to" fingering/sock yarn. With a blend of Superwash Merino, Bamboo, and Nylon this yarn is incredibly soft and a dream to knit with. Stitch definition is also fantastic. Each skein contains 60% Superwash Merino, 30% Bamboo, and 10% Nylon.  Each skein has 435 yards/398 meters (113 grams/4 oz) of hand painted beauty and our retail price is $26.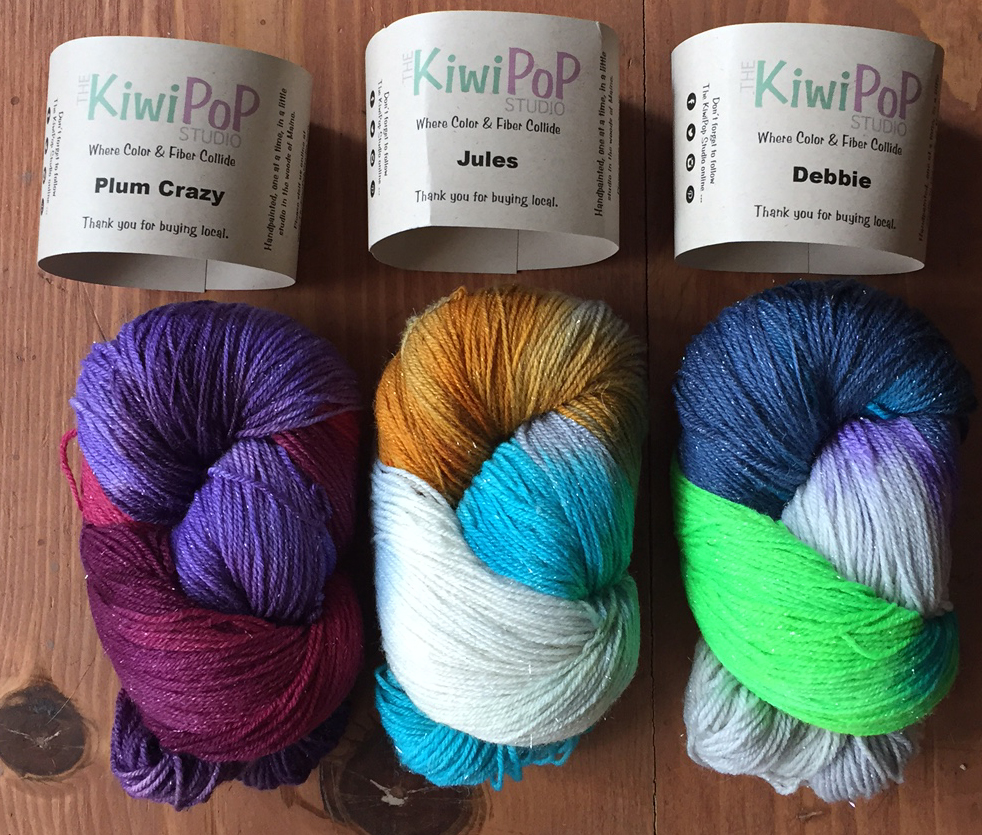 SparkleBomb – A fingering weight featuring sparkles – you know how we love sparkles! This yarn is made up of 63% Superwash Merino, 20% Silk, 15% Nylon, and 2% Silver Poly (the sparkles). Each skein has 420 yards/384 meters (100 grams/353 oz) and our retail price is $43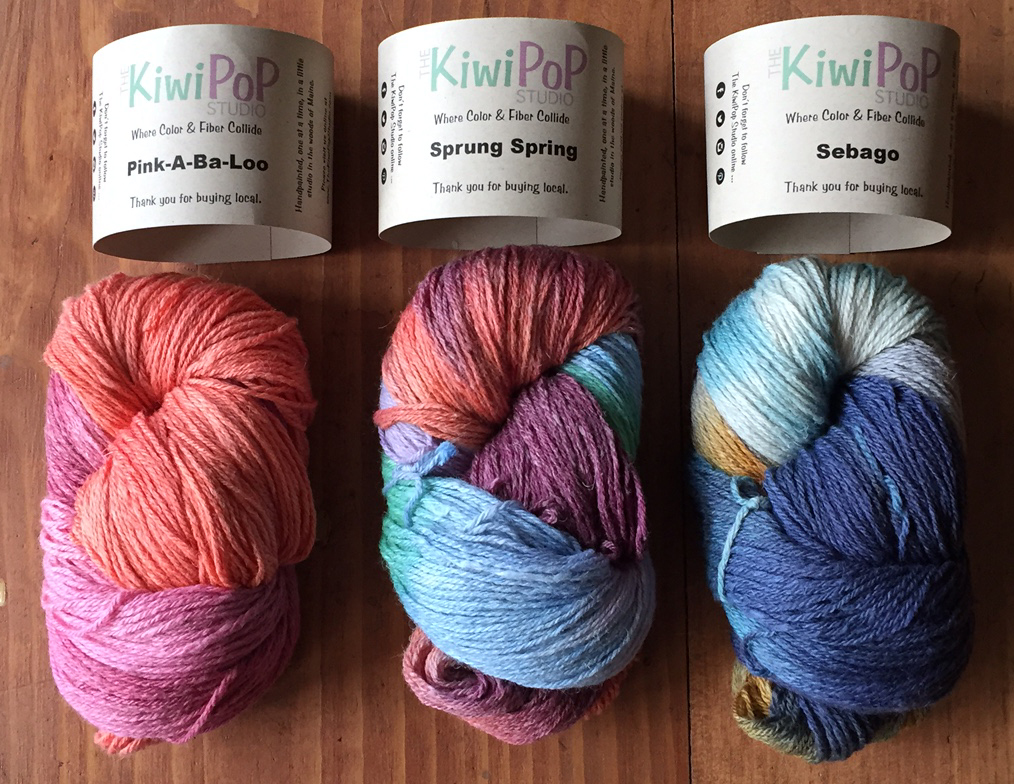 CottonPop – This is a brand new base that The KiwiPop Studio is debuting with us on the Yarnover Truck! This interesting combination of wool, cotton, linen and silk will create a great fabric for our weather here in So Cal!  It is a Sport Weight blend containing 50% Merino, 25% Cotton, 15% Linen, 10% Silk. Each skein has 320 yards/293 meters and our retail price per skein is $36.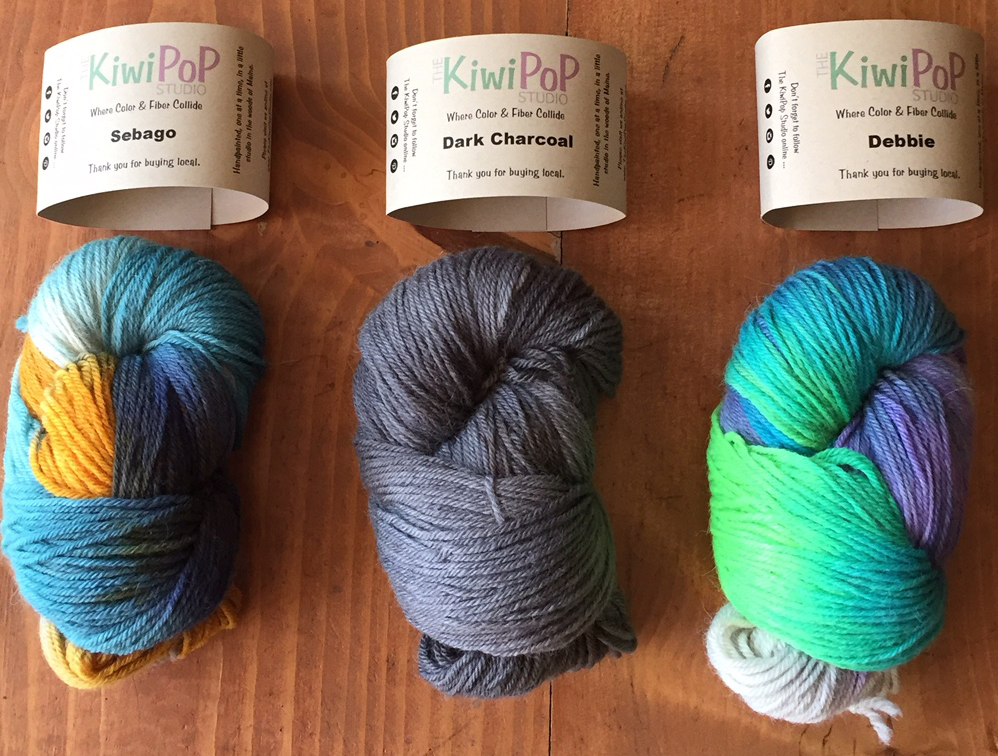 AlpacaPop – is a super squishy DK weight yarn.  It is made up of 70% Domestic Alpaca, 30% Merino. Each skein has 200 yards, 183 Meters (100 grams/3.53 Ounces) ad our retail price per skein is $30.
Here is a bit more about Judy's history and her color inspirations:
My love of yarn started when I was a little girl. Growing up in Maine it's common that you grow up going to a few agricultural fairs. I would commonly be found plunked down on the grass watching the spinning wheels. I was fascinated that something which was so fluffy could slip through someone's fingers, get twisted and then suddenly it was yarn! It was mesmerizing to me. When I was probably 10 or 11 my grandmother taught me how to knit, and although I caught on to the process easily – my interest wasn't there until I was in my 20's. I started to knit again and one year I bought my own spinning wheel to make my own yarn. I fell in love immediately. Watching the fibers slip through my fingers, twisting together and mixing with different colors to create something totally unexpected … It was magical. But my eye caught onto the colors. I began to dye roving and yarn and that's where my true passion has been since. The business grew from this love – and that's why I dye everything one skein (or braid of roving) at a time. I love to take the time to create something special which I know is going to be knit or crocheted into something that someone may wear. These pieces of handmade clothing are often passed down from generation to generation and it gives me so much pleasure to see someone wearing yarn that I dyed.
My color inspiration comes from everywhere! Maybe from clothes that characters are wearing on a television show, flowers in my parents gardens, a photo that I see online, something that just magically comes to me while I'm driving the back roads here in Maine … color is all around us … we just have to pause and notice it's beauty and how different colors play off each other. I dye each skein of yarn by laying it on my work table, mixing the colors in clear ketchup bottles and then I paint the color on. I do this method for everything I create.
We have samples worked up in each of the four bases Judy has sent us. We can't wait for you to come find the Truck and check out these beautiful hand-painted yarns during November. You can check out all our events HERE.    See you soon!
Save
Save
Save
Save