Are you considering joining the Yarnover Truck Yarn Club but want to know what will be included in each of the future packages?  Well, we can't really tell you that because it is a secret, and that is part of the fun.  But, we are happy to show you what we included in the first three packages that were already sent!
Our first ever Yarn Club is getting rave reviews from our club members!  Each shipment has a theme which is tied to one of the different locations where we bring the Yarnover Truck in Southern California. The yarn, patterns and special gifts all match the theme for each package!
The First Shipment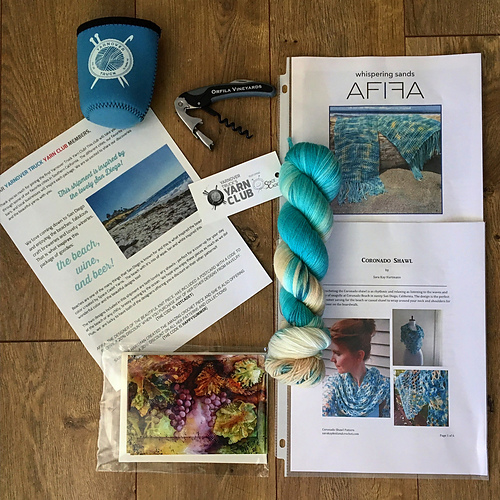 This first shipment was inspired by San Diego! We love coming down to San Diego and enjoying the beaches, fabulous craft breweries and lovely wineries. That is what inspired this first package of goodies: the beach, wine, and beer!
Beaches are one of the many things that San Diego is known for and this is what inspired the beautiful color created by SpaceCadet.  The base for this amazing color was Celeste, a 100% merino wool fingering weight.  The beach with it's mix of aqua, tan and white inspired this wonderful color and the beautiful designs too!
The knit pattern is Whispering Sands by Afifa
The crochet pattern is Coronado Shawl by Sara Kay Hartmann
The extra goodies in this package included a can cozy with the Yarnover Truck logo, a corkscrew from our favorite Winery in Escondido – Orfila Winery plus a beautiful watercolor card featuring grapes painted by Maridee's Mom – Diane Medgaarden Nelson.
The Second Shipment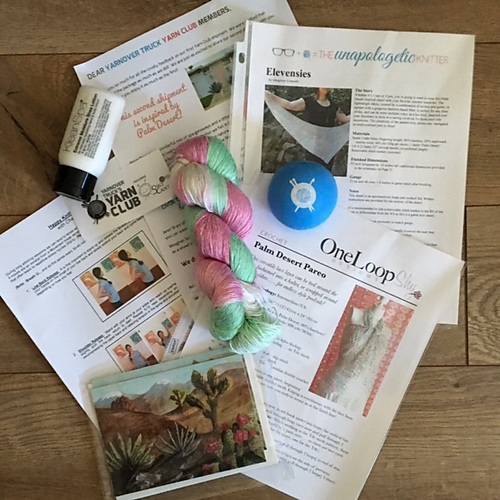 Our 2nd shipment was inspired by Palm Desert! The yarn included in this package was  Maia by SpaceCadet, the bamboo in this yarn makes it shine and keeps it super drapey.  When looking for color inspiration we fell in love with all the pink on the buildings and the green of the nature in the area. We loved the play of pink and green together and the fiber base for this yarn just makes the color shimmer. Both of the newly created designs work really well with this beautiful yarn.
The Knit Pattern is Elevensies by Meaghan Schmaltz
The Crochet Pattern is Palm Desert Pareo by Janet Brani
This package was all about taking care of YOU! There is a Yarnover Truck stress ball and stretching exercises to help keep your body in top crafting shape. To help you relax there is lotion in our new exclusive scent "Yarn-aste"! Plus another card based on a watercolor image painted by Maridee's Mom.
The Third Shipment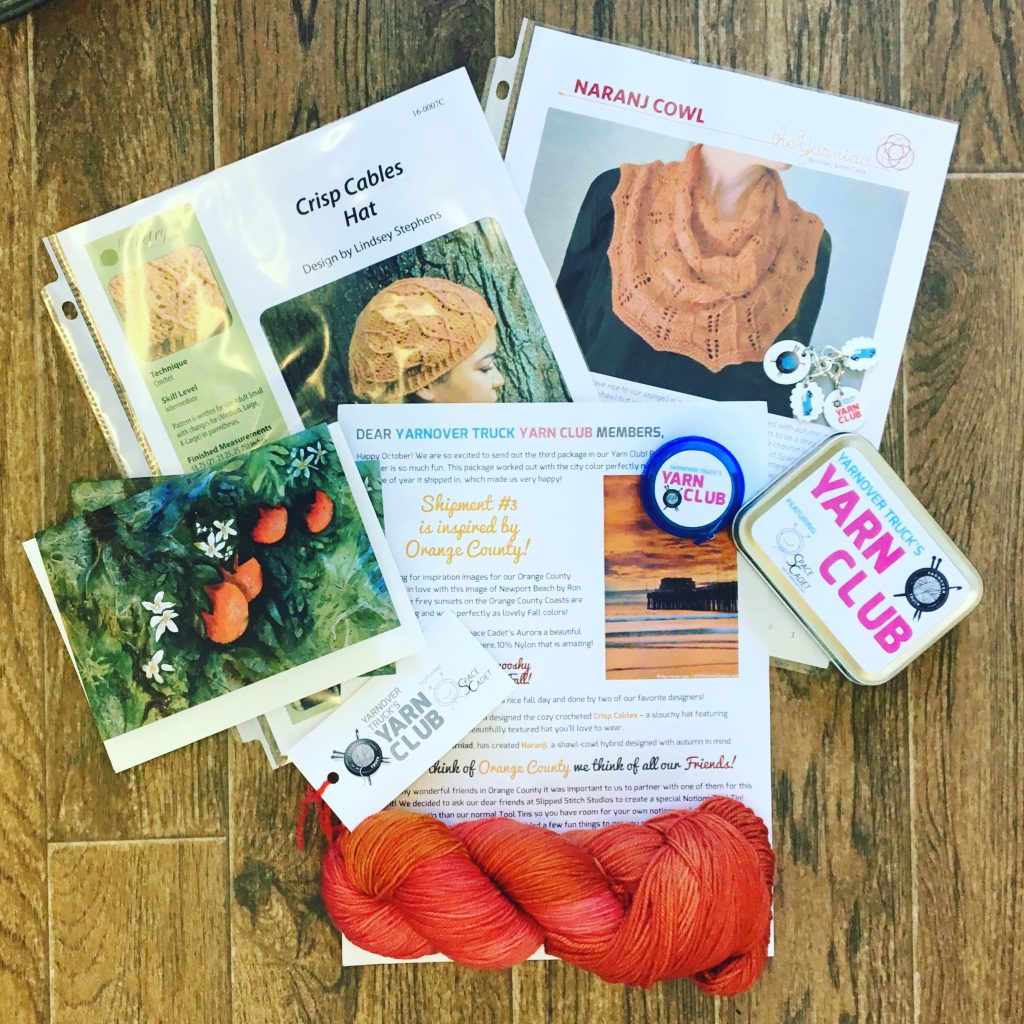 Our 3rd shipment was themed and inspired by Orange County and just happened to be sent in October so Fall was sure in the air!!  When looking for inspiration images for our Orange County Color we fell in love with a beautiful image of a fiery sunset along the Orange County Coast.   The beautiful mix of oranges also worked well with the time of year!
The gorgeous colorway that our friends at Space Cadet came up with was created in their Capella base.  A 100% merino wool worsted weight that made for some pieces that are perfect for a nice fall day and created by two of our favorite designers!
The Knit Pattern is Naranj by Hillary Smith Callis
The Crochet Pattern is Crisp Cables Hat by Lindsey Stephens
With so many wonderful friends in Orange County it was important to us to partner with one of them for this shipment! We decided to ask our friends at Slipped Stitch Studios to create a special Notions Tool Tin! This tin is a larger tin than our normal Tool Tins so you have room for your own notions and collection of Stitch Markers (we all have them!)  Plus Diane Medgaarden-Nelson created another amazing watercolor card featuring oranges.
We hope you have enjoyed this peak into the things we have included in the Yarnover Truck Yarn Club.  Click Here to get all the details for signing up to receive the last three shipments of this club and be included on all the details for future clubs!
Save
Save
Save
Save
Save
Save
Save