For the month of July we are hosting a beautiful trunk show with yarns from the lovely ladies at Dragonfly Fibers.  This trunk show has been a huge success and yarn is flying off the showcase wall… we can't wait to see what everyone makes with their new purchases!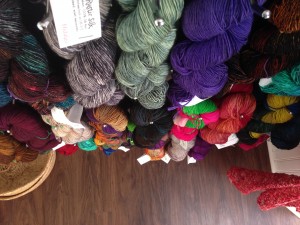 We asked the ladies at Dragonfly Fibers to share a little bit about who they are and their company. Here is what owner Kate Chiocchio had to say:
What inspired you to start dyeing yarn?  I originally fell in love with color and texture when I started quilting. I realized that I wanted to make the fabric, which led to knitting, and then spinning to make the yarn. Once the spinning started, it was just a short hop to dyeing roving and then yarn. I love to watch the different ways in which various fibers take the color.
Are you a knitter or crocheter? Or both? Mostly, I knit and spin. I am, however, fascinated with granny squares.
How did you get started? My husband is the one who suggested, after finding handspun and dyed yarn all over the house and yard, that I start a business. He was thinking that then there would be LESS yarn in the house. Little did he know how much the yarn and the business would take over! Early on, my daughter drew a line in chalk across our back deck across which my yarn could not go. When my family finally kicked  Dragonfly Fibers out of the house and into the studio we occupy now, we had the entire basement, the entire deck, much of the living room, and had 4 employees.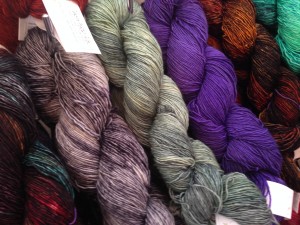 What inspires you in your work? Color! What catches my eye in the natural world as well as what I believe should be there.  Music. Moods.
Is this your full-time gig or do you have a day job?  I worked as a clinical social worker until three years ago. Now, I dye full-time and raise my kids, now 13 and 16.
Where would you like to see your company go in the next few years? I would like Dragonfly to stay small-medium sized. We love having a retail and a wholesale customer base and having a close relationship with both sides of the business.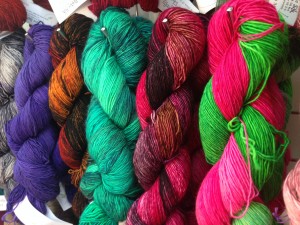 Dragonfly Fibers will be on the Yarnover Truck for 1 more weekend!  July 26-27 at the Renegade Craft Fair.  This event is one of our favorites and this year it has moved to Grand Park in the heart of Downtown! It is super easy to get to on the Metro and there is tons of great food.  Hope to see you there!