Haiku is a wonderful drapey fingering weight, the drape comes from the beautiful bamboo in the base which also gives it a lot of strength.  This yarn takes the color of the dye in a bit more of a muted way but with a touch of sheen… it is really quite beautiful.
This yarn, in Minty Unicorn, was used for Vicissitude a tank cowl pattern designed especially for us by The Sexy Knitter.  This tank has been a huge hit and looks amazing on, the drape from the Haiku is perfect for this pattern!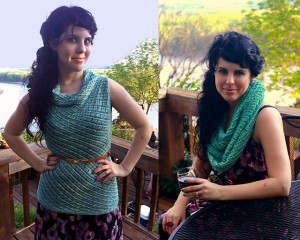 Haiku also adds beautiful drape to shawls and crochet – and who doesn't love a nice drapey shawl!  Check out the Belle Epoque by Kira K Designs that Maridee did in our Minty.  We Love this Shawl!
Weight :               Fingering weight
Fibers:                  70% superwash merino, 20% bamboo, 10% nylon
Yardage:              425 yards/388 meters per skein