Welcome to 2017!!  We hope this will be a wonderful new year, full lots of creativity, new adventures and beautiful new things coming to all of you!  Some of these beautiful new things we hope will include all the new yarns that we will be carrying on the Yarnover Truck as part of our regular stock.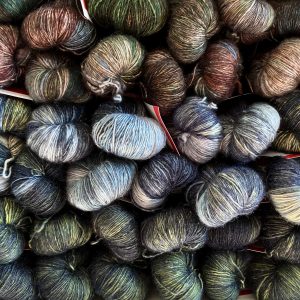 We have been paying attention during all of the fun indie showcase trunk shows we have throughout the year.  The show we had with Western Sky Knits back in July 2016 was one of the best selling trunk shows for us so we  decided to add two of their beautiful yarn bases into our regular inventory.  We now carry MCS Fingering and Willow DK in 6 beautiful and coordinating colors.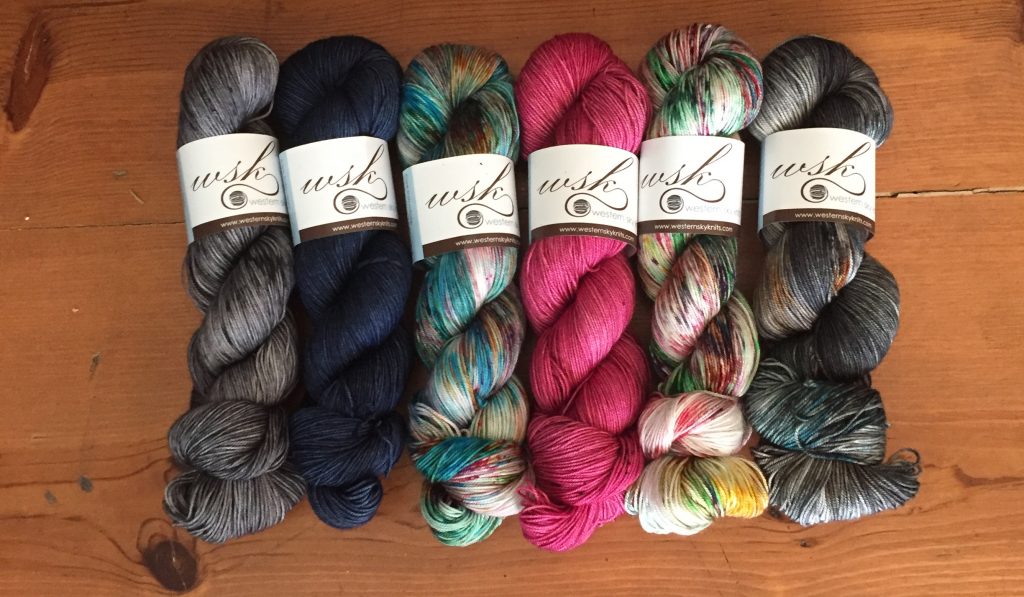 The color names (from left to right as seen in the pic above of MCS Fingering) are Peppered, Brooks Blue, Cake, Jasmine, Gumball and Downtown.  The MSC Fingering is a luxurious blend of merino, silk and cashmere in a 437 yard skein.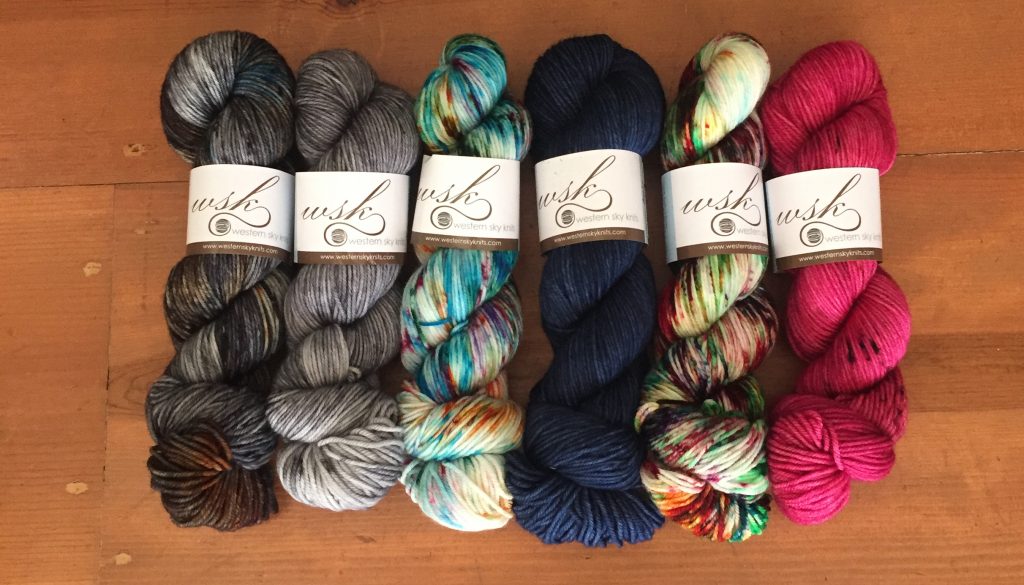 The Willow DK is a soft and bouncy DK weight yarn –  perfect for accessories and sweaters. This yarn has excellent stitch definition and is a dream to work with.  Each skein has 280 yards of 100% superwash merino.   Both of these yarns and all of these beautiful colors are available on the truck and in our online shop too!
In the past month we also added new colors in yarns we have had on the truck and loved for a long time.  The first is Forbidden Woolery.  We have revamped our color choices from them and have 6 new colors in both the Pride and Superstition fingering weight bases.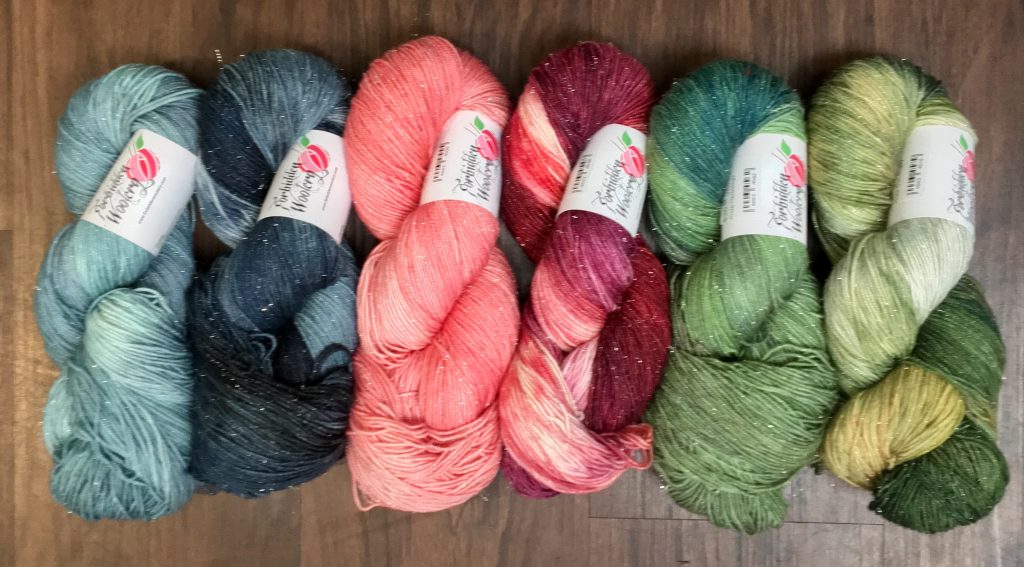 Plus, Forbidden Woolery has made some changes the Pride base and it is now a custom yarn blend just for them.   The yardage is now 495 yards vs the old 435 yarns, and the skeins are now 4oz (115 grams) instead of 100 grams.  The yarn is now 3-ply instead of 2-ply, and the content changed from a 75/20/10 blend to a 70% superwash Merino/20% nylon/10% stellina blend.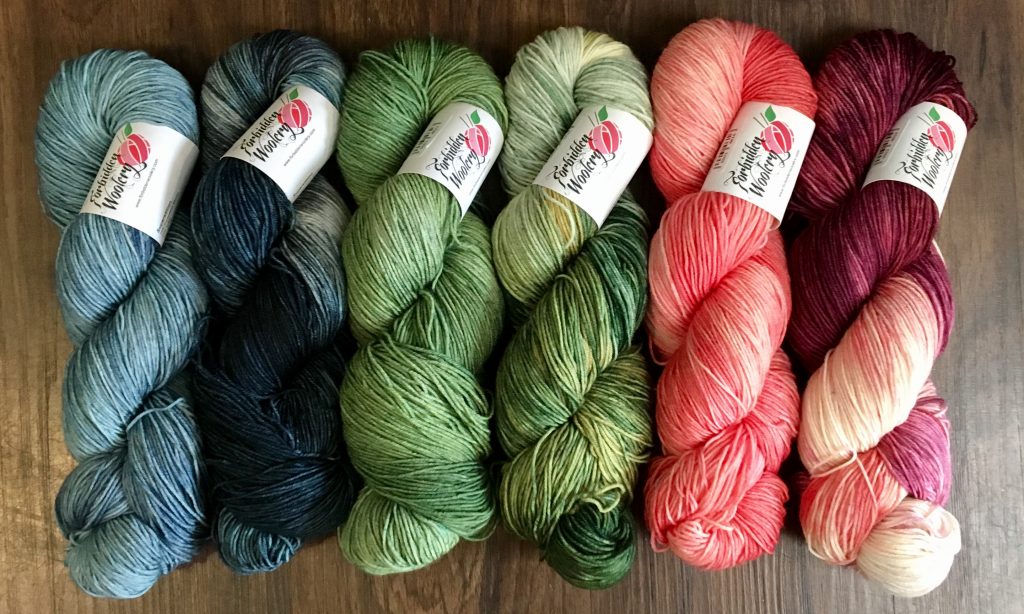 We have the same beautiful colors in the Superstition base too. The colors are as follows (from right to left) Destiny, Moor Sky, Herbology, Troll Bogey, Peach Sherbet & Aunt Petunia.  This fingering weight is perfect for socks, accessories and anything else you would use light weight yarn to make.  Each skein has 435 yards of 75% Merino Superwash, 25% Nylon (Polyamide).
You can see how well these new colors go together.  We have given you lots of great color combos for making some of the many beautiful two skein shawls that have become super popular.
Zen Yarn Garden is the second yarn company where we have updated the colors we carry in our regular stock  If you were on the truck this past December you most likely saw some of these on our feature wall but we also wanted to highlight the new colors.  Plus show them all together so you can see how they all will work so well with our Exclusive Color from Zen – California Love.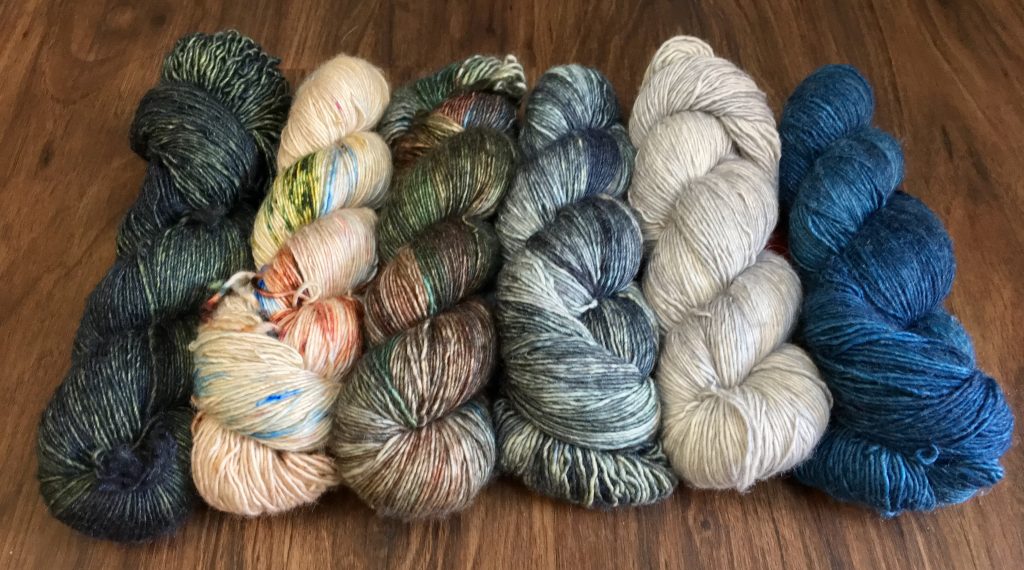 This photos shows the five new colors we have in addition to California Love.  The colors are (from left to right) Romi's Garden, California Love Splatter, California Love, Foggy Coast, Silver Moon & Steely Blue.  Serenity Silk Single is a single ply fingering weight yarn with 430 yards per skein.   This yarn is a dream to work with and is perfect for a lovely lace shawl or an exquisite fine gauge garment. The fiber content is 75% Merino 15%, Cashmere, 10% Silk.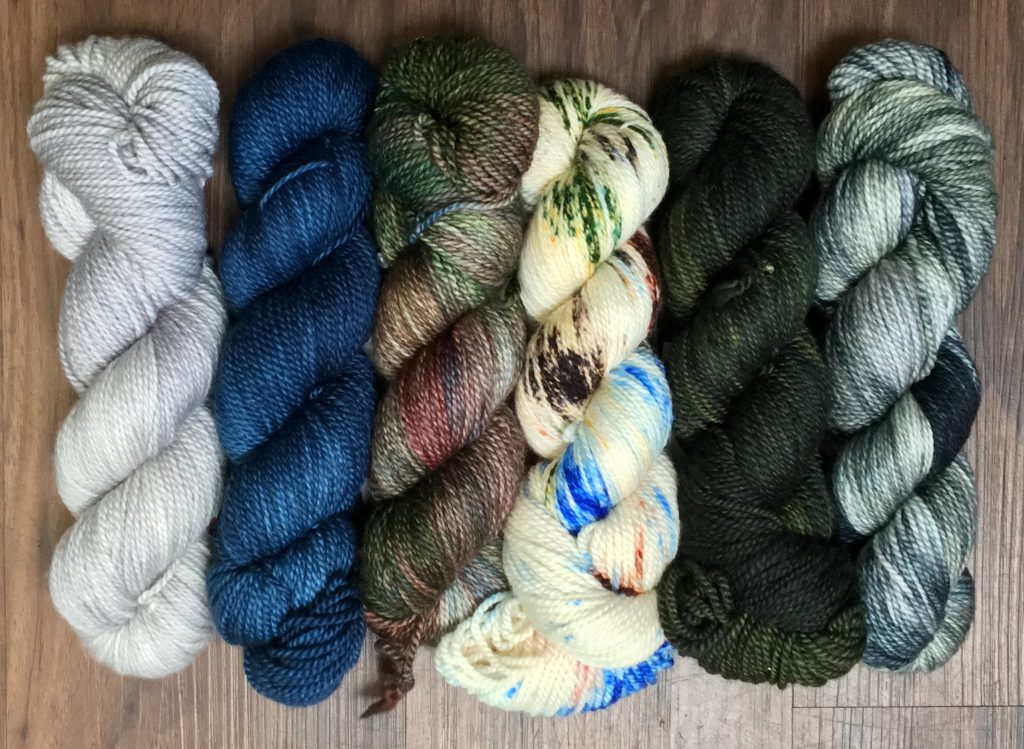 We also have these colors in the Serenity DK from Zen Yarn Garden too. Serenity DK is a luscious DK weight yarn that is wonderful to work with and super soft from the cashmere.  Each skein has 250 yards of 90% merino and 10% cashmere.
And the last piece of great yarn news is that we have added all of the Dragonfly Fibers yarns into our online shop.  We have had these yarns on the truck since September but they have just now added into the online shop.  You can check the three bases and 6 colors by clicking HERE.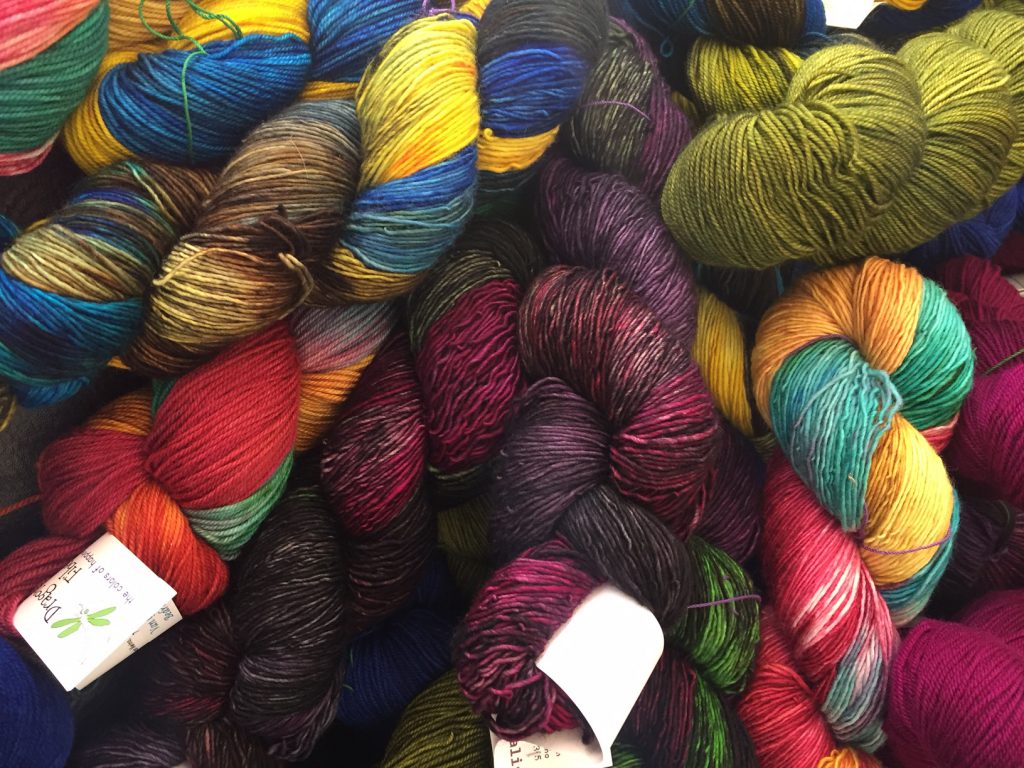 We hope you will visit the truck soon and see all of these beautiful yarns.  Or if you can't make it to us – please do check out our online shop where you can also get them all!
Save
Save
Save
Save