We are so excited about the upcoming Stitches West show in Santa Clara, CA and can't wait to share more of the details that we have planned for this fun show!
This is our favorite and biggest show of the year.  We drive Debbie up to the show and park her right on the convention center floor where she is the feature of our booth space #1048.  Then we fill the remaining area with lots of beautiful yarns from some amazing indie dyers plus work with a great group of designers to bring you wonderful new patterns.
We want to introduce you to the amazing group of women we are working with for this year's show.  Meet our amazing team!
The Indie Dyers
Joining us again this year!  Inner Yarn Zen is a small hand-dyed fiber company. With a strong belief in finding joy in what you are making.  Inner Yarn Zen dyes yarn and fiber in the beautiful outdoors as a way to interpret the beauty in nature, balanced with reflection, and a bit of heart with each color. Working with fiber and yarn is that peaceful moment you get to yourself to indulge and find your inner balance.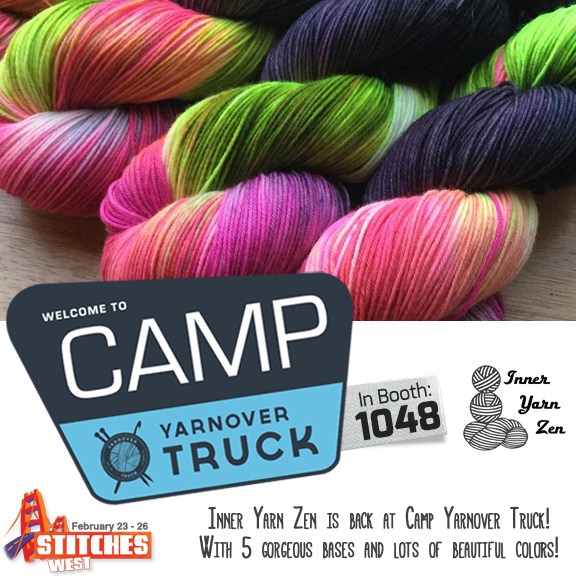 New to the group this year!  In 2012, while pregnant with my daughter, and planning to be a new stay at home mom, I picked up dyeing and decided to start an on line shop to help supplement our income. The original "Lazer Sheep" logo had been bouncing around my notebooks since a goofy day in my high school art class with friends, and she finally found a home with my yarns! My colors are inspired by pop culture icons, and the Lazer Sheep gets dressed up as the characters the yarn is dyed for, to make appearances on buttons for each colorway.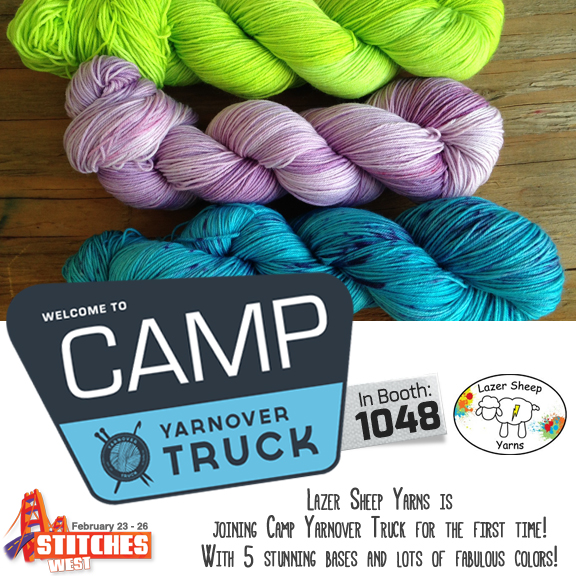 Another new dyer to the group this year!  Tria Belcort is the force behind Material Culture Fiber Arts.  You all know me as a fiber artist, but I'm also an archaeologist, mom, wife, daughter, sister, friend, and so much more. My number one goal in life is to create a wildly passionate existence for myself and my kids, and to live fearlessly while following my dreams. Material Culture Fiber Arts represents all of those things about me.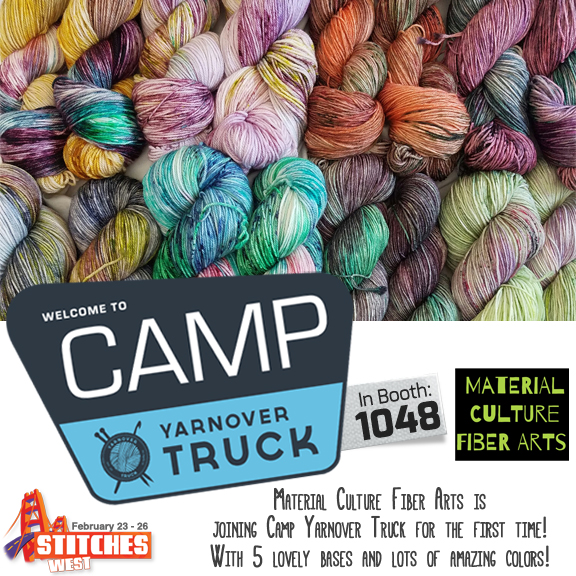 Returning this year is Katie – the dyer behind yarn love. Every skein of Yarn Love contains my passion for color and dye. Yarn Love is lovingly handcrafted in my Midwest (USA) studio, where I bring the best yarns to life.  I offer a variety of premium yarns skillfully dyed in a large range of colors, which are sure to make your next project a delight!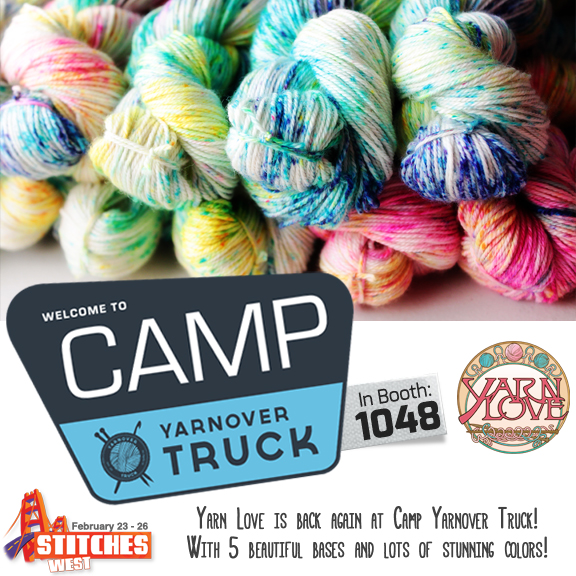 The Designers
Each of the indie dyers is creating a Show Exclusive Color and each of these colors is getting a brand new Knit Design and a brand new Crochet Design! You will be able to get kits of these new patterns at our booth #1048 at Stitches West – while supplies last!
Here are the amazing designers creating beautiful patterns in our Show Exclusive Colors!
Knitters:
I offer timeless and fashion-forward pieces, inspired by everyday beauty. As an indie designer who's been publishing knitting patterns for over a year now, I have designed everything from fingerless mittens, to scarves, shawls and cozy sweaters. I bring a modern sensibility and love of construction to the art of knitting.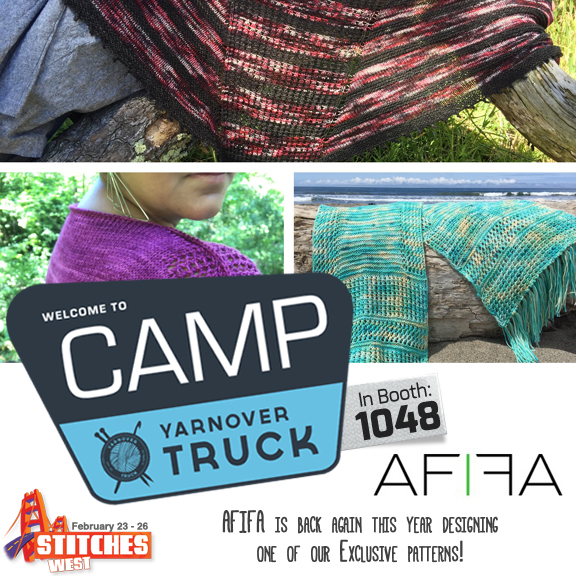 Hilary Smith Callis has been designing and writing patterns for handknits since 2009 when her first design, the citrus-inspired Citron shawlette, was published on Knitty.com. She loves the math behind garment-design, but considers herself primarily an accessories designer, as she is currently obsessed with shawls, cowls, and turning shawls into cowls. She loves geometry and lines, simple knits, garter stitch, and stripes of color or pattern and echoes this in her work.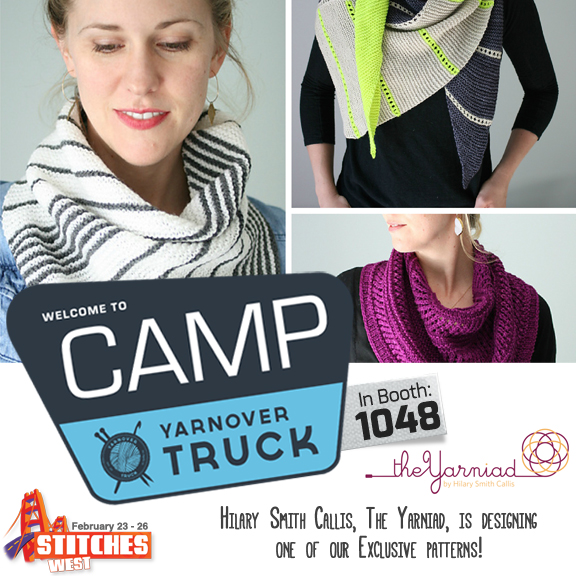 Ruth Garcia-Alcantud is Rock+purl – the knitwear brand for fresh, smart, feminine, and elegant knits. All the knit & crochet patterns offered by rock+purl are widely sized, thoroughly detailed and rigorously edited, all with one goal in sight:Your knitting journey is clear, and your final knit is flawless.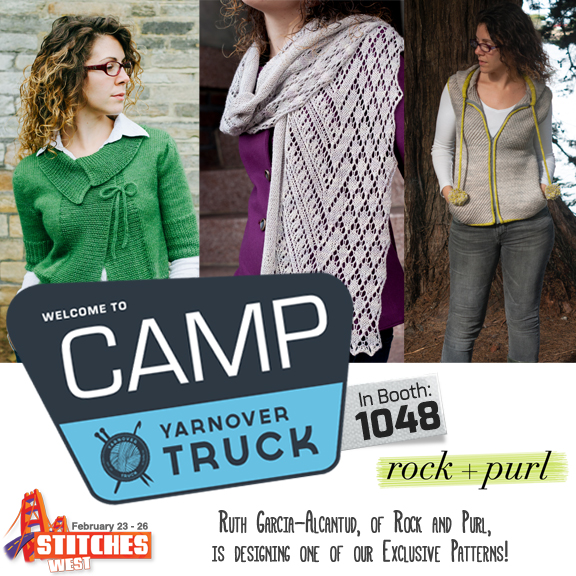 I am a knitting enthusiast, turned designer, turned teacher! One of my favorite things about designing knitwear is the opportunity it affords me to teach others how to hone their skills as knitters. I am drawn to simple, clean designs without too much fussiness, and focus on approachable patterns, both in layout and language. I will knit until the day my heart quits – no apologies!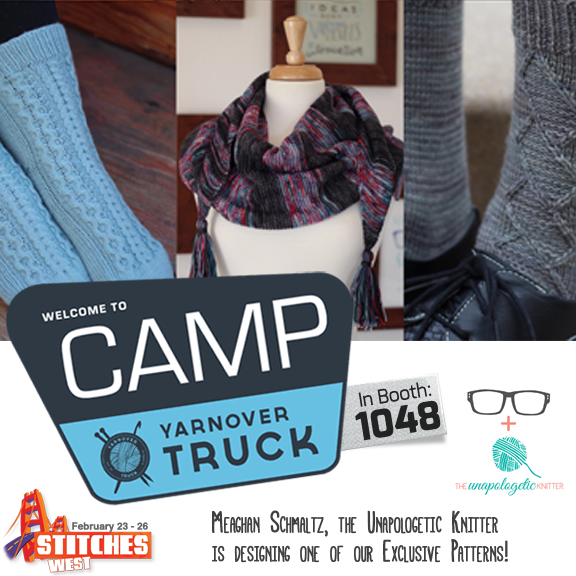 Crocheters
I am a crochet designer living in Nashville, Tennessee. I find inspiration in architectural details on buildings as well as beaches and bodies of water. Currently, I enjoy designing crocheted accessories–shawls, scarves, bags, and jewelry. I love working with lace-weight and fingering-weight yarns of various fibers.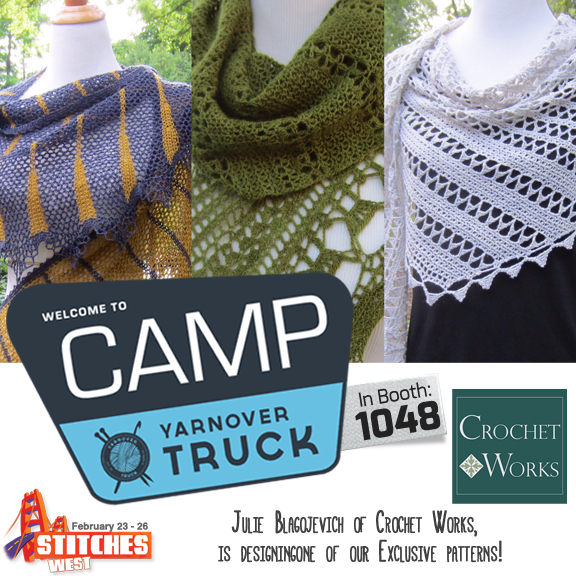 Most content when pushing the boundaries of traditional crochet, Janet Brani loves to design and stitch with luxury fibers and beautiful hand-dyed yarns. Creating knit-like stretch and drape with a crochet hook is always the end goal! Her pattern line is produced as OneLoopShy Designs, and her designs have been published in numerous magazines and books.
Poetry in Yarn crochet and knitting patterns are the result of designer Lindsey Stephens's love of fiber arts and her desire to share her discoveries with others. Lindsey brings her passion for teaching and mathematics into everything she does. She uses her mad math and technical skills for good as a crochet tech editor and website designer. She can be found teaching a variety of yarn related and general crafting classes in a variety of venues including her online Craftsy class, Seaming Crochet.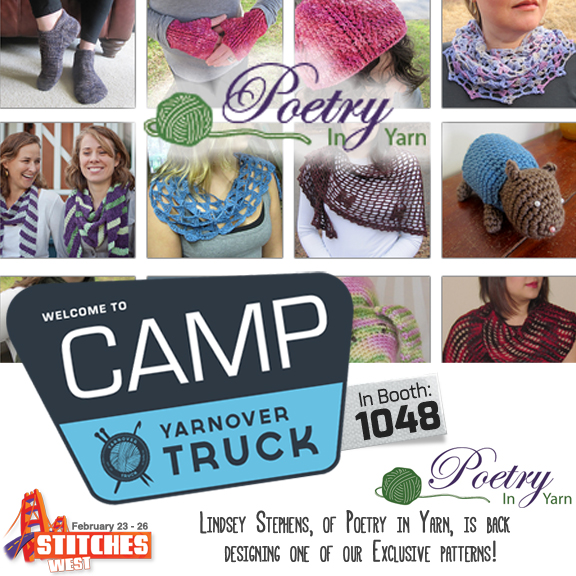 Karen Whooley is a Washington State-based knitwear designer. She teaches classes and develops patterns for adventurous crocheters who want simplicity and elegance while honoring their time. Her work has been published in various print and online publications including Interweave Crochet, Crochet Magazine and Inside Crochet.  She is the author of 19 Books in both knit and crochet. Number twenty launches in April 2017!
We hope you will come and check out the Yarnover Truck and all our amazing collaborators in booth 1048. You can see the Trunk Shows, Exclusive Colors, Exclusive Patterns, and MORE!
Save
Save
Save
Save
Save
Save