We have returned from the 2017 Winter TNNA (The National Needlearts Association) show.  This is a show for local yarn shop owners to see all the beautiful yarns, patterns and accessories that are available for them to bring into their shops.  Companies go all out to highlight their products and make them look fantastic. Here is an example of one display that was very striking!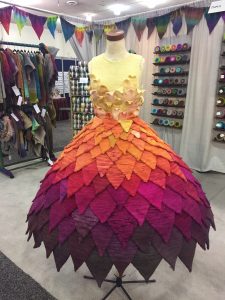 We saw lots of beautiful things and are excited to be bringing in some new yarns very soon!  One of our first stops was to visit our friends from Mrs. Crosby and Lorna's Laces Yarns.  Mrs. Crosby has added new colors to their line.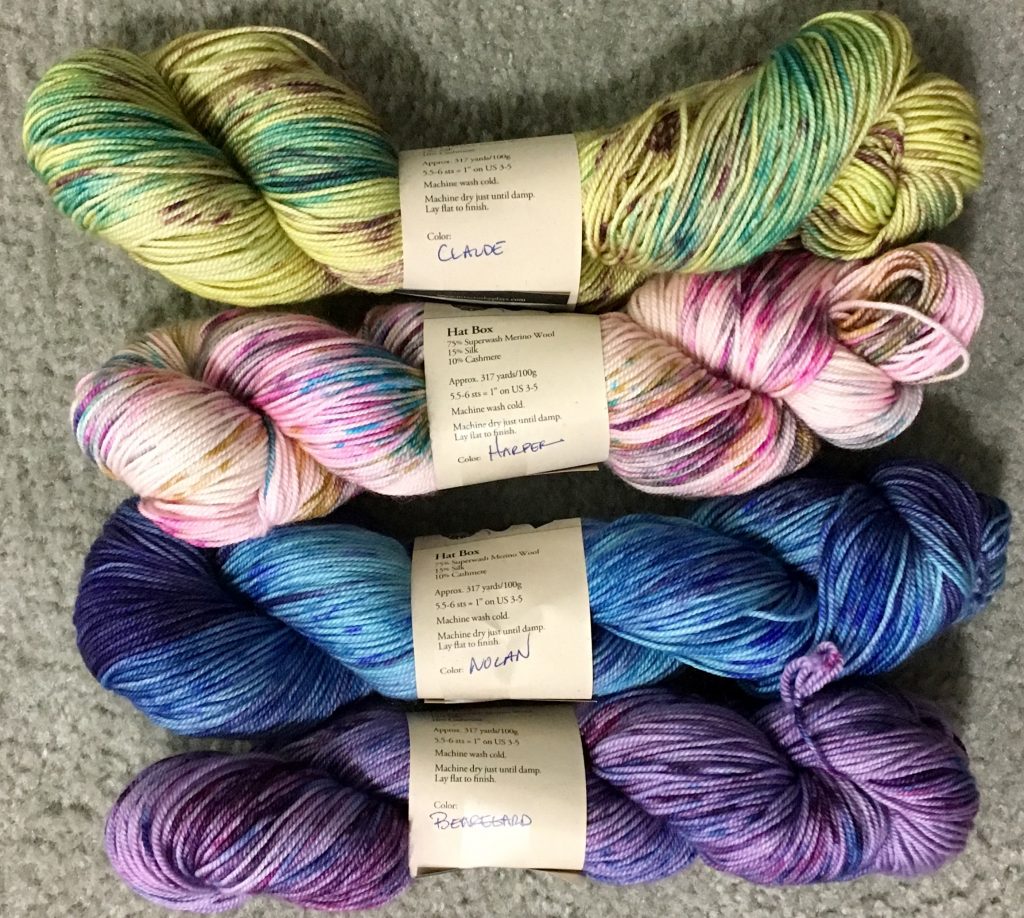 We plan to bring in two of these but you will have to wait and see which two!
If you have been on the truck recently, you have probably heard us talk about bringing in a hand-dyed yarn in worsted weight.  We have chosen Shepherds Worsted from Lorna's Laces.  This yarn is very smooshy and will give you 220 yards of 100% superwash merino in each skein.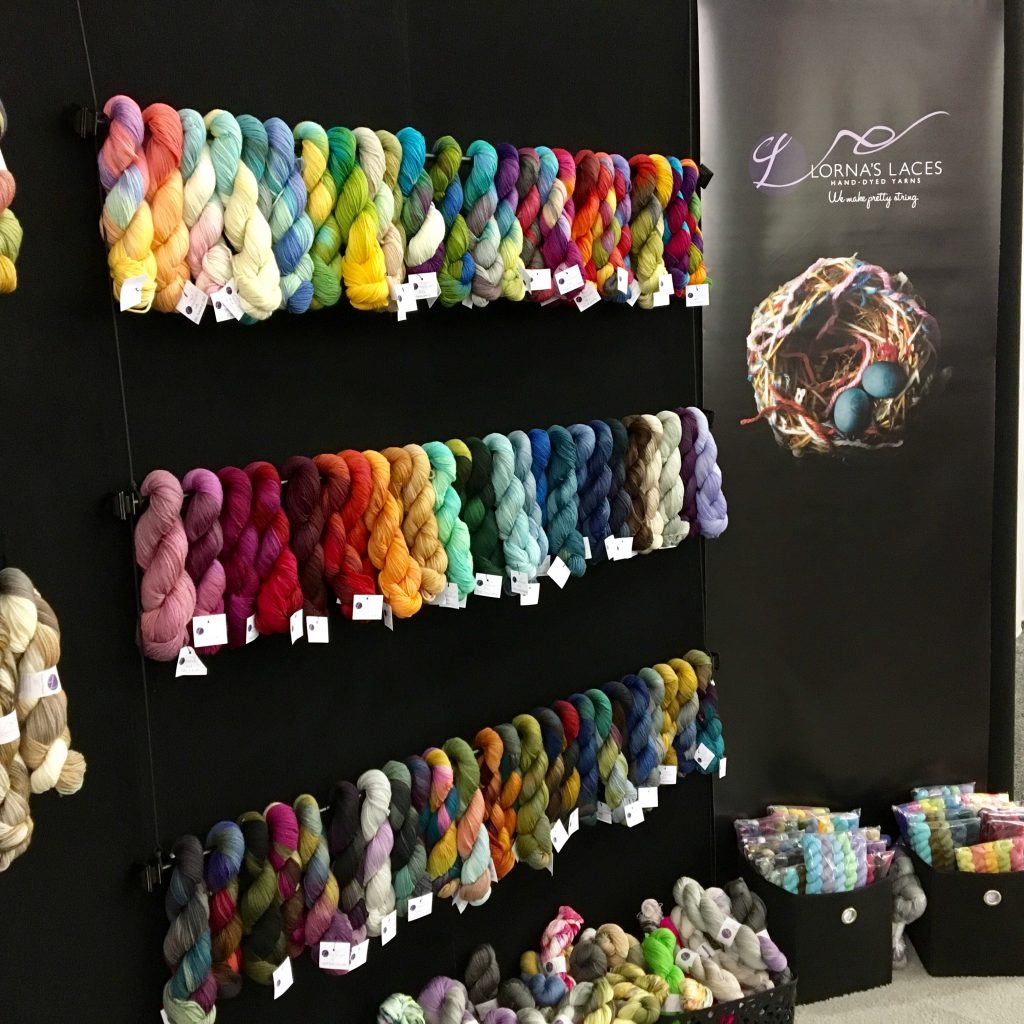 As you can see there are lots of different colors to choose from and you will just have to wait to see which ones we chose!
We stopped in to visit our friend Heather from Ewe Ewe Yarns.  We are adding her Baa Baa Bulky to the truck's inventory this weekend (January 25th).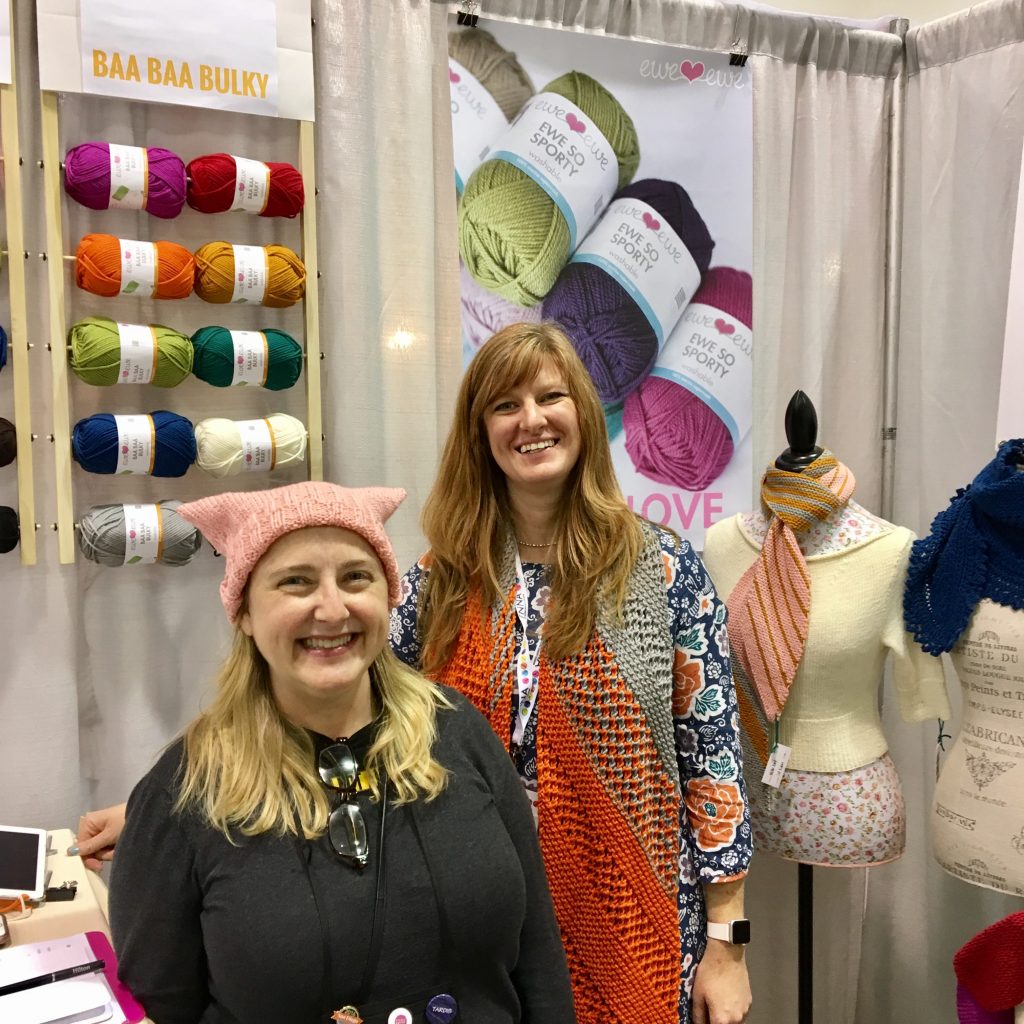 We will have 6 colors in the Baa Baa Bulky and hope you come and visit the truck soon to see them and play with this wonderful new yarn!
We also looked at a lot of smaller things we might bring on the truck or use as some of the gifts included in future yarn club shipments.  We looked at a couple different styles of project bags and really loved this fabric from Daisy Girl.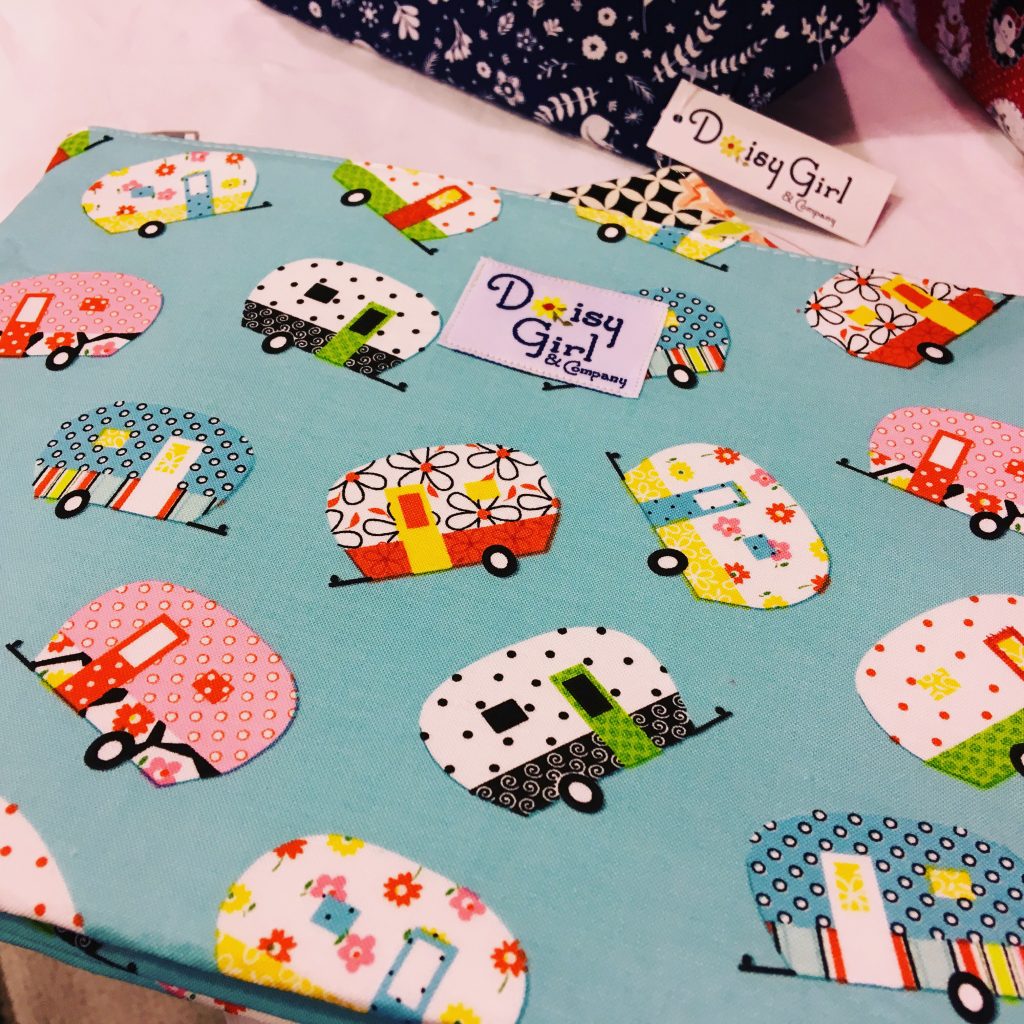 We also love our Yarnover Truck Needle Sizers so much that we might do something new with the company who makes them.  Here is a sample of other fun things they make.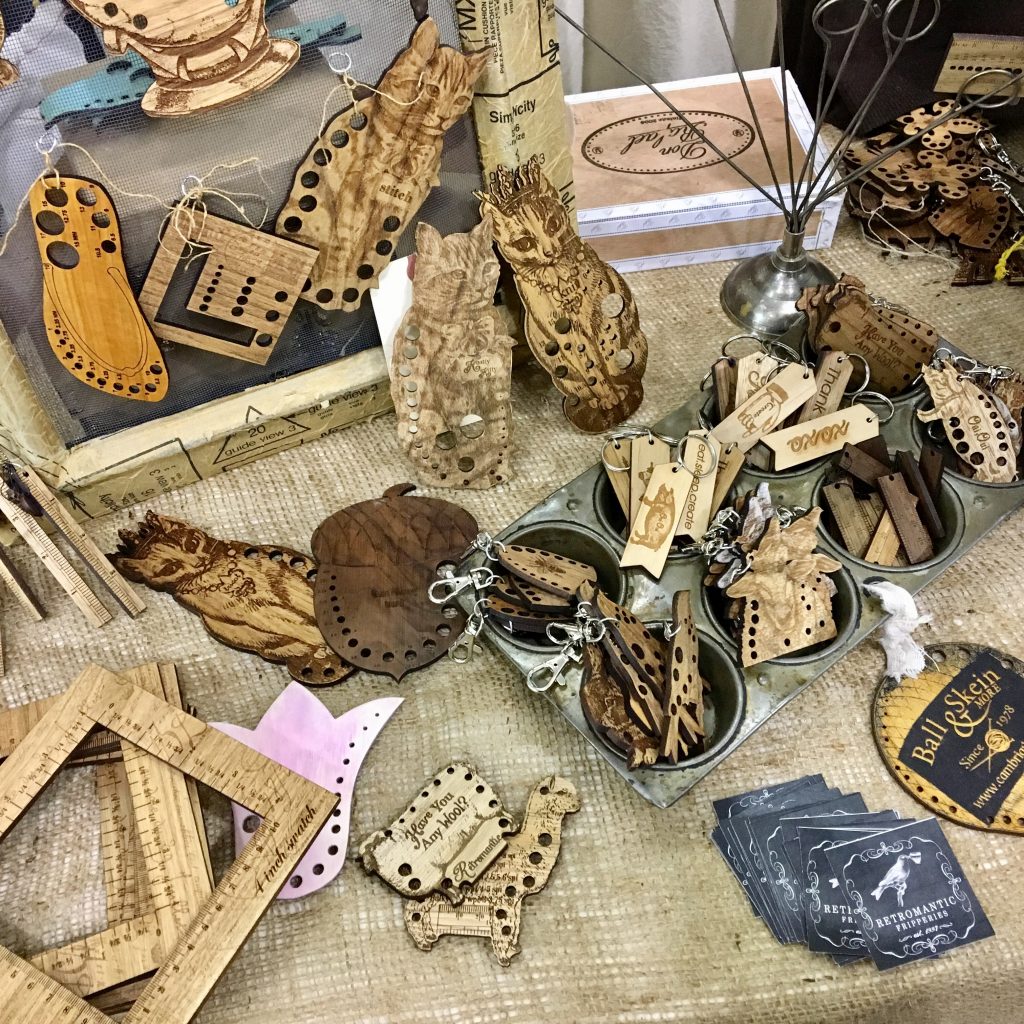 We talked to lots of designers about working with us in the future saw lots of our yarn pals who where also attending the show.  It was important for us to be at this show and we got a lot done but we were both torn because we so wanted to attend and be part of Women's March in Downtown Los Angeles.  So to show our solidarity with everyone who was marching, we wore our Pussy Hats.  We got lots of great responses as we we were walking around including lots of thumbs up and "Yeah – Hats".  We were also not the only ones wearing them as you can see.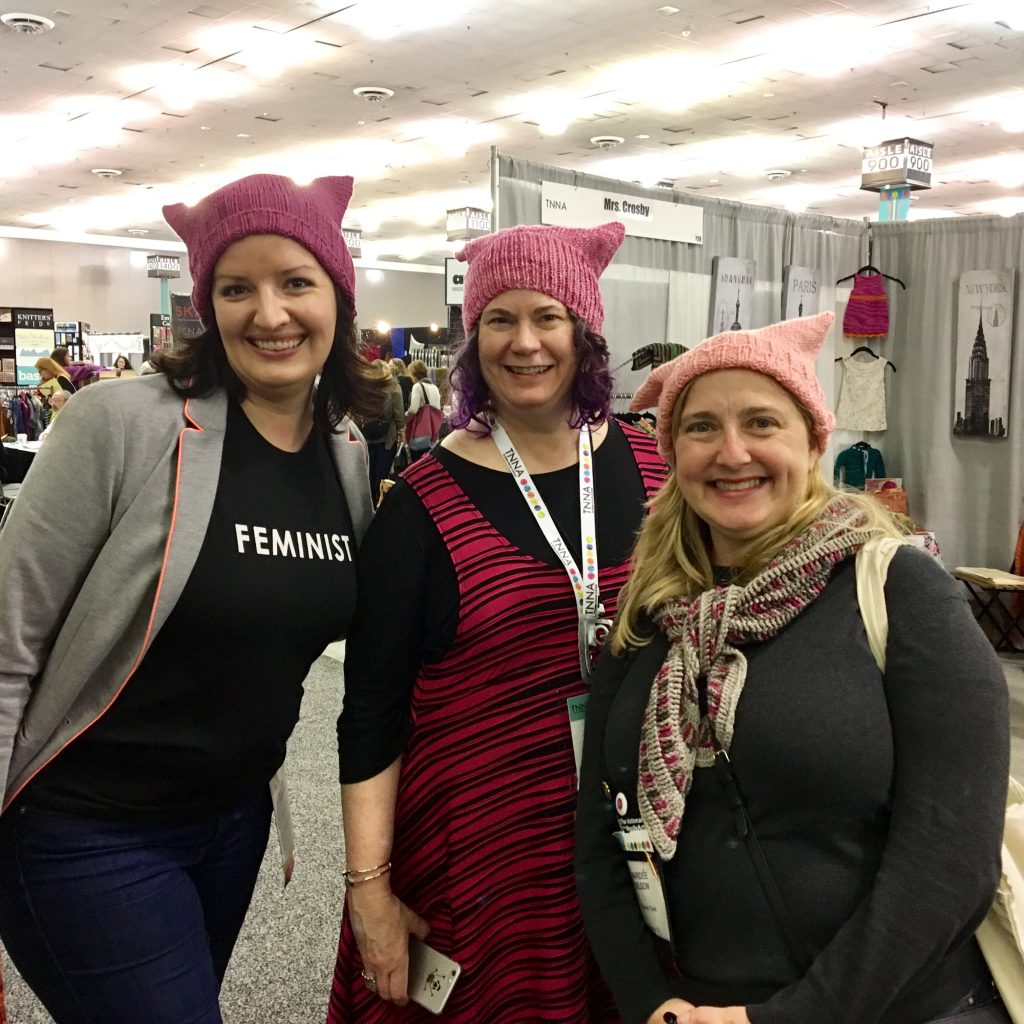 We hope you have enjoyed this little look behind-the-scenes of what happens at the TNNA show and can't wait to tell you more about the fun new things we will have on the truck soon!  Be sure to come and visit us so you can see these fun new things in person!
Save