It is September 2017 and we have some very exciting things happening on the truck this month – including our newest Indie Dyer Showcase with beautiful yarns from Candy Skein.
Candy Skein is the brainchild of Tami Klockau who used to live in the San Diego area but recently moved to Oregon. The company has been around for six years and started when Tami, after working in film production and feeling the pull to be creative on her own again, decided to find a way to support herself in a more creative way. She had recently started knitting and crocheting and yarn dyeing ended up being a natural transition. Candy Skein is themed around her love of food and sweets and starting the company was one of the best decisions she ever made.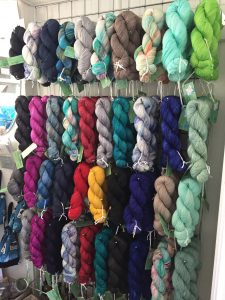 Tami is a candy lover and the bright colors of candy, food and drinks are her main inspiration for her yarn colors and names. She was very drawn to all the bright, beautiful color the fiber industry had to offer and felt like every yarn store was just like a candy shop! She has a background in painting and became very interested in trying to replicate all the beautiful color she saw in her local yarn stores. She still loves finding new ways and creative techniques for dying even after six years.
Our Indie Dyer Trunk Show with Candy Skein will feature 21 different wonderfully hand-dyed colors in 4 of beautiful bases – Yummy Fingering Lusicius Fingering, Sweet Fingering and Juicy Sport. Plus Tami has created an exclusive colorway just for the Yarnover Truck which will only be available on the truck during this month's San Diego Yarn Crawl (more on this below)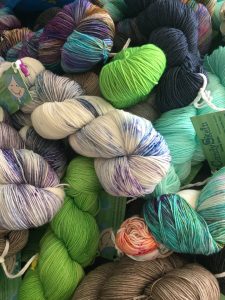 We have three different fingering weights starting with Yummy Fingering a 75% Merino and 25% Nylon blend with 465 yards and costs $22 per skein. This is one of Candy Skein's best selling bases.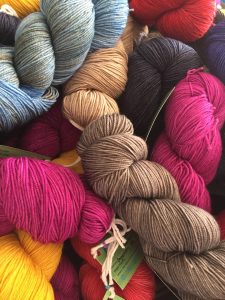 Next is Luscious Fingering a 80% Merino, 10% Nylon, 10% Cashmere blend with 400 yards and costs $30 per skein. We know how much our customers love a good MCN blend and we think you will really enjo working with this yarn!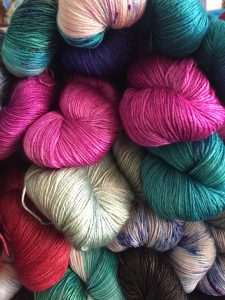 We also have Sweet Fingering a 50% Merino 50% Silk blend with 438 yards in each skein. This yarn has wonderful sheen and costs $28 per skein.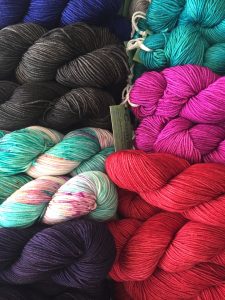 To round out the four bases we added in one in sport weight – Juicy Sport, a 100% SupewashMerino workhorse yarn with 274 yards costing $24 per skein.
The most exciting thing about our month-long trunk show was that we had the opportunity to work with Tami to create a new colorway just for the Yarnover Truck. We are happy to introduce you to Beach Sweets: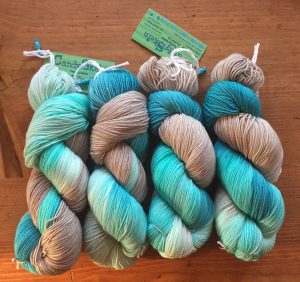 A colorway was created to celebrate the 2017 San Diego Yarn Crawl and will only be available on the truck during the 4 days of the crawl – Thursday, September 14th through Sunday, September 17th. We have a limited number of these beautifies so be sure to come to the truck early to be sure you can get one.
We hope you will come out and check all the wonderful colors and yarns from Candy Skein on the truck during the month of September 2017. Check out calendar of events HERE to see when we will be close to you!