Welcome to May 2017 and our newest Indie Dyer Showcase. This month we are so happy to be featuring the yarns of Downtown DyeWorks. The creative genius behind these beautiful yarns is Lindsay Brooks. Keep reading to see her incredible work and learn a bit more about her and her dying history.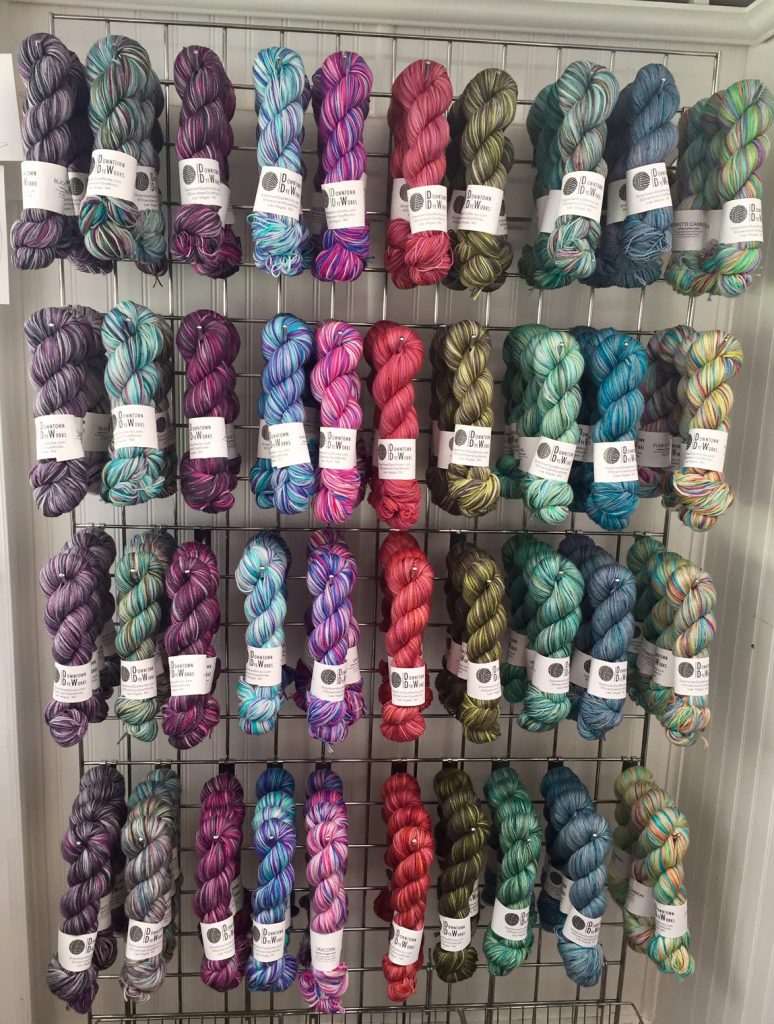 Lindsay and Downtown DyeWorks are based in Las Vegas, NV. She hand dyes all the yarns in her home based studio just outside of downtown Las Vegas. She had been a hobby dyer for nearly ten years and then officially launched the Downtown DyeWorks brand in October 2015.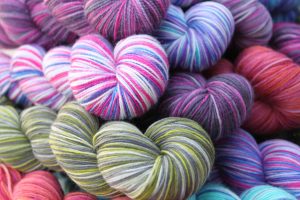 Lindsay has always been a dyer. In college she worked in the costume shop for the Theatre department and was responsible for dyeing many of the costume pieces that were used in various productions. More than a decade ago a knitter friend of hers posted a tutorial on her blog for dyeing yarn with Easter egg dye and the rest, as they say, is history. She has been dyeing yarn, off and on, ever since and now has yarns in several local yarn shops across the country and on the Yarnover Truck for all of May.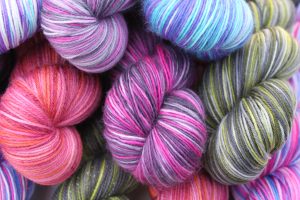 Lindsay does have a day job – She has worked for Cirque du Soleil in Las Vegas for nearly ten years. Mostly working as a Wardrobe Attendant at one of the shows on the strip, but recently she moved into an Administrative role working with the Artistic team to support all of Cirque's resident shows, currently in Las Vegas and Orlando.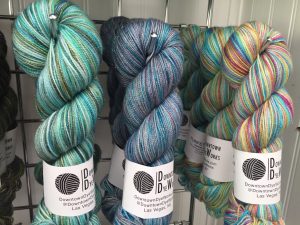 The creative process is very organic for Lindsay. She loves dyeing one of a kind or small batch colorways to just let the color show themselves. She will often experiment with a variety of dye techniques just to see what will happen. Not surprising Lindsay is both a knitter and a crocheter, a multi-crafter just like many of us! Her yarns will work great in both knit and crochet projects!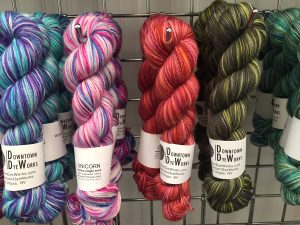 Here are the details of the four beautiful bases we have on the truck from Downtown DyeWorks.
We hope to see you on the truck during May so you can get the chance to touch and feel all of these beautiful skeins!