The first year of our Yarn Club has come to an end and we are filled with mixed emotions. We are a bit sad to see this amazing club we've had with our friends at Space Cadet Yarns come to an end. This club was so much fun to put together, finding inspiration from all the cities we visit across Southern California. Picking colors, working with designers, and finding fun gifts was a wonderful journey.
We have gotten such wonderful feedback from our club members, here is a look at the packages from last year and some of the testimonials we received.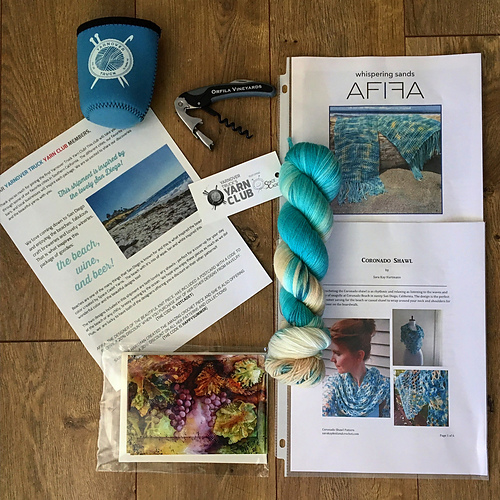 June 2016
I loved the Yarnover Truck Yarn Club. I looked forward to each project so much. The thought that Barb & Maridee put into each project was so generous. Each project came with surprise gifts that I will cherish as well as the finished projects!
* Julie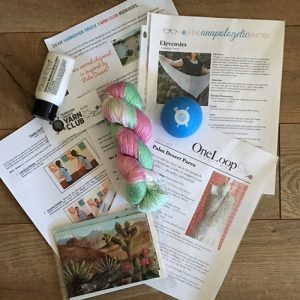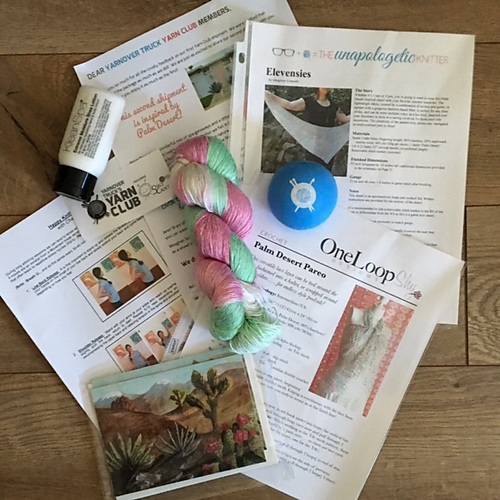 August 2016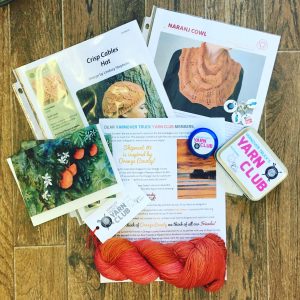 October 2016
I belonged to 4 clubs at one point but the Yarnover Truck's is the best. I dropped one club and will likely drop a second as the yarns are not unique – I can find Malabrigo on my own. They are a surprise and I am very happy when they arrive … The Yarnover Truck has custom dyed yarns on beautiful bases that I cannot find anywhere else so it's a no brainer! I crochet and am learning to knit so having both types of patterns is very important to me. I can stretch myself with the knit pattern or whip up the crochet item for fun. The extras are great! My husband stole the hand cream and the beer coasters. The every other month works for me as I work on other projects too. Looking forward to the next year.
*Sabrina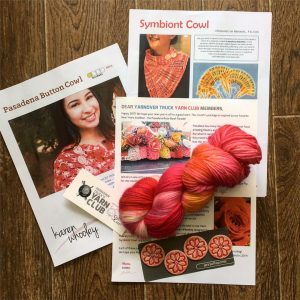 January 2017
I thoroughly enjoyed the Yarnover Truck's first Yarn Club, and am ecstatic that they have announced another year of wooly surprises. It's been so much fun receiving a package of yarny goodness every other month, and each one is just full of great goodies, and most importantly, beautiful yarn. I love seeing their muses for each installment – it's really cool how they include inspiration photos and notes to curate how the package came about. I can't wait for the new club to start and will definitely be signing up again.
*Chester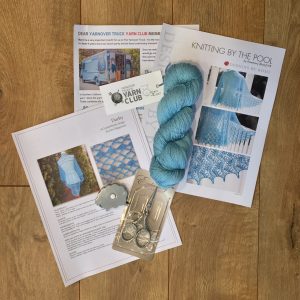 March 2017
I just put in for my subscription renewal. Last year's club was a real treat! I couldn't wait to receive and open my package to see what wonderful surprises and yarn came my way. The yarns were beautiful, squishy and a real pleasure to receive and knit with. The patterns were interesting and fun projects. The add-ons were a complete surprise and yet always something that you didn't know you needed and yet how did I get along without for so long! I am sure that the Yarnover Truck will live up to my high expectations for whatever they choose for this new subscription!
*Flossie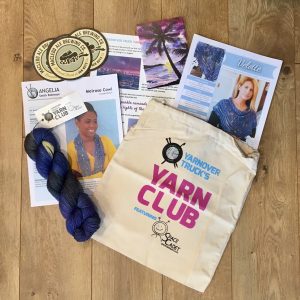 May 2017
Even though we are sad to have year 1 come to an end we are super excited for year 2!
We are thrilled to be working with our friends at Apple Tree Knits on this project! Apple Tree Knits is known for their stunning gradients and we are so excited to be able to share their beautiful work with all of you. This year our exclusive colors are inspired by all the nerdy things we love. Each shipment will be inspired by a different fandom or show. There might be something inspired by Disney, or something with a Doctor, or a show or two created by Joss Whedon, or a musical about a founding father. There will be so much nerdy, yarny goodness!
This club is all about the love of yarn, the love of color, and the love of all things nerdy!
Here are the details:
There are 6 packages included in the Yarnover Truck Yarn club
The retail price for each package is $70 – shipping and sales tax (where applicable) are added to your monthly payments
CA Residents pay $42 per month, and those outside CA pay $39 per month
12 Monthly payments start in June 2017 and end in May 2018
6 packages will ship every other month starting in July 2017 and ending in May 2018
Each shipment includes:

1 skein of yarn in a special exclusive colorway (see FAQ for base details)
1 new knitting pattern using the yarn in each package
1 new crochet pattern using the yarn in each package
Fun yarn club gift(s)
A special note sharing the inspiration for each color
Save