As many of you know, we are featuring a trunk show full of lots of beautiful yarns from SpaceCadet on the Yarnover Truck during the month of November. We have four different bases that feel wonderful and are in some amazing colors: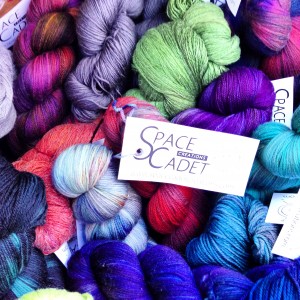 Celeste – a 3-ply fingering weight yarn that is 100% superwash merino
Maia – a 4-ply fingering weight yarn, which is 80% bamboo & 20% merino
Oriana – an 8-Ply fingering weight 100% merino yarn
Thebe – a 2-ply lace weight yarn that is 65% silk & 35% linen
The yarns are going fast so be sure to come and check out these yarns before the trunk show ends at the end of the month.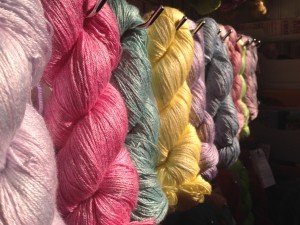 We asked Stephanie from SpaceCadet some questions about her inspirations and where her beautiful work comes from. Read on to get to know about this amazing fiber artist: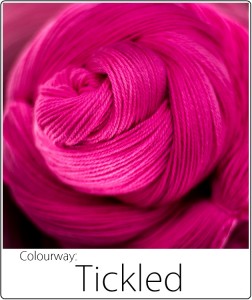 What inspired you to start dyeing yarn?
I have always been something of a fiber-freak, even when I didn't recognize it. Looking back now, I can see the thread of fiber-love running through my whole life. I begged my mother for spinning lessons when I was 11 (it didn't stick), taught myself to knit at 19, got a degree in Textiles and Clothing, and then in my 20s, I learned to spin (for real this time), weave, and make felt. If it involves fiber, I want to try it!
When we moved to Pittsburgh from England, I made friends by joining local knitting and spinning groups, and one of those groups was made up almost entirely of really serious and accomplished fiber artists, all of whom were dyers, and I was just crazy-inspired by what they were creating. It was all so vibrant, colourful, exciting… and I was itching to try it! So I asked my friends for some starting pointers, bought a few dyes, and began playing. And it was amazing. Amaaaaazing. I loved it from the very first moment, probably more than any other fiber-activity I've tried. And I never stopped playing ever since!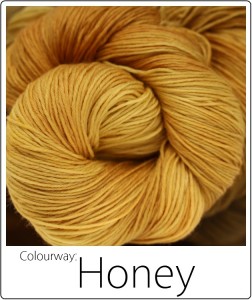 Are you a knitter or crocheter? Or both?
I've been a knitter since I was 19, though you'd never know by looking at my finished object pile — I never finish anything. I like learning new techniques or exploring new colour combinations and, once I've got it downpat, I'm casting on the next thing. In fact, when I finally posted a finished object on Ravelry, one of my very dear friends, who is a prolific knitter and finishes probably 15 sweaters a year, was teasing me and said, "Finally, you finished SOMEthing!" And I felt a bit dumb for a little while, because she's right, I never finish anything. But then I looked at my studio which is absolutely bursting with yarn and, with a big grin on my face, I texted her back and said, "Ok, so you knit 15 sweaters last year… I dyed THOUSANDS of skeins of yarn — I win!" The funny thing is, I enjoy dyeing so much that it almost doesn't feel like work, or at least I don't notice how many skeins I dye, but when you add it all up, it's just a colossal amount of dyeing, so that really does make me feel better that it takes me something like nine months to finish a shawl!
I was always stumped by crochet — it seemed like some kind of magic and I could never hold a hook properly or "read" the stitches well enough to figure any of it out. But then a couple of months ago, I stumbled across a really excellent youtube video that explained granny squares really well, and I got addicted. So far, I've stuck mostly to circle and square motifs, and lots and lots of flowers, but I absolutely love crochet. So quick and addictive! And I feel a real sense of accomplishment that I figured it out at long last!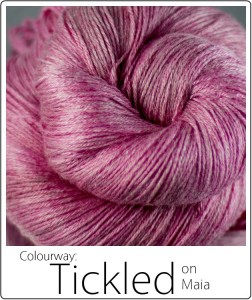 How did you get started?
It was kind of the classic micro-business start up story: I was playing with dyeing, as I said, and I kept showing the results to my knitting friends… and they were so encouraging! They kept telling me I should try selling my yarn, a few actually asked to buy it themselves — which kind of blew my mind — and, slowly, I got up the courage to try it. I opened a shop on Etsy, but money was super-tight for us at the time, so I started with dyes in only the primary colours and just 10 skeins of yarn. And they sold! And then with the money I made from those, I bought twenty skeins of yarn, and then thirty… and so on, building the business up carefully on only what I'd sold. It was a very very slow way to grow, but it felt right to me. And I couldn't have ever done it without the constant support and encouragement of my friends in my knit groups. I think for any business person, it's so important to have great customers keeping you excited and someone in the background helping you stay positive and focused. I'm incredibly grateful to have had that encouragement.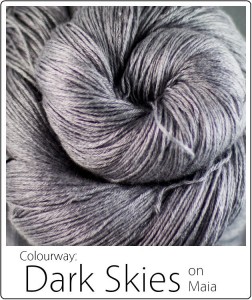 What inspires you in your work?
Everything, absolutely everything, because colour is everywhere. But shall I let you in on a little secret? I have a condition call synesthesia, which means I see colours dance before my eyes when I hear sounds. It's a genuine medical condition where the senses don't fully separate during early childhood development, and so they stay linked. In my case — and I have a very mild case of synesthesia — my senses of sight and hearing are still linked, and so when I hear sounds, they create sensations in the area of my brain that manages my sight, which makes my brain think I'm seeing something as well as hearing it. The result is that, when I hear music or someone talking or a loud noise, I "see" colours dancing before my eyes. The funny thing is, it was only about ten years ago that I discovered that this doesn't happen for most other people — I always assumed everyone was the same as me. My husband thought I'd gone nuts when I started quizzing him on whether he saw colours!
But the colours are beautiful, really lovely — sometimes, I just sit and let them wash over me, especially with classical music. And they end up being the inspiration for a lot of my colourways, because I get colour combinations I never would have thought of otherwise. The only thing that's difficult is remembering the colours and combinations later when I'm in the studio. I can't tell you how much I wish I had a "save" button on my brain!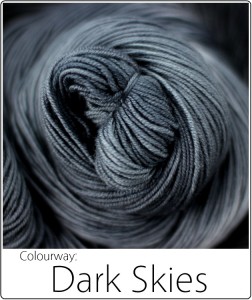 Is this your full-time gig or do you have another day job?
This is my full-time job… and then some!   Running a small business, especially one that's growing quickly the way SpaceCadet is, takes a surprising amount of time. I think most people think of it in terms of the dyeing, but I spend just as much time doing the marketing, updating the shop, writing blog posts and emails, and coordinating my assistants. And because I'm at home taking care of my family as well, I'm literally splitting my day into 15-minute chunks: 15 minutes of work, 15 minutes of family, then 15 minutes of work, then back to family. I think if I added it up, I probably work 12-14 hours a day, but because it's all broken up like that, it gets really crazy! But regardless of that level of crazy, I wouldn't change it for the world — I love what I do, I can't believe I get to do this for a living, and SpaceCadet has an amazing community of followers and customers who are so encouraging and supportive. I'm rarely in bed before 2am, but I don't care — this is such an amazing, wonderful job! I can't imagine doing anything else!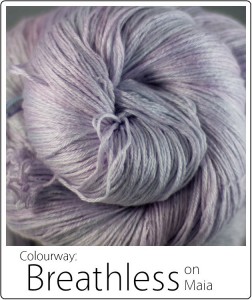 Where would you like to see your company go in the next few years?
We've got really exciting things on the horizon! We are finally moving out of my house and into a dedicated studio — that should be happening in the next couple of months. And that's wonderful news because there are so many things we will be able to do that we just haven't been able to before! It gives my assistants a place to work without also tripping over my private life — sometimes quite literally. And I've been developing some amazing new dyeing techniques (hence all the one-of-a-kind colourways that we included in the trunk show on the Yarnover Truck), and being in the new space will mean we can use those techniques to add a whole bunch of new colourways to our palette. And finally, we're can now start developing the wholesale side of the business so that more customers have the opportunity to meet our yarns in person — that's so important when you're picking yarn for a project. All these developments are really, really exciting, and I can't wait to get them started!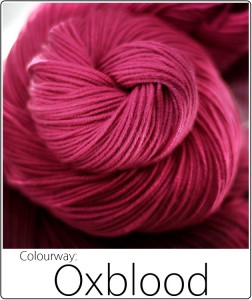 Hope you can come check out SpaceCadet Yarns on the Truck before they disappear at the end of November!!!  Check out calendar for our locations!