The patterns we love this week were inspired by our new Spud & Chloe Stripey that we just got on the Truck!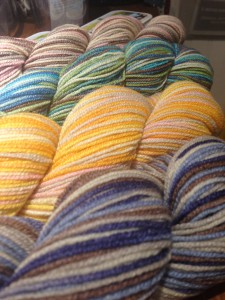 The Tornado Twist would look amazing with some of the Stripey mixed in
Photo by Spud & Chloe
Love Socks are just too cute for words!
And then there are the new Stripey Wristlets made just for this fun new yarn!
Photo by Spud & Chloe
We also had fun with playing with color combos with the Stripey – we think these would look great in some of the 3 color shawls we shared a few weeks ago.