Next weeks marks the anniversary of our business being open for 2 years! WOW!! Time sure flies when you are having fun and you own a mobile yarn store!! These past two years have been amazing and we are so happy to be continuing down the road of selling amazing yarns all over California!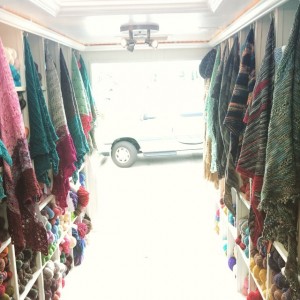 We so appreciate everyone who has continued to join us on this amazing journey! We are so grateful for all of you and your continued support, ideas of new places for us to take the truck and just seeing your smiling faces when we open our doors! Let's take a look at some of the highlights from this past year:
LA County Yarn Crawl
We had a blast during the 3rd annual LA County Yarn Crawl seeing so many familiar faces and visiting some of our favorite places. We spent the four days partnering with our friends at A Major Knitwork, Creative U Studios, Alamitos Bay Yarn Company and Colors 91711.
We had storewide trunk shows from our friends at Blue Sky Alpacas and Spud & Chloe with lots of great samples and a new yarn base for the truck – Techno! Our free crochet and knit patterns were both done in this beautiful yarn.
We were really stuck by how light and wonderfully soft the Brushed Suri Tuni when we saw the sample all knit up! We loved this piece so much that Barbra came up with a story of where and when this amazing piece should be worn. With every telling of this funny tale, customers kept adding on additional elements until by the end of the weekend, the vision of how and when this piece would and should be worn was completely fantastic! The next time you visit the truck, be sure and ask Barbra to tell you the story if you haven't heard it yet!!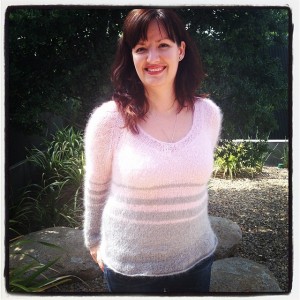 Stitch 'N Pitch
In August, we took part in the Stitch 'N Pitch event with the Los Angeles Dodgers. Our group included over 100 people and we had so much fun!! Everyone joined us for some baseball, beer, snacks, knitting, crocheting and a little game of bingo with prizes!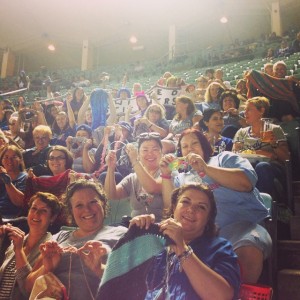 It seemed like just about everyone won a prize playing bingo! In looking back, we might have made our bingo game just a bit too easy – plus when one of the bingo squares is included in the prize bag what can you expect!! The game will definitely be a bit more challenging for future events!
We will definitely be at this event again this summer. We are hoping to expand to some of the other baseball teams in our area but that doesn't look likely for this year but we are really going to try and make it happen in 2016!!
San Diego Yarn Crawl & California Love Launch
We love taking the truck down to the San Diego area and we always get such an amazing reception – this year's San Diego Yarn Crawl was no exception!! We partnered with our friends at Yarn & Thread Expressions, Needlecraft Cottage, and the new location of Common Threads during the 4-days of the crawl.
Our biggest news was the launch of another Yarnover Truck exclusive color. This one was from Zen Yarn Garden and is called "California Love". It was such a big hit that we even ran out of the fingering base on the 2nd day!!  Thank goodness we had the dyers on standby and they worked hard to get us restocked quickly.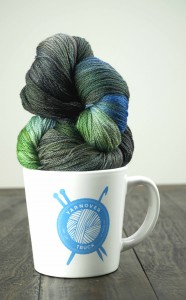 We were lucky to have two designers create patterns using this new beautiful color – Anthony Casalena created the knit shawl – Bella Vista and Lindsay Stephens created the crochet shawl – Fairy Ring Road. These two pieces definitely helped the new color become so popular! Everyone wanted to make these two gorgeous pieces and many entered into our drawing for Anthony's test knit version of his pattern. It was another great weekend in San Diego!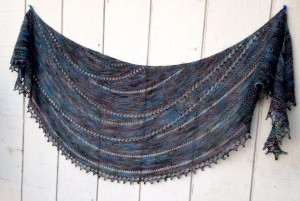 Indie Showcase

Last year we started our Indie Showcases, month long trunk shows with amazing indie dyers.  This was a great way to bring in amazing new yarns to our tiny little space.  We had three different trunk shows with: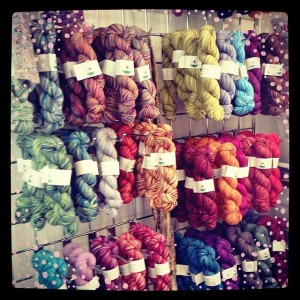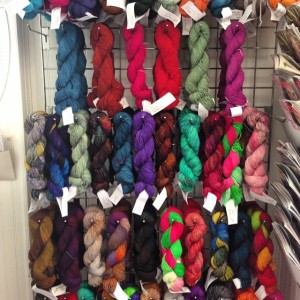 and SpaceCadet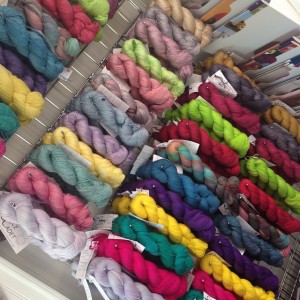 We have lots of new trunks shows planned for our 3rd year, including adding Indie Designers to the Indie Showcase! Get ready to see lots of pretties!
Going Full-Time & Stitch Nights
As many of you know, both of us got laid off at the end of 2014. For others, this might have been a bad thing but not for us – instead it has enabled us to take the Yarnover Truck out and be open full-time. Since January 1st, the truck has been open most weeks Wednesday – Sunday. As part of this, we have started our  Stitch nights at some of our favorite local breweries and eateries!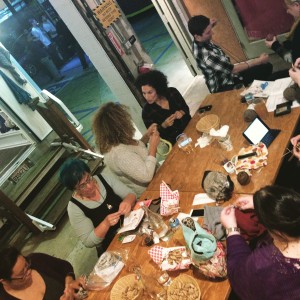 It has been so much fun to continue to explore new and different locations to bring "Debbie" and to meet new people and see some of our long time friends at our increased number of events! Please try and make one of our Stitch Nights in Van Nuys, Anaheim or Valencia or checkout some of our other weekday events!
Stitches West
The biggest event for us every year is always Stitches West and this year was no difference. We had a bigger space and filled it with wonderful things. We invited our friends from Indigodragonfly to join us with all of their amazing yarn bases and wonderful colors.  There were trunk shows of beautiful shawls from our dear friends Michelle Miller and Anthony Casalena. Plus, we set-up a fun crochet lounge showing off the amazing designing talents of newer designers.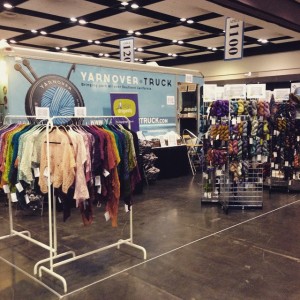 The big news was the launch of our newest exclusive color "It's All Fun & Games Until Someone Sleeps With Someone Beneath Their Station" by Indigodragonfly. The amazing Downton Abbey inspired colorway is available in 4 different bases plus we have a new design by Anthony Casalena called Baridee.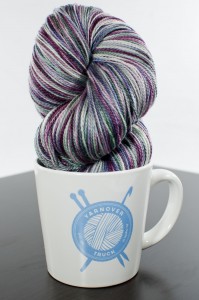 Stitches West is always an amazing weekend! We are already thinking about how to make next year even bigger and better!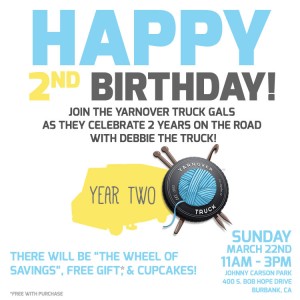 2nd Birthday Party Plans
Thanks for joining us on this walk down memory lane and now let's talk about what is happening this weekend! On Sunday, March 22nd, we are celebrating our 2nd birthday with a little party at our favorite Burbank location – Johnny Carson Park.
As part of the celebration, we are bringing back the "Wheel of Savings". Everyone who makes a purchase from us on Sunday will get the chance to spin the wheel to see what sort of discount they will get – anything from 10% up to 30%! Plus, in honor of our 2nd birthday, all Yarnover Truck merchandise will be 20% off. Finally, we have a special surprise gift with every purchase.
We will of course have some cake and refreshments to share and we hope you will all come and join us in the park as we look back and remember how much fun we have had year!