It's time again for the 2015 San Diego Yarn Crawl and the Yarnover Truck is excited to once again be a part of this great event! This is the 3rd year for the crawl and we have lots of beautiful things to share with you during the four-day weekend!   As in years past, we are partnering with different yarn shops throughout the crawl and here is is a list of our locations for this year:
Thursday 9/17 – Yarning For You in San Marcos
Friday 9/18 – Ramona Country Yarn Shop in Ramona
Saturday 9/19 – Needlecraft Cottage in Pacific Beach
Sunday 9/20 – The Black Sheep in Encinitas
During the crawl we will have trunk shows with THREE different companies. We have a yarn trunk show with Yarn Love, a pattern trunk show with Kira K Designs and a stitch marker trunk show with Greenleaf Glass. We have wonderful new things to show and share with you.
Yarn Love is the brainchild of our friend Katie who works from her studio in rural Iowa and is inspired by the beauty of her natural surroundings. The colors she has given us are just stunning. During the crawl, we will have four of her yarn bases on the truck. Three of them have been on the truck since the beginning of September. These include Elizabeth Bennet – 195 of fingering weight yarn which is a combination of Merino (65%), Bamboo (20%), Silk (15%); Mr. Darcy – 400 yards of fingering weight yarn with Merino Wool (60%), Silk (20%), Yak (20%) and Amy March DK is 280 yards of super squishy 100% wool yarn.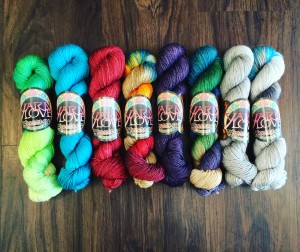 New from Yarn Love, just for the San Diego Yarn Crawl, is Marie Antoinette – 370 yards of fingering weight yarn which is a decadent blend of superwash merino (80%), cashmere (10%) and sparkling stellina (10%) fibers. We will have many different colors to choose from during the weekend but once they are gone – they are gone! Be sure to come and find us early!
Our pattern trunk show is with Kira K Designs featuring both knit and crochet patterns from the extremely talented Kira Dulaney. We have 8 of her beautiful knit pieces and 8 of her gorgeous crochet pieces which will all be displayed on the truck and available for purchase during the crawl. The best part of our collaboration is that Kira has also designed two new pieces in yarns we carry on the truck.

First is the Ice Crystals Capelet – a crochet design made using 560 yards of IndigoDragonfly Single Lace. This lovely ¾ circle shawl lies gracefully on the shoulders with no need for a pin to keep it in place. Crocheted from the top down, alternating solid and open rows create a striated fabric, which is finished with an intricate picot edging reminiscent of snowflakes seen under magnification.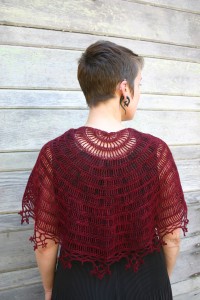 Second is the Gossamer Lace Shawl – a knit design featuring whisper-light fabric and lace detailed to combine for a gracefully elegant shawl. The center panel framed by curving lace wings was inspired by Faroese shawls and creates a shape that sits nicely on the shoulders. The piece is created using 580 yards of Zen Yarn Garden Serenity Lace.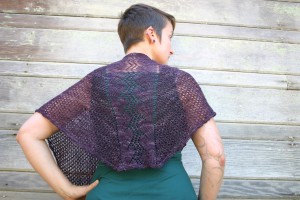 These patterns will both be our FREE patterns during the crawl and the yarns will both be available for 10% off.
We are trying something new for this crawl and including a trunk show of stunning hand-made glass beaded stitch markers. The extremely talented Carol Hackler, of Greenleaf Glass, has created several sets of gorgeous stitch markers. She has some for both knitters and crocheters so please be sure to see these wonderful unique pieces when you visit the truck.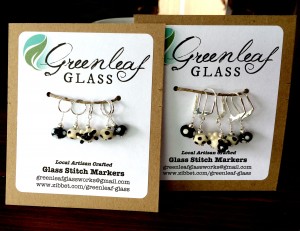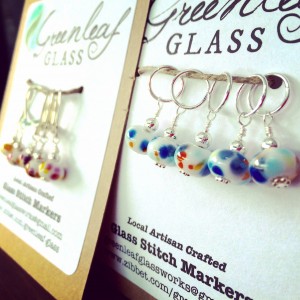 Remember how much we love to give away prizes and this crawl will be no different!! We have gathered a stockpile of goodies to giveaway. Each person who makes a purchase will get to draw for a prize… who knows what you may win! We will have additional passports printed out if you forget to bring your along and of course we will have a limited number of Yarn Crawl bags for sale. Bags cost $10 plus tax but come early because supplies are limited.
Get your passport and all the event details over on the San Diego Yarn Crawl website. We look forward to seeing many friendly faces during the crawl, as well as, introducing our girl Debbie to first time visitors! See you all soon!