There is nothing as lovely as your favorite local yarn store. Somewhere you feel comfortable, always see friendly faces, and are surrounded by beautiful yarns. You want your Local Yarn Store (LYS) to succeed and stay around forever… but your budget is tight this month and you can't afford that lovely skein from the latest Trunk Show you've been eyeing. How can you help support your favorite store without breaking the bank? It's easy!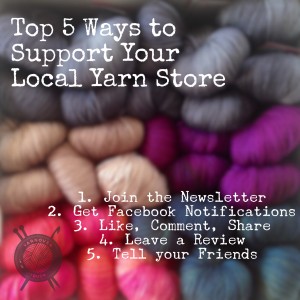 With just a few clicks and some kind words you can make a big difference to your local Yarn Store:
Get on their mailing list, and read the newsletter!
Want to know when the next big event is for your local yarn store? Curious about when that new shipment of your favorite yarn is coming in?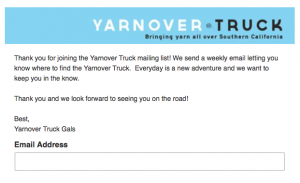 The best way to keep up with the goings on at your LYS is to join their newsletter, and to read it. There is always good info in these mailings, whether sent out monthly or (in our case) weekly. Most newsletters not only let you know about upcoming events but also what is new in the store, details on big events in the future, and info on favorite programs or knit/crochet along.
Reading through these newsletters can reveal hidden info like the dates for an upcoming sale. All the best info can't be at the top, there just isn't enough room, so make sure to scroll through those newsletters so you don't miss any of the good stuff!
Follow them on Facebook, and set them to "See First" in your newsfeed or turn on "Get Notifications"
Social Media is the easiest way to keep in touch with your LYS daily, but with the ever-changing settings on Facebook things can get lost in the shuffle. Facebook has given you two options to make sure you see posts from your favorite pages.
The latest option is "See First". This will make sure posts from that page or person (works for friends too!) will show up first in your newsfeed. This allows you to curate your personal newsfeed, keeping the things you care about the most up at the top! You can turn this on by clicking the like button on the store's page and selecting "See First".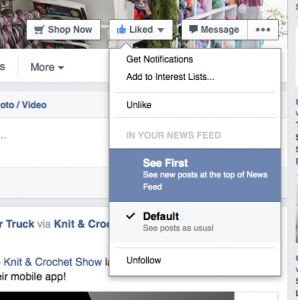 You can go even further and turn on "Get Notifications". This will alert you when that page has posted something new! You can turn this on by clicking the like button on the store's page and selecting "Get Notifications".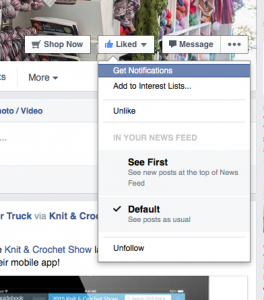 Like, Comment, and Share their Facebook Posts
Once you are seeing a store's posts on Facebook the best thing you can do is engage with them. Engagement is liking, commenting, and sharing. These simple acts can be huge for a small business.

Facebook, while helpful, wants small businesses to pay to have ALL their followers see their posts. Most of the times only 5-10% of our followers see anything that we post on Facebook.
To get the posts pushed out to more people that post needs engagement – likes, shares and comments – from YOU. The more you comment, like, or share a post, the more other people will see it – which is HUGE for any small business. It saves us from having to pay to promote the posts… and we get to hear from YOU, which we LOVE.
See a post that makes you smile – post a happy face!
See an event you think your friends would like to know about – share the event
See an event you are planning on going to – post "See you there!" (We LOVE those sort of comments!!!)
See a post that is helpful, inspiring, or just cute – give it a "like"
These are quick and simple but are a HUGE help to your LYS.
Leave them a Review
Love your LYS? Tell the world in a review! Reviews help new shoppers decide which store to visit, and help give a store better ranking in search engines or on Yelp. The best places to leave reviews are Yelp, Facebook, and Google (for the Brick & Mortar stores).  The reviews not only help the LYS but good reviews give us the warm fuzzies too!

Tell your friends
Do you have friends that also love yarn? Do they know the wonders of your favorite local yarn store? Make sure they do! Tell your yarn loving friends about your favorite LYS, bring them along to an event or class or simply forward the LYS newsletter on to someone who might like it.
Do you use Instagram, Facebook, or Ravelry? Tag or link to your favorite LYS in a picture of your latest finished project with their yarn! Share a picture of you working with their yarn and tag them. Not only will more people learn about your favorite LYS but stores LOVE seeing pictures of their yarn out in the world…. We like knowing it's getting loved!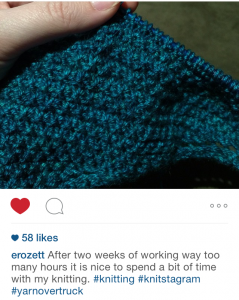 These small actions help your local yarn stores get seen by more people, which hopefully increase sales and keeps them around even longer! But these tips don't only work for your local yarn store, they work for ALL small businesses you love and want to support!
Buying yarn from your Local Yarn Store is always the best way to make sure that LYS sticks around, but even if you can't afford yarn right now you can still help!