We have been having so much fun at our Stitch Nights every Wednesday nights and wanted to find some projects that we can all be working on together. We found a great designer, Vicky Chan, and she has created a beautiful relaxed cardigan sweater and has both a knit and crochet version.  Everyone can work together on this project – both Knitters and Crocheters, how awesome is that!!
This over-sized cardigan, with its sleeves beginning at the elbow, drapes beautifully into a high-low hemline and is flattering for all body shapes. The design is basic enough that that knitters and crochets of all levels will be able to make it with us. The pattern will be a fun easy sweater that goes quickly with the big open mess of the body.
Angelina is the knit version…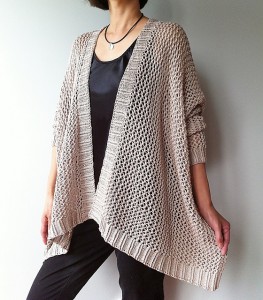 Angela is the crochet version….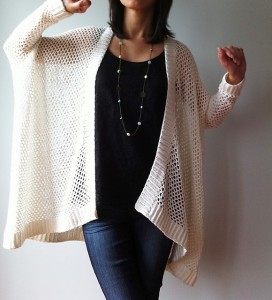 The Angelina calls for roughly 1400 yards of a DK weight yarn. Barbra is going to create hers using Anzula's Cricket. Other yarns on the truck that would work well include Sweet Georgia's Merino DK and Zen Yarn Garden's Serenity DK.  Sport weight yarn, which is just a touch lighter than DK, would also be beautiful in this pattern and we have Mrs. Crosby Hat Box, Lorna's Laces Sportmate and Indigodragonfly's Octobaa with lots of different color options to choose from.
The Angela calls for 1420 – 2070 yards of fingering weight yarn. Maridee is going to make her sweater using Mrs. Crosby's Train Case, but as you know the Yarnover Truck is FULL of other fingering weight options! Some  other fingering weight yarns that we recommend for this project include: Laces Solemate, Anzula's Nebula with sparkles or Squishy with cashmere, Sweet Georgia's Tough Love Sock or La Jolla from Baah, and Forbidden Woolery has two fingering weights – Pride with sparkles or Superstition. Also in late February/Early March we are also adding Merino Sock from Indigodragonfly which would be perfect in this sweater.
We are going to start our projects the first week of March at our Wednesday night Stitch Night at MacLeod's Brewery, and continue to help everyone get started all month long at each of our Stitch Night Locations in Anaheim & Valencia. There will be updates in the K/CAL in our group on Ravelry, if you want to join in but can't make it to the Truck or just want to check in before your next Stitch Night.  Please stop by the K/CAL Thread and share pictures of your yarn choice, your sweater in progress, or ask questions about the pattern – we LOVE hearing from you!
We are so excited to be able to work with both our knitters and crocheters on this project!  Be sure to come by and pick out your yarns and get your copy of the pattern in February so we can all start together in March!