Our biggest show of the year, Stitches West, is just around the corner and our booth is definitely a "must see" when you are at the show in Santa Clara. Especially if you like hand-dyed yarns and beautiful new knit & crochet patterns!
Our booth, AND TRUCK, we will be in our usual spot (Booth #1048, 1046, 1044 & 1147, 1145 & 1143). We have scaled back just a bit since last year's show but we are still jammed packed with beautiful things to see and do!
Yarn Trunk Show with Yarn Love
If you have been to our booth in the past, you know we drive Debbie, our truck, on to the showroom floor (well Maridee does the driving into the Convention Center) plus we have some friends join us in our booth. This year we are hosting a trunk show of yarns from Yarn Love Yarn!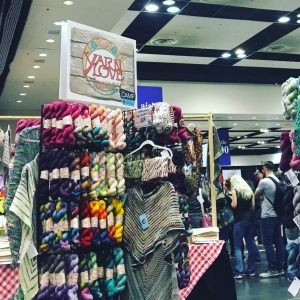 Our very talented friend Katie is bringing 8 of her different bases all the way from Iowa! They include 6 wonderful fingering weights and 2 beautiful DK weights. Here are all the details:
Marie Antoinette – an 80% Merino, 10% Metallic, 10% Cashmere blend with 420 yarns in a 4 oz skein at $35
Mr. Darcy – an 60% Merino, 20% Silk, 20% Yak blend with 420 yards in a 4oz. skein at $35
Juliet – an 80% Merino, 20% Nylon blend with 420 yards in a 4 oz. skein at $28
Scarlet O'Hara – a 60% merino, 30% bamboo, 10% nylon blend with 420 yards in a 4 oz skein at $30

Princess Buttercup – a BRAND new base which is a 65% silk, 35% linen blend with 504 yards per 4 oz skein at $32

Juliet in Mini Skeins – Each box contains 4 mini skeins of different colors of Juliet (80% Merino, 20% Nylon) with 105 yards in 1 oz. mini skeins for a total of 4 oz, 420 yards for $33
Amy March DK – a 100% merino wool yarn with 280 yards in a 4 oz. skein at $29
Goldilocks DK – an 80% Merino, 10% Nylon, 10% Cashmere blend with 250 yards in a 4 oz. skein at $33
New Exclusive Color – Beneath The Waves
In addition to the wide and wonderful array of colors and bases from Yarn Love, we are debuting the Yarnover Truck's newest Exclusive Color. It is called Beneath The Waves and Katie from Yarn Love did an amazing job in creating this new color!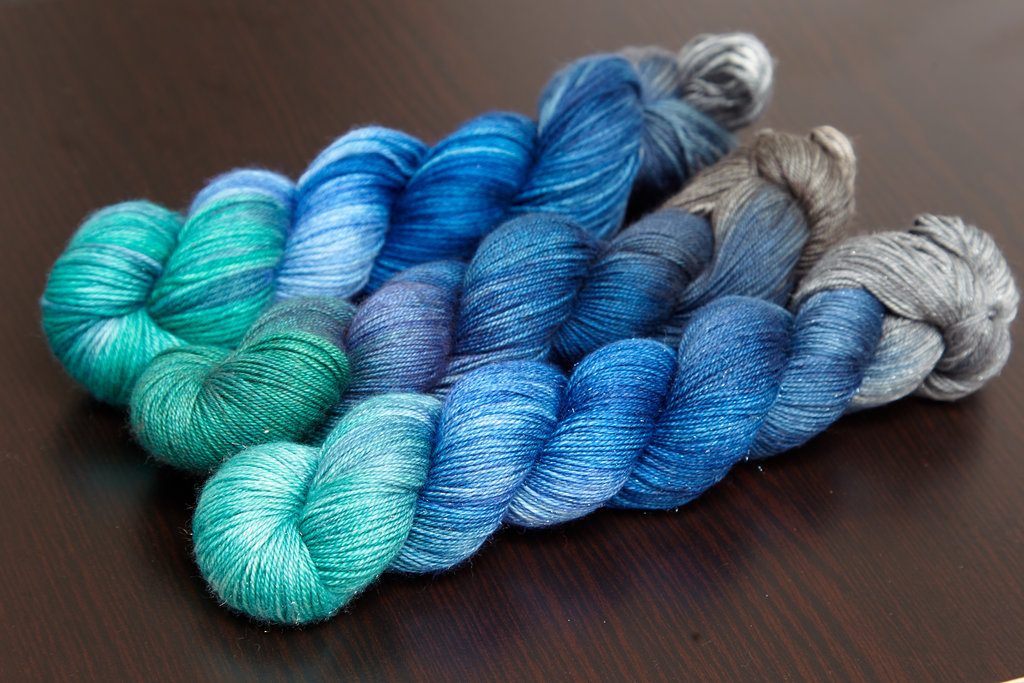 The color is making it's debut at Stitches West! This will be the first place that you can buy it but it will have a permanent place on the truck after this show too! We will have it in the three bases we regularly stock from Yarn Love – Marie Antoinette, Mr. Darcy and Amy March DK.
New Pattern Releases
We asked some of our favorite designers to work with this new color, along with other Yarn Love colors, and they have come up 5 beautiful designs. These wonderful patterns will also be debuting at Stitches West. Three are knit and two are crochet.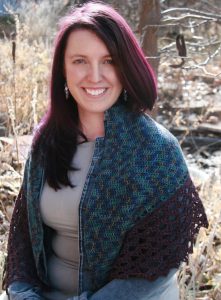 Fathomless by Karen Whooley
This beautiful crochet piece is created using the colors Beneath The Waves & Arabian Nights in Mr. Darcy.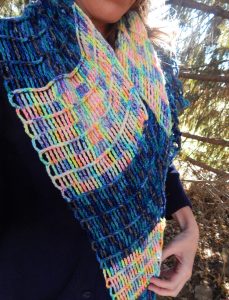 Reverie Shawl by Sara Kay Hartman
This colorful crochet scarf is created using the Beneath The Waves and Unicorn Poop colors in Amy March DK.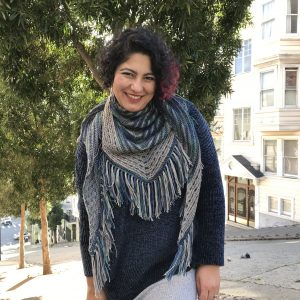 Check My Stripes by AFIFA
This amazing shawl combines Beneath The Waves with Bare Naked in Mr. Darcy.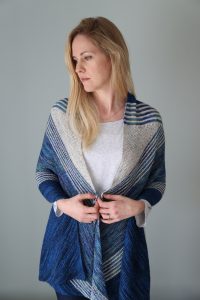 Pelagos Wrap by Hilary Smith Callis
This wonderful shawl used 3 colors – Beneath The Waves, Typewriter & 20,000 Leagues. Two colors are in Marie Antoinette and one is in Mr. Darcy. This piece does a great job of combining the different bases.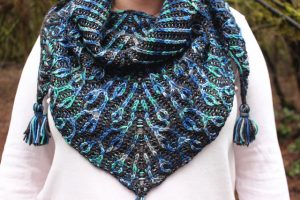 Kelp Garden by Meaghan Schmaltz
This fantastic shawl combines Beneath The Waves and Black Coffee in Amy March DK to make this scrumptious Brioche piece!
You will be able to buy all the yarns and the patterns in our booth all weekend long! We will have samples of all of these so you can check them out up close, see the beautiful colors and fabrics created, and feel these amazing yarns in person.
Designer Meet & Greets
Three of these talented ladies will be also be joining us in our booth for Designer "Meet & Greets" during the weekend. Each will be on hand with samples of their work for you to see and ask questions about. They might even help you pick yarns to many of their pieces. Just ask!! Here is the schedule of when you can stop by to meet them, see their work and get their patterns:
Karen Whooley – Crochet Designer
Friday, February 23rd from 1:00p – 3:00p
Afifa Sayeed – Knit Designer
Saturday, February 24th from 1:00p – 3:00p
Hilary Smith Callis – Knit Designer
Sunday, February 25th from 11:00a – 1:00p
Stitch Marker Swap

We are once again taking part in the Stitch Marker Swap. Come by the booth and mention that you are swapper and you can get one of these . . .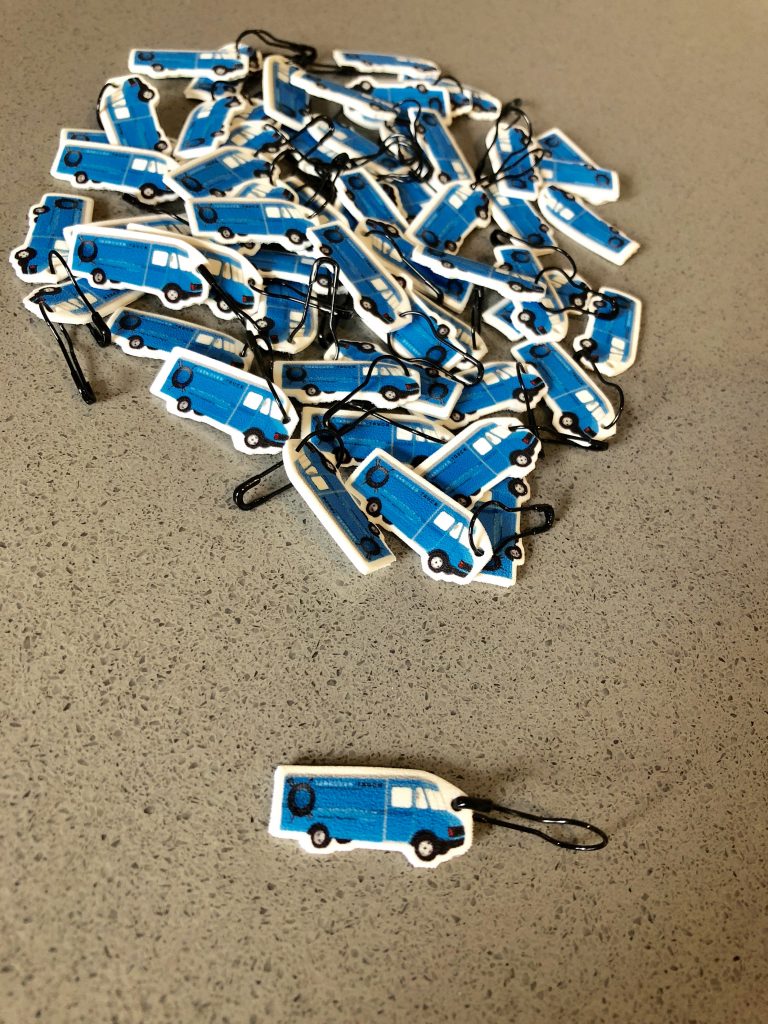 Aren't these super cute!! We have created these adorable truck shaped markers and are looking forward to swapping with everyone and anyone who is making and bringing markers! This swap is so much fun and always come home with a bunch of beautiful and creative markers!
Instagram Contest

And last but not least, we are running another Instagram contest! We had so much fun with this last year that we had to do it again!! All you have to do is post pictures on Instagram taken in our both anytime during the show, along with our Truck Debbie, and our special hashtag, to enter. We will be giving away prizes from the Yarnover Truck and Yarn Love after the show.
Here is how it works.
The Contest runs from Thursday, February 22nd at 5pm to Sunday, February 25th at 4pm

Pictures must be taken in the Yarnover Truck booths (1048-1139) with Debbie The Truck somewhere in the picture (She can be in the background)

All pictures must include our Hashtag #YOTStitchesWest2018
Be creative and HAVE FUN! You might be rewarded for your efforts!
We hope this has peaked your interest and that you will come by and see us and all the beautiful things we have brought along with us to Stitches West this year! See you soon!