The Knitter's Tool Tin is a great gift idea.  It is small but really packs a punch!  Any knitter on your shopping list will be able to just toss The Knitter's Tool Tin into their WIP bag and know they have  everything will need! All items are approved by the FAA for U.S. travel and include the following:
White metal tin (silver inside) measuring 3 3/4 in/9.38 cm long, 2 3/8 in/5.95 cm wide, 3/4 in/1.88 cm deep – same size as an Altoid tin, but these are new and clean
1 Stitch holder measuring 2 1/2 in/6.25 cm long
1 Cable needle measuring approximately 2 in/5 cm long
1 Double ended crochet hook (2.0/3.5mm) measuring 2 1/2 in/6.25 cm long
5 handmade, folded paper star stitch markers to fit up to US 8/5 mm needles (these are surprisingly durable!)
1 pair Puppy Snips scissors measuring 1 7/8 in/4.69 cm tall
1 large eyed, blunt needle
1 large eyed, sharp needle
1 sewing needle
1 Retractable measuring tape – measures up to 60 in/150 cm
Magnetic strip in lid – keeps needles easily accessible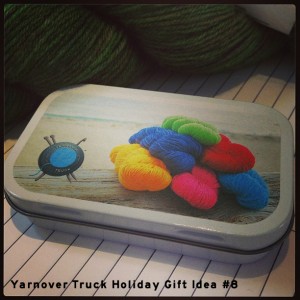 The Knitters Tool Tin from the Sexy Knitter for sale on the Yarnover Truck also features an exclusive photo with our Yarnover Truck logo taken near the ocean in Santa Monica. This wonderful little kit with everything included costs only $25.