Something that every knitter and crocheter knows is that you need to protect your yarns as you are working on your pieces. The best way to do this is with a fabric project bag. The Yarnover Truck carries beautiful handmade project bags from Slipped Stitch Studios.  We have them in three different sizes:  Sock, 2 Skein and Large.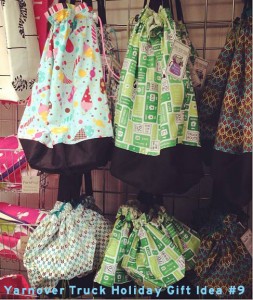 What sets our bags apart from others you may see at other stores or online is that our bags are made from fabrics that you won't find anywhere else!  They are exclusive just to the Yarnover Truck. We have two different prints that look like knit and garter stitches plus we have a great fabric with street signs!  We love the street signs as it goes so well with our truck!
These bags are wonderful with pockets inside to hold your tools and accessories plus space to hold your yarn and projects.  Plus each bag has a drawstring and think to toss over your arm so you can knit and crochet on the go. Barbra has the amazing skill of being able to walk and knit at the same time and not drop any stitches!  Ask her to show you the next time you are on the truck!
The Sock bags cost $22 each, the 2 Skein bags cost $30 and the Large bags cost $45 each.