"May your hands and feet be soft, fibers fresh and your nails match your knits!!"  This is the message from our friends at Soak to describe their fun line of Soak Box Kits.  The Yarnover Truck has stocked 3 different boxes for your hands and 3 for your feet!  We have already told you about Soak's wonderful line of wash, lotion and heel cream and  these kits combine those things along with luxurious yarns and some beautiful patterns for socks, boot toppers and mitts.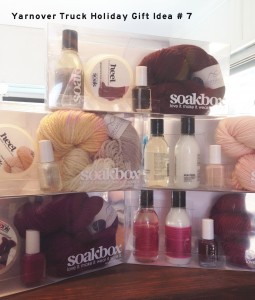 The Soak Box Kits for your hands include a bottle each of Soak Wash & Soak Handmaid, a mitt pattern by Fiona Ellis and a bottle of beautiful nail polish.  But the best part of this wonderful kit is the single skein of Lorna's Laces Shepherd Sport yarn hand dyed to match the nail polish color.  We have Clark Cable in a lovely maroon with Celebration; Double Pointe in a beautiful pink with Scentless, and Lace Kelly in blue featuring the Aquae scent.
We have three different Soak Box Kits for your feet too.  Two feature beautiful sock patterns and one is for a great boot topper all by Fiona Ellis.  Again, each kit comes with a bottle of Soak Wash, a jar of Soak Heel Cream, one skein of beautiful yarn from Lorna's Laces dyed to match the accompanying nail polish.   It's the perfect gift set, all bundled up and ready to wrap.  The Cinnamon Kane features a rich brown yarn and a cable sock.  The Grape Gatsby kit is a vibrant purple with a lace pattern up the sock and Pearly Temple is a sweet boot topper, featuring Scentless Soak and bulky wool.  Your feet will be so happy to have warm socks with toes to match!
The Soak Boxes for the hands each cost $50 and the Soak Boxes for the feet cost $60.