As fall rolls into full swing we have a new Indie-Dyer Showcase to tell you about for the month of October – Fairy Tale Knits from indie dyer Dawn Craig. She is a small dyer who started her business with the encouragement of her friends after she created some yarn for herself. She wants her dyeing to bring a sense of whimsy and playfulness to your projects and for her colorways to inspire the magical fun of your imagination, bringing out that fun-loving child inside.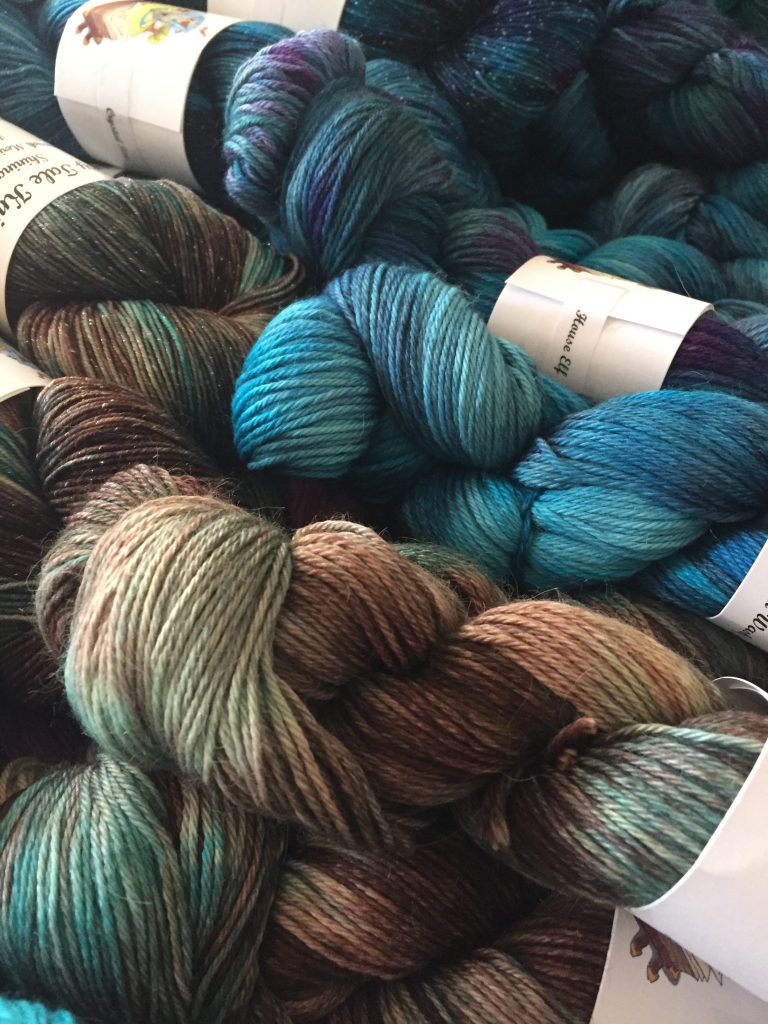 Dawn started dyeing yarn while she was working a KAL with friends. When she couldn't find the right purple shade she was looking for, she decided to buy some undyed yarn and create the color herself. That was about 10 years ago! She never finished the shawl, but she also hasn't stopped dyeing since. She gets her color inspiration from all around. Her four kids inspire her a lot. Vader's Underwear got its name because her son saw a picture or Darth Vader knitting with pink yarn. When she asked him what did he think Vader was making he said, without hesitation, "Underwear". Since then they've joked that Vader wears pink underwear. When she decided to dye a Star Wars series she knew one had to be pinks and call it Vader's Underwear. AND we have that color on the truck this month, along with 9 other gorgeous colors!
We are really happy she continues to dye beautiful yarns We have four of her amazing bases on the truck with us for October, two of them fingering weights and two of them sport weights.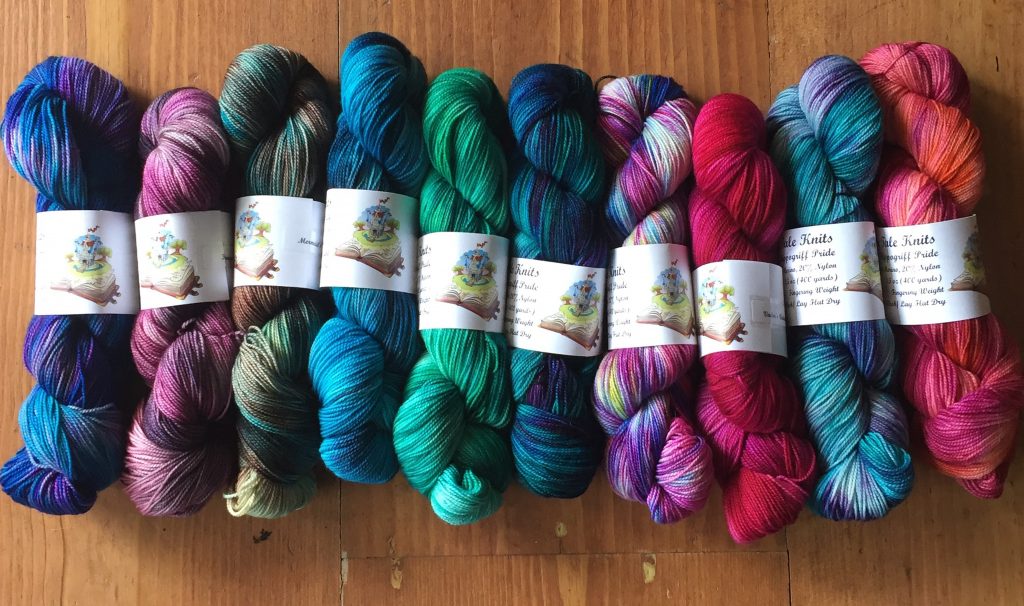 First off is Hippogriff Pride – a fingering weight sock yarn with 80% Superwash Merino and 20% Nylon. Pay your respects to this soft yet strong base, your new best friend for knitting socks, shawls, or anything else! The ease of superwash merino combines with the resilience of nylon for a yarn that'll come to your rescue for any project. Each skein has 410 yards and costs $27. The above picture shows all ten of the different colors we have from Fairy Tale Knits! And we have these same colors in all four of the bases.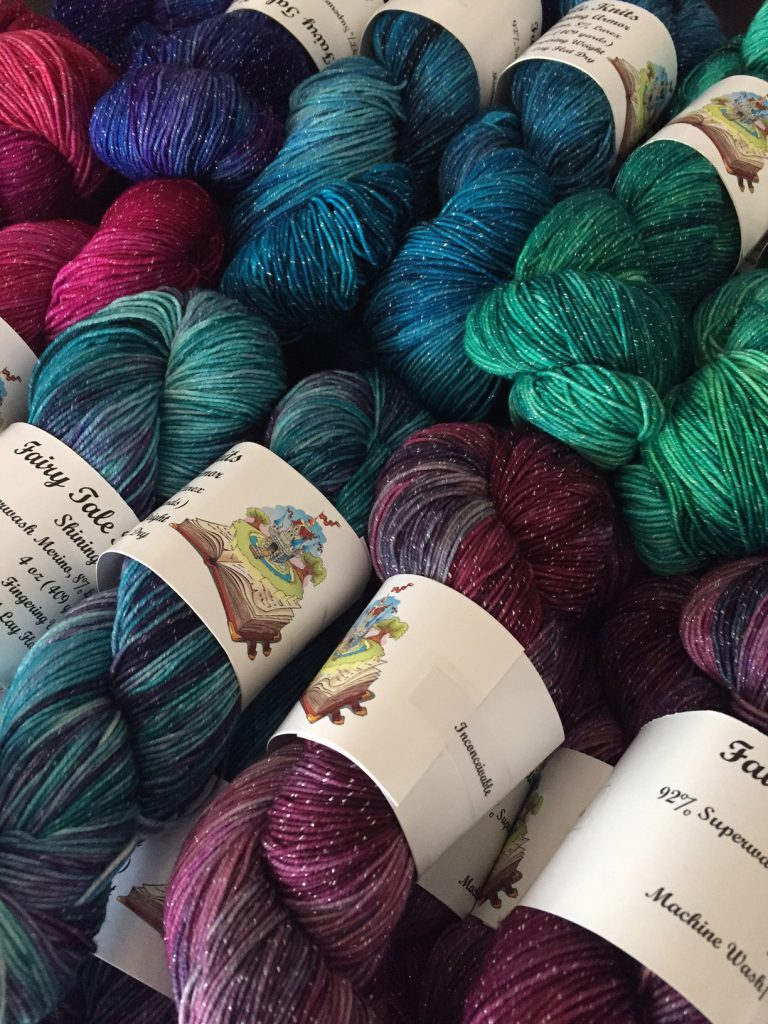 The next fingering weight base is brand new to Fairy Tale Knits. It is called Shining Armor and we are the first to have it and sell it!! This yarn has 409 yards in each skein and is made up of 92% Superwash Merino and 8% Lurex. If you aren't familiar with Lurex, it is what gives the yarn it's beautiful sparkle! It is an actual ply of the yarn so it has a very unique look. Each skein costs $30.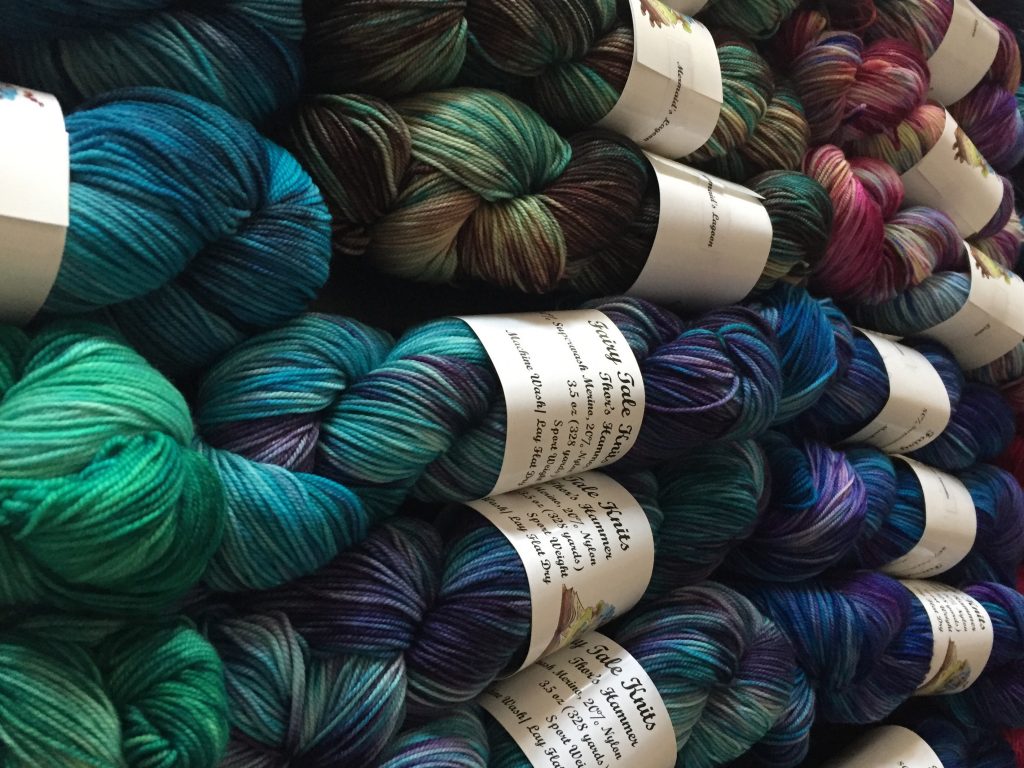 The first of the sport weights is Thor's Hammer. (Don't you just love her base names!!). This is a sport weight sock yarn with 80% Superwash Merino and 20% Nylon. Only the truly noble can lift Thor's Hammer. Whether you're searching for lightening soft yarn, or thunder strong yarn, this is the perfect base for you. This yarn is perfect for every viking, warm and strong. Each skein has 328 yards and costs $27.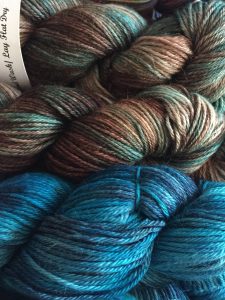 And last but certainly not least is Athena Sport – a sumptuous blend of 80% Superfine Alpaca and 20% Silk! This yarn is meant for a true Greek, perfect for drapey shawls, and scarfs. This yarn might be a little full of herself, but it's had many years to study it's beauty. Each skein has 287 yards and costs $36.
Be sure to come and find the truck during October so you don't miss out on all these beautiful skeins! Check out our Event Calendar so you can see when we will be near you! Hope to see you soon on the truck!